Mani Muse Press-On Nails Review
These $16 Press-On Nails Transformed My Bare Nails Into a Work of Art
As POPSUGAR editors, we independently select and write about stuff we love and think you'll like too. If you buy a product we have recommended, we may receive affiliate commission, which in turn supports our work.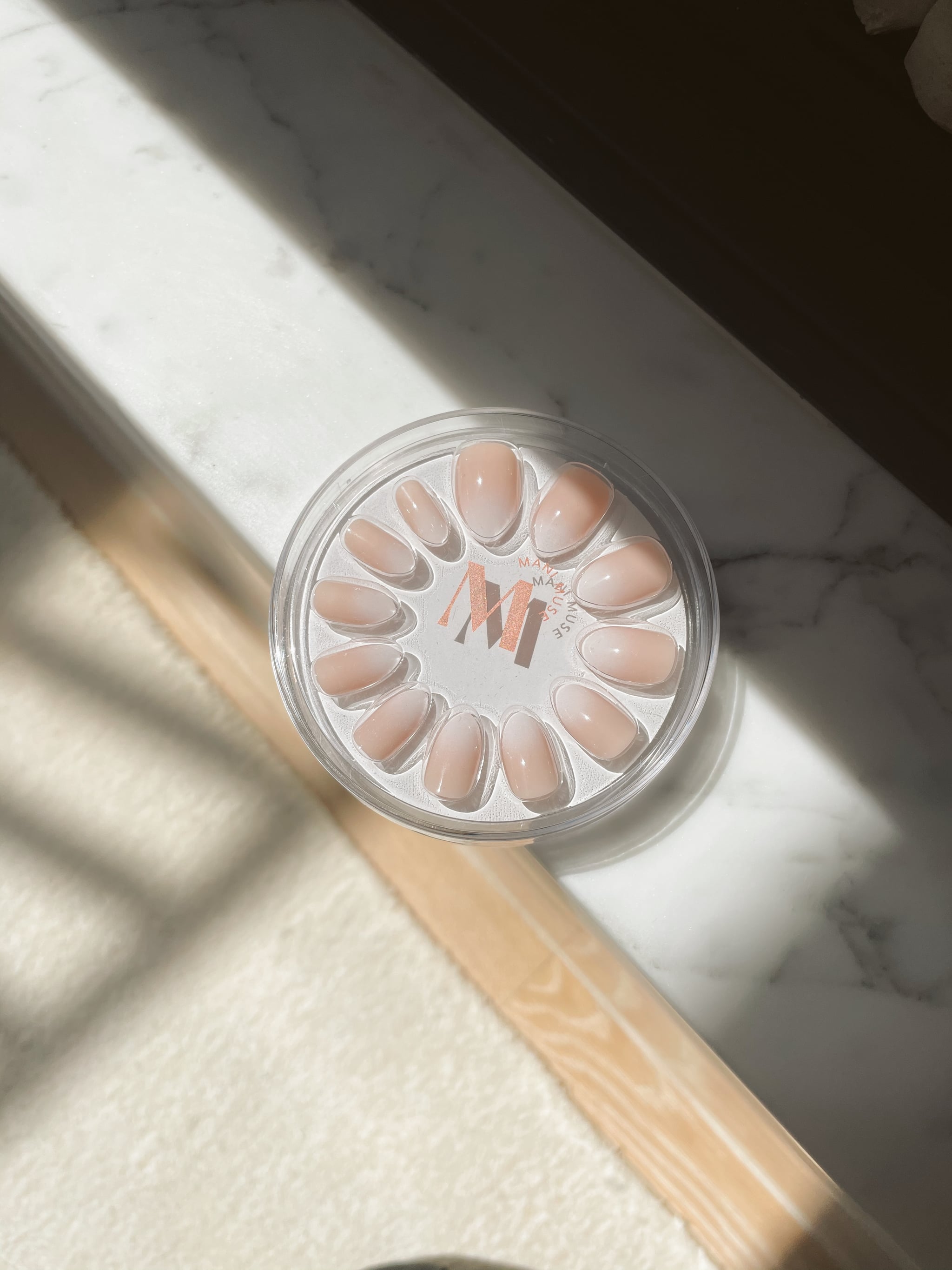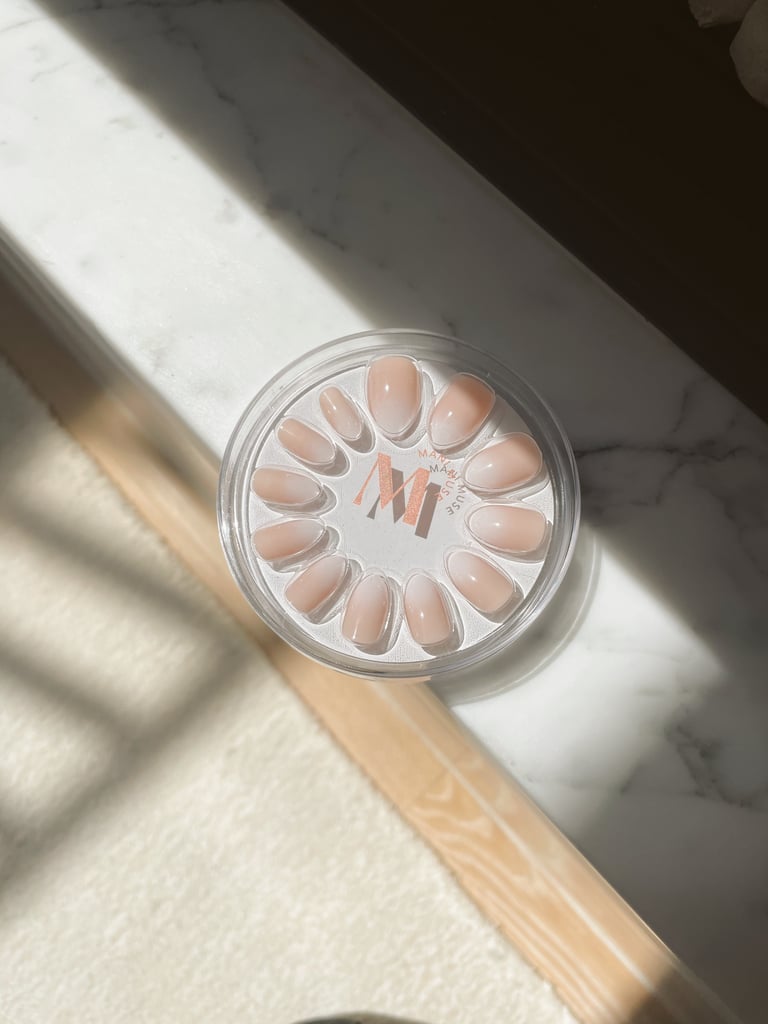 A year ago, when we learned we would be spending a lot more time at home (and a lot less time at nail salons), I made a vow to learn how to paint my own nails. I was used to getting a gel manicure every two weeks, like clockwork, and I wasn't prepared to go polish-less. Well, it's been a year since I first made that very ambitious promise — and I'm actually typing this with perfectly manicured fingers. Did I learn how to paint my nails? Definitely not. Instead, I discovered Mani Muse, a brand offering super-cute at-home manicures made easy with press-on nails. I've been seeing press-on nails all over my Instagram feed, so I was excited to see if they looked as good IRL as they did online.
Mani Muse press-on nails come in three different shapes: round, almond, and coffin. I opted for almond, because I typically ask for that shape when getting my nails done in a salon. They also come in a ton of fun, trendy patterns (like cheetah print) as well as your classics (like a french manicure). I generally choose neutral colors when getting manicures, so I decided to go the same route and went with a Good Ombres ($16) press-on nail kit.
After receiving my kit in the mail, I was pleasantly surprised to find that it came with 24 nails of different sizes, so you can find your perfect fit. I found it helpful to have options, because one size definitely does not fit all. The kit also comes with a two-sided nail buffer/nail file, as well as nontoxic nail glue, which made the whole process even more convenient.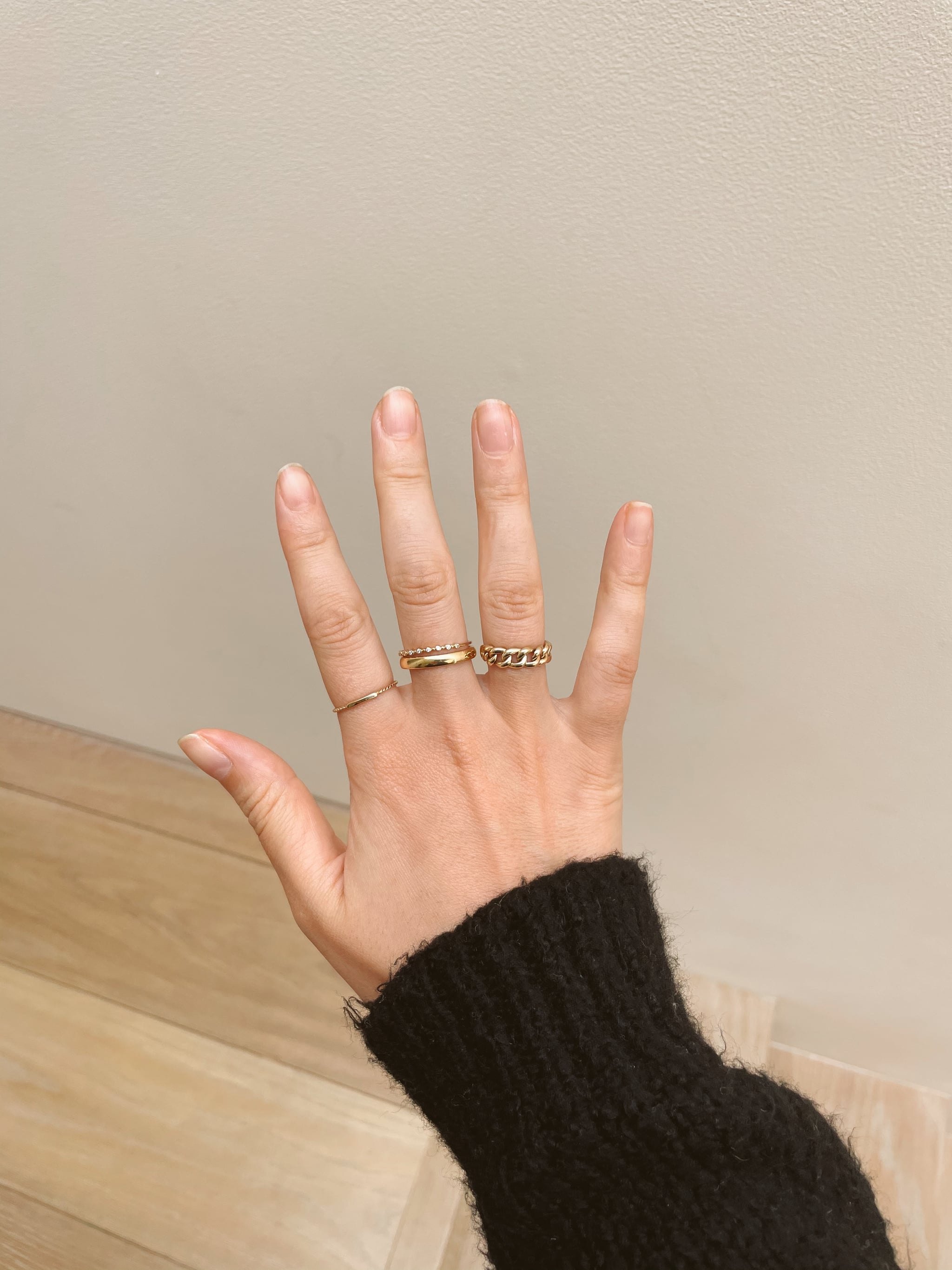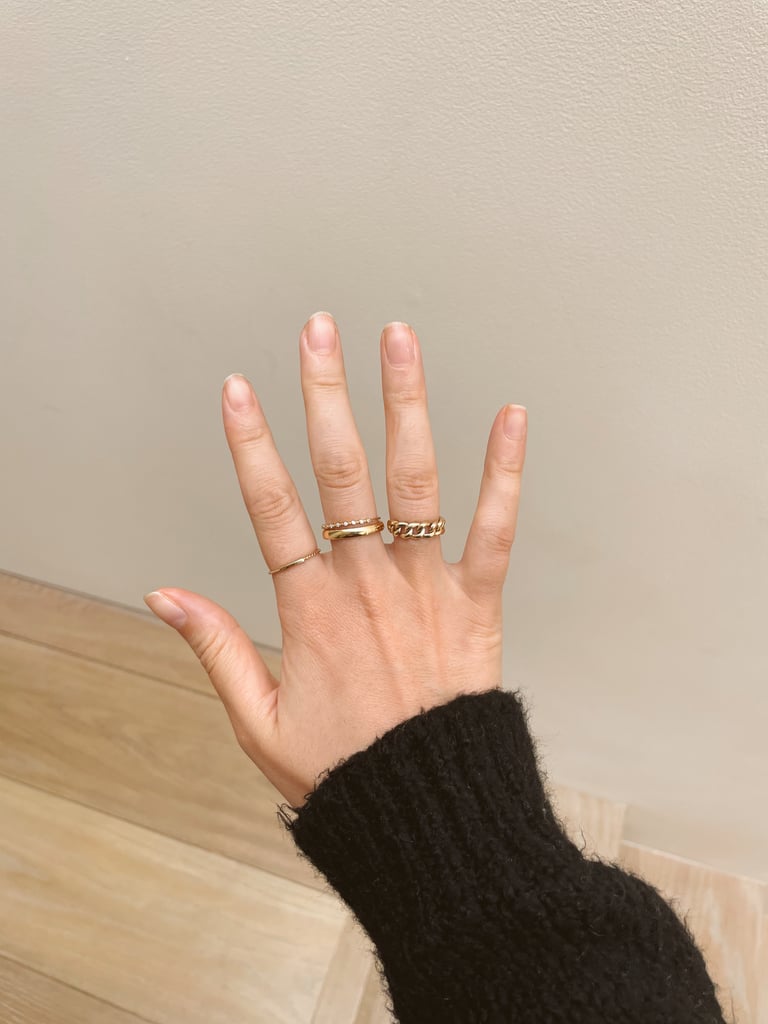 As for application, I started out by washing my hands and drying them thoroughly. I then used a cuticle remover and pushed back my cuticles, and I also filed my natural nails and applied a cuticle oil. After that dried completely, I went through the nails and found the right fit for each of my fingers. Each piece actually has a number guide on the back, but I ended up just comparing the sizing by placing it on my finger prior to applying glue. I then applied nail glue to my natural nail as well as the press-on nail (don't forget to apply to both). After aligning the press-on nail with my regular nail, I pressed down gently to activate the glue. Afterward, I filed my nails to the perfect length and I was ready to go. The first time, the entire process took me maybe 20 minutes. Now that I'm basically a pro, I can apply a full manicure in 10 minutes flat.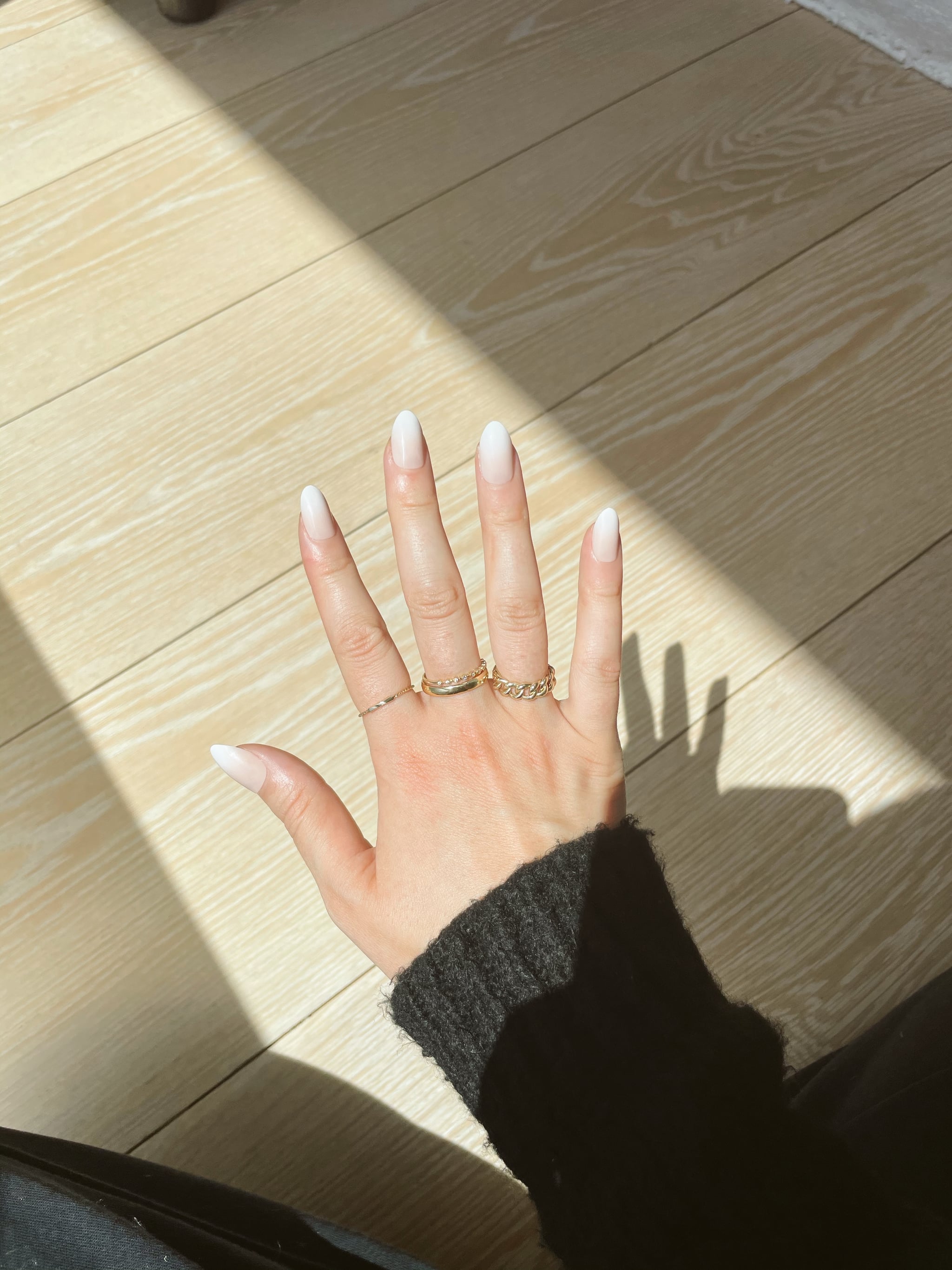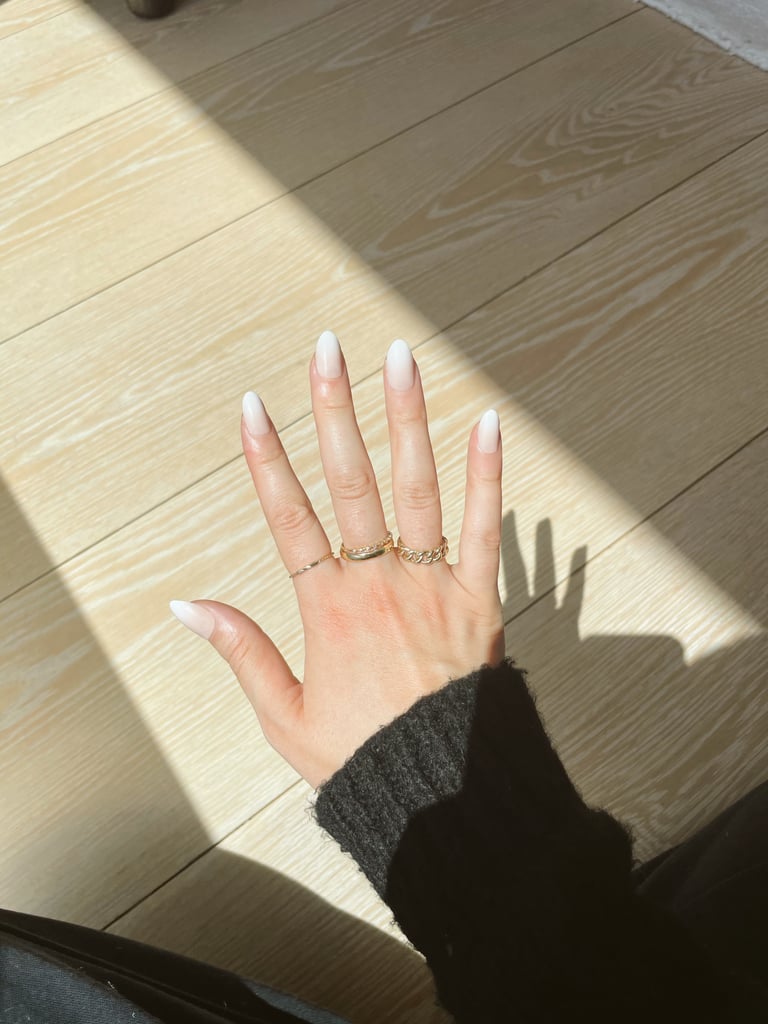 The end result left me with a perfect manicure without ever having to leave my house. I didn't have any issues with the press-on nails coming off, and I was honestly surprised by how long they lasted (two weeks). I'll be honest with you: after I popped them off, I put a new set on immediately — I was that obsessed.
As for removal, the process is relatively simple and can be done two ways. You can either soak your nails in warm soapy water for 10 minutes and gently push the nails off with a cuticle stick, or you can use acetone and foil as you would with any regular gel manicure. I chose to remove mine using the warm soapy water method, and the procedure was straightforward, uncomplicated — and took me about five minutes total. The nails are actually reusable if you remove them this way, which is another plus.
My entire experience was simple and easy and left me with nails I couldn't help but obsess over. The nails are extremely long-lasting as well as reusable. The removal process also didn't damage my nails at all, which was a huge plus. Gel manicures can leave my nails feeling brittle, thin, and dry — but these left my natural nails in almost perfect condition. If you're looking for an affordable option for an at-home manicure that is cute, long-lasting, and easy — look no further than Mani Muse.
Rating:

Image Source: POPSUGAR Photography / Renee Rodriguez