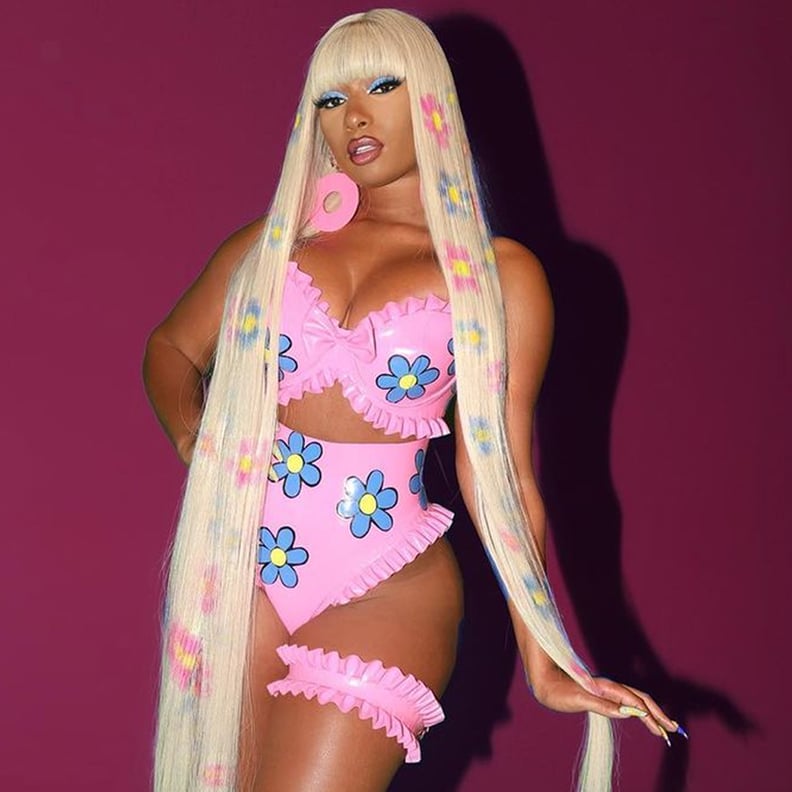 Someone call Barbie, because Megan Thee Stallion has taken over the Dreamhouse in her new "Cry Baby" music video and stolen her long blond hair. From the front, Megan can be seen rocking some superchic bangs, but the most glamorous part of her look is visible when she turns around and reveals pastel flowers stenciled across her hair to match her cute two-piece outfit. In a post on Instagram, Megan's hairstylist Kellon Deryck broke down exactly how he achieved the floral pastel design.
"I created these vibrant flowers on Megan Thee Stallion's Barbie inspired look by making flower stencils in multiple sizes to use as a guide, then hand painting using @guytang_mydentity color," Deryck wrote on Instagram. To make the colorful flower print on the 50-inch blond lace wig, Deryck used Mydentity's Direct Dye in Pink Diamond, Lightning Bolt, Arctic Blue, and Lavender Lust. Then, he let the color air dry to preserve the brightness of each shade and finished the look with the brand's MyStardust Intense Shine Spray ($28) and MyControl Medium Hold Sculpting Spray ($28) to "enhance the vibrancy of the colors."
If you missed Megan's subtle hair detail on your first watch, check out the "Cry Baby" music video again and take a closer look at the before and after of the Barbie wig ahead.