Johnny Wright was all but genetically programmed to work in the hair business. Nearly every person in his immediate family — his father, his uncle, his grandmother — worked in barber shops and salons in the south side of Chicago. The latter, he says, taught him everything he knows.
"My grandmother said I was combing her hair into clean ponytails when I was 3 years old," Wright told POPSUGAR with a laugh. "I used to sit at her feet while she was pressing and curling her client's hair and watching her, and smelling the grease throughout the house. It's just something I, innately, felt I knew how to do."
By the time Wright turned 11, he had his first client in his mom. In the next two years, that list grew by a few girls in the neighborhood, and then his brother's girlfriend, students, church friends, teachers. "By the time I was a sophomore in high school, I had amassed over 100 clients. My father built me a salon in the basement of our home when I was 14, and I took clients there. At 17, I had two shampoo girl assistants, one secretary who would answer calls, collect the money, re-book appointments, and make sure we had all our supplies. The little Johnny basement salon in my parents home."
This is all to say: the man is damn talented, and always has been. Even before getting his cosmetology license and working with major celebrities and international beauty brands, he stayed busy. It seemed his ability to turn anyone's hair he touched into magic kept people coming back, and back, and back for more — including Michelle Obama.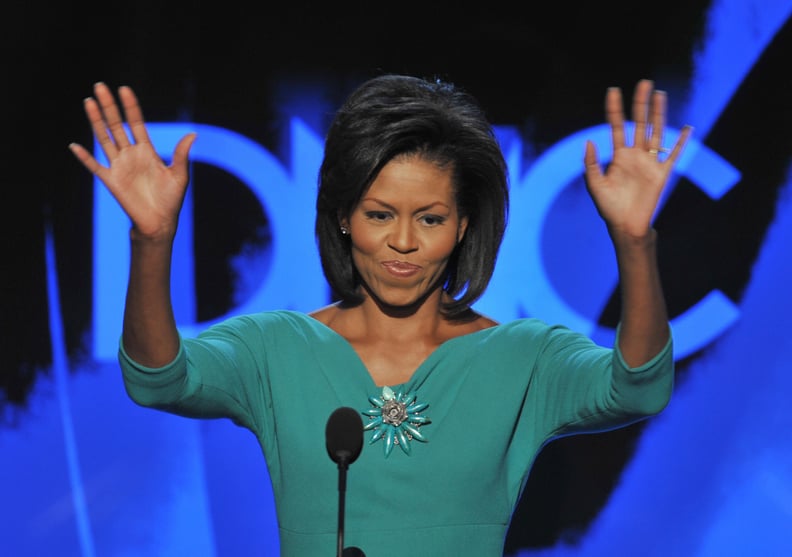 Wright met the former First Lady two weeks after President Barack Obama announced his candidacy at a photo shoot for Essence magazine, and then — as it goes — again for O Magazine a month later, and for an Ellen appearance a few months after that. He continued to style her throughout the campaign, but it wasn't until the night of her speech at the 2008 Democratic National Convention that he became a more permanent member on her team.
"It was the first time I touched her hair when it was wet, and fully blew-dry it, and put my little spank on it, so to speak," said Wright. "The next day, the first thing everybody was talking about was her speech, of course, but the second was her hair. People noticed it; they saw the difference."
Three weeks later, the Obamas won the election, and — as he was styling her for the cover of Vogue shortly thereafter — she asked him to move to DC. The rest, as they say, was history — only this time, quite literally.
Working in the White House For the First Black First Lady
"I had no idea going in what it's like to work in politics," said Wright. "I had to do some research on my own on past women in that position like Hillary Clinton and Barbara Bush and how they did their hair, but it was hard because there has never been another Black first lady to pattern her after."
He continued, "Coming from the celebrity world, where hair is all about trends and wearing the cool new style, I realized politics were very different. In politics you want a recognizable silhouette — a look that people remember where you're like, 'Oh, that's Barack' or 'That's Michelle.' It's just the conservative nature of the political world. I remember reading an article about Hillary and they had deemed her to be indecisive because she changed her haircut so much, and I was like, 'Oh my God, I don't want to do that.'"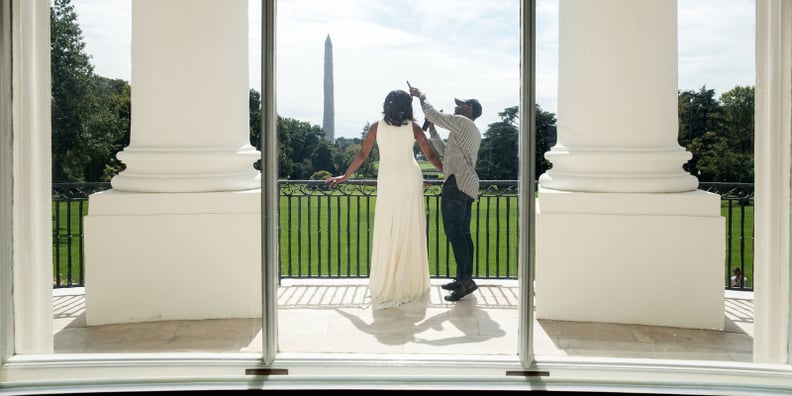 Despite working with the most powerful family in the world, Wright says the actual glam room in the White House was surprisingly humble. "You would think it would be this huge room with a vanity and all this stuff, but it wasn't," he said. "But the space was just a little room. It doubled as her second assistant's office in the residence, and it just happened to have a shampoo bowl in there, so that's where we did her hair. It's also the same place where the president would get his haircut. It was very simple."
The Politics of Hair — and Where He Took Some Risks
In a way, how you wear your hair is a form of storytelling. That's something Wright kept top of mind at all times: "Hairstyling tells you a lot about a woman before she even says a word — it can tell you if she's sassy, conservative, sexy, or edgy, or all these things, just by the way she chooses to wear her hair. I understood how important that illustration of a story was, particularly for the first African American first lady of the United States."
"Hairstyling tells you a lot about a woman before she even says a word. I understood how important that illustration of a story was, particularly for the first African American first lady of the United States."
There were moments throughout those eight years where he had to be especially mindful with Obama's hair, particularly when visiting other leaders from around the world. "I did my due diligence to make sure she looked appropriate," he said. "Sometimes she wore a head covering, and other times I just wanted to make sure there was this sense of submission and respect in someone else's country. I remember when she met Queen Elizabeth, I pulled her hair back in a bun, so it was half-up and half-down, just to give it a little more innocence."
That's not to say he didn't take risks — he did. "In the grand scheme of things, I was able to switch up her hairstyle a lot in those eight years. I never did too much of a change, but you have to give some play room for Black women, because Black women change their hair more frequently. It's more accepted and understood. We mostly kept it to a long bob, but we've also gone a little shorter, cut bangs, waved it out. We did have some fun."
What the Political World Could Use More of Right Now
The one thing Wright says the United States has been missing the most since the Obama's left the White House is some solid representation of this country. "They left that administration unscathed. They did everything right, in a sense of how to be a first lady and a president — there were no scandals, and they surrounded themselves with smart people."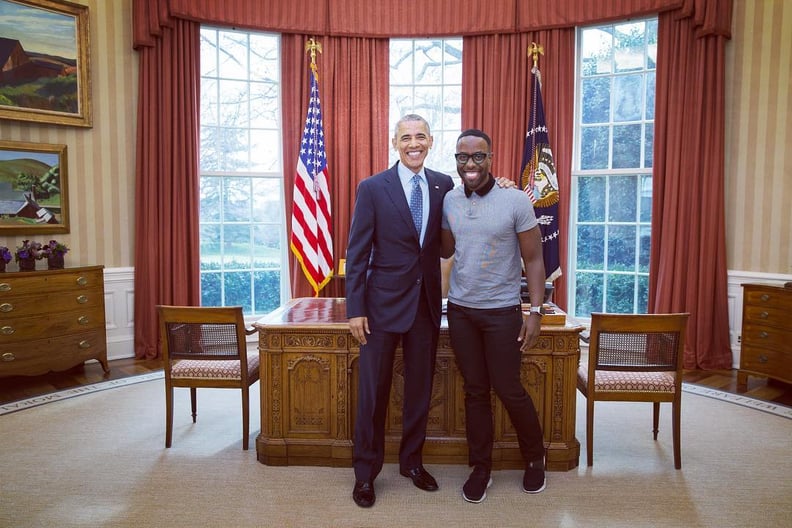 In thinking about the future, Wright would like to see us take a page from the good parts of our past. "I would like to see our country get back to a place that we're respected around the world," he said. "When I'm traveling, it's hard for me to sit at a bar and, when somebody learns that I'm from America, they say, 'What is going on over there?' It's even harder when that just wasn't my experience in working with the first family. Again, I'm not a politically driven person and I don't know much about politics, but I do know good from bad, and what's going on right now just does not feel good to me."
He continued, "The thought that [Donald Trump] had a rally on Juneteenth, and where he had it, it's like, 'No one on your team thought that wasn't a good idea?' I mean, look, there's a lot of ignorance out there in the world, but we need more from a leader and also his people. Please, just, go vote."
How He's Been Coping in a Time of Crisis
To put it lightly, the last few weeks following the murder of George Floyd at the hands of the police has been a time of unrest — coupled with months of fear and uncertainty that comes with a global pandemic. But there has also been some good news in Wright's world: he landed a starring role next to Tamar Braxton on what can only be described as the hairstyling version of Restaurant: Impossible, called To Catch a Beautician that premiered on VH1 at the end of May.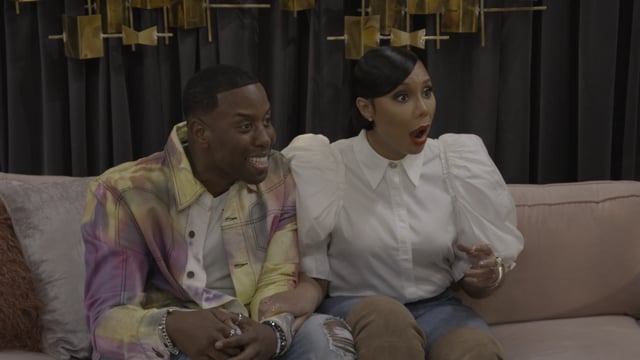 "The whole experience has been blessed by the universe, by god, by Buddha, by whoever you serve, because we were able to wrap this show two weeks before lockdown," said Wright. "The fact that [producers] were able to turn it around and premiere it during lockdown, at prime time, we were just set up to win. The show was so much fun to film, but it was hard work — we filmed 20 episodes in two months. And the response has been overwhelmingly positive. I've had some people say things like, 'I'll be honest with you. I wasn't trying to look at this show, but now it's one of my favorites on TV.' It's been a blessing."
In terms of other activities keeping him busy at home these last few months — besides FaceTiming friends and family or biking to stay active — Wright also adopted a vegan lifestyle for two months.
"TikTok has been my savior because I've found so many recipes and tips there," he said. "I've been cooking a ton of vegan food. Now that restaurants are opening, I'll have a piece of pizza or cheese or something like that, but I'll only prepare vegan food and keep vegan food in my refrigerator. I've enjoyed it."
His Legacy on the Hairstyling World
After Wright's grandmother passed at 93 years old, much of his work was inspired in part by her legacy. But his influence is his ability to see beauty through the lens of optimism.
"That is my motto and who I am as a person. I have always been an eternally optimistic, enthusiastic person, and I've also always been in love with beauty. It's one of the biggest things you can do to show yourself personal care, to take care of yourself physically and your skin and your hair. It's vanity, yes, but it's more than vanity — it's impact."