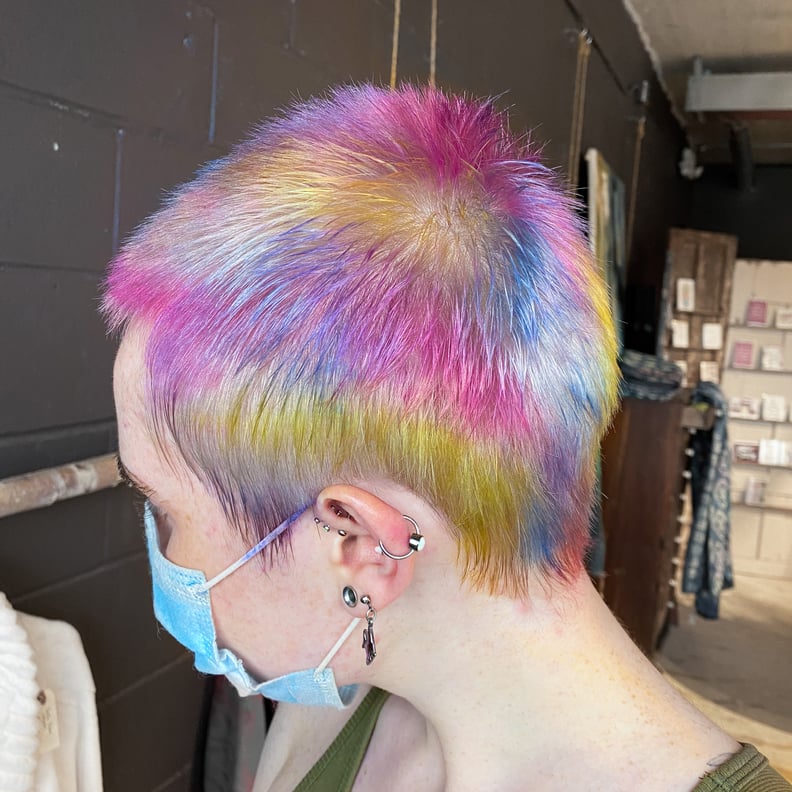 Sometimes, the most simple household items can make the magnificent beauty tools. Case in point: Michigan-based hairstylist and colorist Kelsey Martin used a kitchen sponge to create this bright, bold, and beautiful multicolored hue. Because why paint on hair color on when you can sponge it on and be left with this? We wanted to know all of the details from the hairstylist herself.
"I just wanted to try something new," Martin told POPSUGAR. "I have a handful of clients who are willing to try anything and enjoy letting me be creative on them." And that's exactly what she did.
As for the process, Martin first prelightened the client's hair to an allover pale blonde hue. Then, using a kitchen sponge (which Martin noted was brand new, don't worry!), she dabbed Pravana Vivids semipermanent dye in different colors all over the lightened base. By swapping the tint brush for a round sponge, and by dabbing on the dye instead of painting or dragging it, Martin was able to create this vivid technicolor design that would be incredibly difficult to achieve using a traditional dyeing method.
As for who can try this design, like most things in the beauty and hair color world, if it floats your boat, you can do and try as you wish. Still, this sponge technique is definitely one that works better on shorter hairstyles. "You could try it on longer hair, but it would have a totally different effect," said Martin.
Still, this is one coloring technique you don't want to try at-home. "It could go downhill real fast," Martin warned, a point that is true with nearly any kind of hair color. If you're DIYing, we recommend sticking to colored glosses and temporary dyes.
Get a closer look at Martin's mesmerizing sponge hair-dye technique, ahead.