No-Bleach Balayage Hair-Color Trend: See Photos
"No-Bleach Balayage" Is the Secret to Sun-Kissed Hair Sans Damage
As POPSUGAR editors, we independently select and write about stuff we love and think you'll like too. If you buy a product we have recommended, we may receive affiliate commission, which in turn supports our work.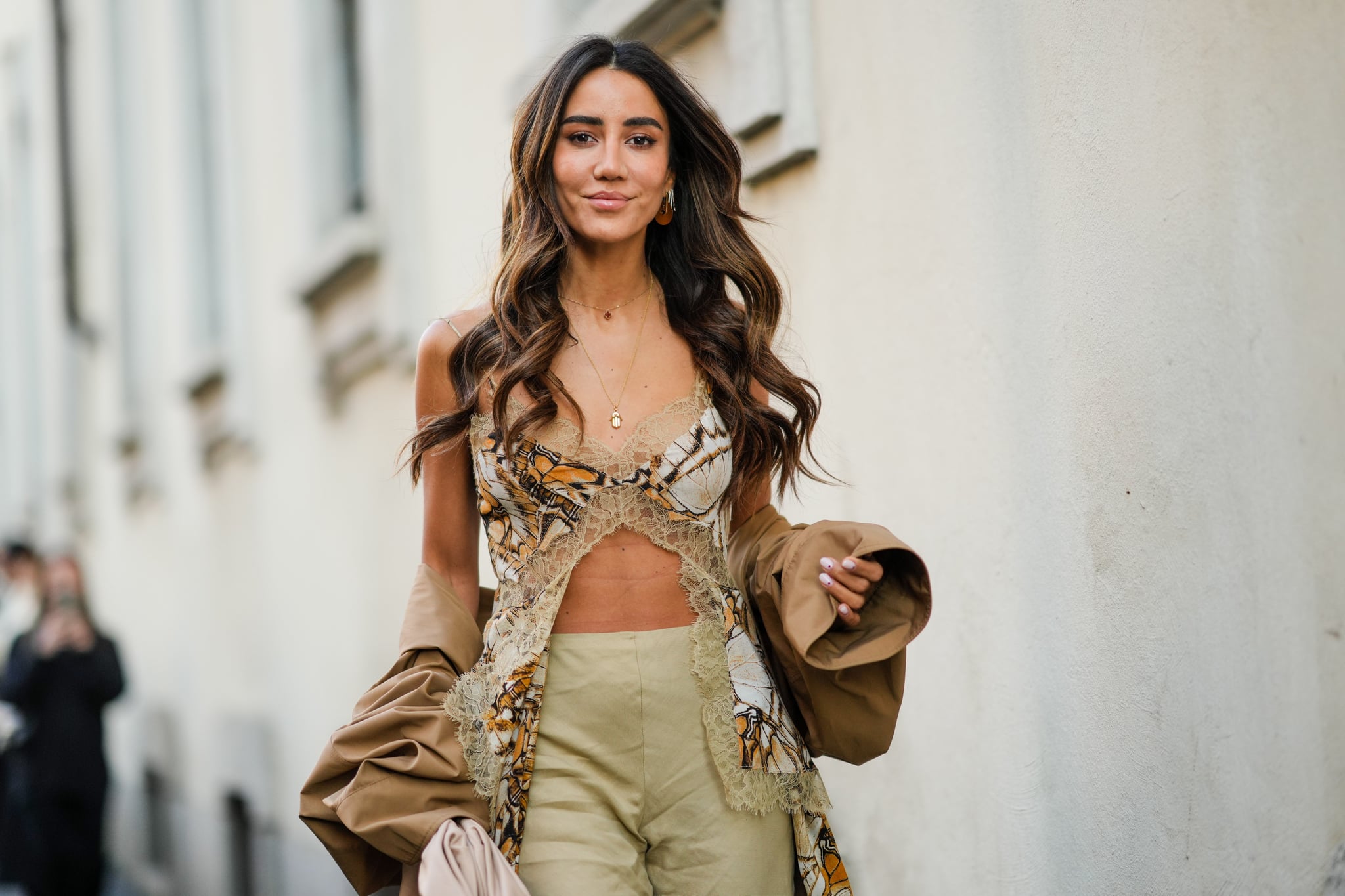 Image Source: Getty / Edward Berthelot
"No-bleach balayage" is a hair-color technique that lightens your hair without the harsh chemicals.
The process involves using high-lift color instead of bleach.
Below, a hair-color professional answers everything to know about the technique.
In addition to the classic hair-color techniques like highlights, lowlights, and ombré, another popular technique is balayage. The "paint-on" method is used on all base colors, hair types, and lengths, and you'd be hard-pressed to walk into a place as simple as the grocery store without finding at least one person with the look.
While the end result is meant to give the most natural-looking results, the process of actually getting there isn't always easy on your hair. That's because typically, achieving the correct dimensional hue involves using bleach, which leaves some people wary due to the overall stress and damage it can cause to hair.
If you are interested in trying balayage but find yourself fearful of the potential damage, you should know about a technique called "no-bleach balayage," which allows you to pull off the same color, minus the potentially harmful chemicals. Ahead, we chat with a hair expert to answer all of our burning questions regarding the approach. Keep reading to learn what no-bleach balayage is, how it works on different hair types, and more.
What Is No-Bleach Balayage?
Balayage is a hair-color technique where lighter pieces are hand-painted in a sweeping motion onto the hair in order to mimic a natural, sun-kissed look. The color typically starts halfway down the hair in order to create a gradient. Since the end goal is for hair to look at least a few shades lighter, bleach is typically used. However, for those looking to achieve a similar end result without the damage, an option without bleach is available, dubbed no-bleach balayage.
"It's a gentler technique that shifts your natural hair color a level or two," Sierra Kener, stylist at Nine Zero One, tells POPSUGAR. Instead of bleach, high-lift color (a type of permanent hair dye utilizing ammonia as the key activator) with ash pigment is mixed with a developer, which "lifts" the natural pigment from your hair and deposits the dye onto it.
Whereas bleach strips the hair of its natural pigment, a high-lift tint lightens and deposits a tone in one step. The process typically causes less damage to the hair than using bleach, and you can still achieve a "just back from vacation" look. "I love it for brunettes; it lifts to a very rich caramel color that doesn't fade to yellow," Kener says.
If you want to try no-bleach balayage, it's as easy as asking your stylist to use high-lift color in place of bleach. However, there are a few downsides to the technique, and it won't work for everyone. While a balayage look created with bleach can lighten the hair up to eight levels, high-lift color can only lighten the hair up to five levels. So if you're a dark brunette looking to go much lighter than your base color — think platinum blond — you may consider sticking with bleach.
Another biggie? High-lift color is typically only done on virgin hair because dye can't lift dye. If you're someone with previously dyed hair who's set on trying out the no-bleach balayage technique, talk to your colorist about using a hair-color remover prior to beginning the process.
How to Care For No-Bleach Balayage Color
When it comes to color upkeep and maintenance, Kener says it's minimal. "If the technique and application of the high lift is done correctly, it can grow out very blended." Kener adds that the color can last anywhere from six to 12 months and recommends simply asking your colorist for a hair gloss if you're looking to refresh the tone in between color appointments.
As with any color service, when it comes to caring for your no-bleach balayage at home, using the right products is key. "I recommend evo purple or blue to cut any brass from water buildup or if you're in the sun a lot," Kener says. "Biotera Ultra Color Care Shampoo ($20) is a great color-safe option." To keep your color looking fresh for as long as possible, it's also important to make sure you use a heat protectant before using hot tools. Our current favorite is the Drybar Hot Toddy Heat Protectant Mist ($29).
Keep scrolling to check out no-bleach balayage inspiration photos to bring with you to your next salon appointment.
No-Bleach Balayage Inspiration