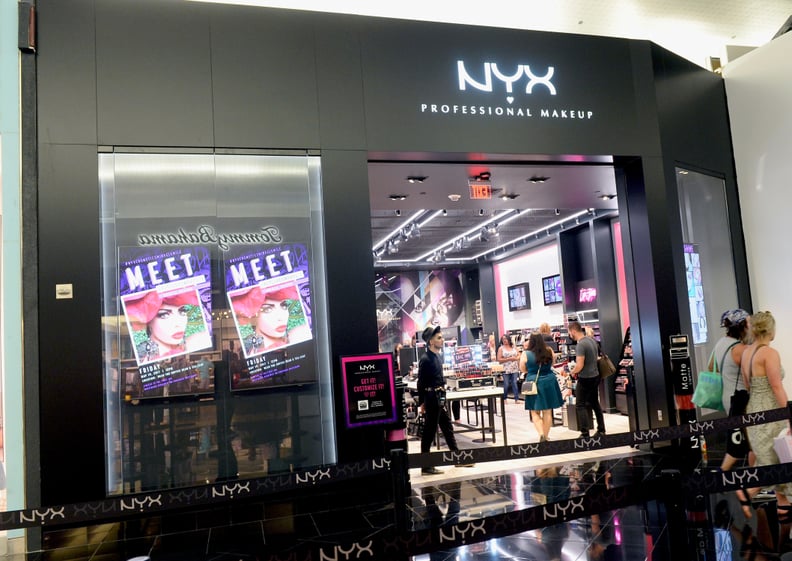 Getty Images for NYX Cosmetics
Getty Images for NYX Cosmetics
NYX Professional Makeup, a budget brand with the payoff of higher-priced alternatives, started as a line that catered to professionals in the industry. And it still does. But now, the power of social media has allowed it to appeal to a vast market of influencers and their makeup-loving fans. It's done this by creating affordable products for artists of all levels and by focusing on diversity within the makeup community.
You may know the brand's story, but if not, here are the Cliff Notes: NYX Professional Makeup was founded in 1999 by Toni Ko in Los Angeles, catering to the burgeoning makeup artist community in SoCal. Ko sold the brand to L'Oréal for $500 million in 2015, left her post at the cosmetics company, and is the brain behind millennial-centric brand Perverse Sunglasses. (She's clearly got a knack for creating successful brands.)
The brand sold to L'Oréal for $500 million in 2015
NYX provides professional, trend-driven products at a price point that won't break the bank. Think liquid lipsticks for $7 a pop, glitter pigments for $6, and eye shadow palettes around $15. Tribe Dynamics, a marketing technology company for lifestyle brands, reports that NYX was in the top five cosmetics brands for March 2017 when it comes to earned media value — a benchmark metric which determines the earned publicity through digital word-of-mouth. In layman's terms: people are talking up a storm about NYX online.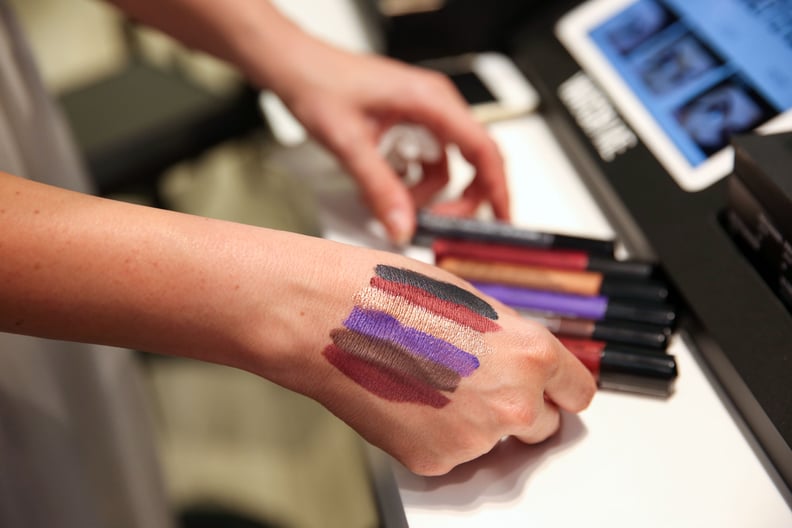 NYX (pronounced "niks") was initially only sold in CVS, Target, and Ulta Beauty before opening its first retail location at Westfield Santa Anita in Arcadia, CA, in 2015. In the past 18 months, the brand has opened over 100 retail locations, including shops in France and Thailand, and it just added a storefront at The Miracle Mile Shops in Las Vegas. The stores were created with social media in mind, featuring large vanities with digital tutorials led by influencers, so consumers can follow along while testing out products before they purchase. Lines for store openings frequently round the block and start overnight.
"What we wanted to do was bring the ultimate expression of brand to our fans," said Nathalie Kristo, global marketing manager of NYX. "What we were noticing, of course, was how they were interacting on social media and digital in this makeup world. We thought, 'Why don't we bring a place where we combine digital and social media with our 2,000 products and create a place where we can play with makeup, discover new looks, [and] follow tutorials on how to create the latest makeup looks?' We aimed to translate all of the energy that we've had with our online community into a physical place."

Bringing Democracy to Makeup
It's rare that a brand appeals to professional artists and also caters to YouTubers and the regular makeup junkie alike. For NYX, the focus has always been to create a space that celebrates artistry of all calibers.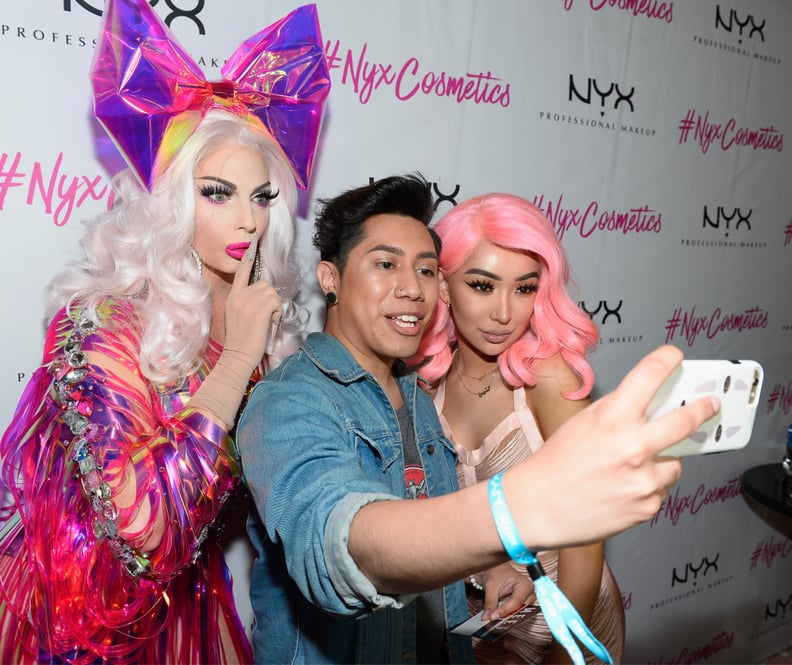 "For us, it stems from the mission this brand has: artistry for all. This idea that everybody can have access to professional makeup products," said Kristo. "That everyone can have access to the latest makeup looks. And that's what social media has done. They've really helped democratize makeup artistry. It used to be a pretty closed circle — you used to have to go to school and gotten a certificate or certification. With social media, it's allowed people to teach each other and to learn and to become more DIY. It's about bringing creativity, artistry, and the passion for makeup to everyone."
Part of that passion led to the founding of The Fine Artistry of Cosmetic Elites Awards, or FACE Awards for short. "The NYX Face Awards is like the Olympics of makeup," said Nikita Dragun, whose YouTube channel has over 550K subscribers, and who appeared at the opening of the Miracle Mile Shops location.
"The NYX Face Awards is like the Olympics of makeup." - Nikita Dragun
The socially driven competition pits artists against each other through a series of makeup challenges. Many top YouTube talent are alumni of the awards, and semi-finalists and finalists from previous years have re-entered the 2017 competition. New talent is also welcomed into the pool — and it can help catapult their careers. The Top 20 were just announced for this year's competition, which culminates with a live event on Aug. 19, where the winner walks away with $50,000 and title of beauty vlogger of the year.
"The Face Awards, for example, has been a platform where a lot of upcoming makeup artists or influencers of today are alumni. We've known them since they've been starting out," said Kristo. "We've done what we can to advance them and their careers and we're really proud of that. We're really happy to see them grow and flourish." 2015's winner, Mykie of Glam & Gore, had 350,000 subscribers when she was announced as a Top 30 contestant; two years later, she currently touts over 1.98M subscribers and has worked with studios like Lionsgate.
Innovation Based on Consumer Hacks
NYX prides itself on producing trend-worthy products at a moment's notice, which allows them to easily get in on major social media moments while the iron is still hot. "When we see something brewing online, we quickly go into product development, and then we bring it to market as fast as possible. If we see people using products in interesting, different ways, it maybe tells us "Oh, there's a need for this,'" said Kristo. For example, the creation of Macaron Lippies, which feature vivid neon and pastel shades, were created after the team saw consumers using the Jumbo Eye Pencil in Milk ($4) and layering bright eye shadow shades on top to create a pastel pop.
"[If] they're using a product in a way it's not meant to be used in order to do something else, it gives us an idea that maybe there's something we need to bring to market," said Kristo.
Inclusiveness in Product and Social Media
NYX, while mass market, isn't overshadowed by prestige brands. Tribe Dynamics reports NYX as ranking within the top five brands on almost all digital social channels (Instagram, YouTube, Facebook, and Blogs) in terms of earned media value, and it is the only mass brand within a sea of prestige like MAC Cosmetics, Benefit Cosmetics, Anastasia Beverly Hills, Too Faced, Tarte, and Urban Decay. In fact, no other mass brand is in the Top 10 ranking companies. According to Statista, NYX ranks as the No. 4 beauty brand in Instagram followers, thanks to its 11.1 million fans to date.
"We've built this community over many years. We were one of the first brands to understand the power of social media through makeup," said Kristo. "What we've done on social media is really celebrate the artistry of everyday people. Our Instagram account is a platform to celebrate, whether it's really sophisticated makeup artists, influencers, or everyday people that are interpreting makeup in different ways."
"What we've done on social media is really celebrate the artistry of everyday people." - Nathalie Kristo
The brand focuses on inclusivity and diversity, offering a variety of shades that caters to all races. The Lip Lingerie line features 24 shades of "nude" matte liquid lipstick; the Total Control Drop Foundation also features 24 shades, including fair, light, medium, and deep with varying undertones.
"NYX as a brand embodies every woman, every boy, anything — everything in between. That's what's made them so successful, lending to their creativity and self-expression. I'm a trans girl, coming from Virginia, and I found myself resonating with the brand and what they stand for. They cater to everyone," said Dragun, who came out on her channel as transgender in 2015.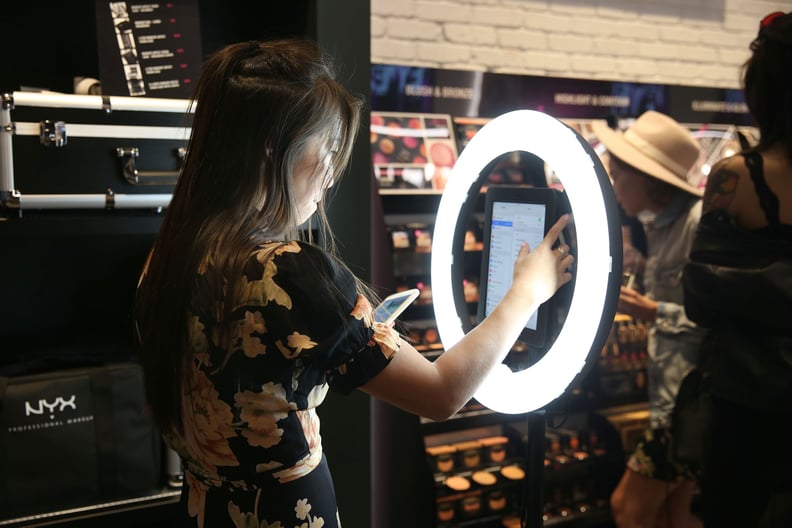 This mission of inclusivity has helped take NYX to the top. "We've always been a social media brand. We know that our audience is everybody," said Kristo. "We are one of the brands that is one of the most well developed with every ethnic group. We've taken care of the products to have strong pigment load, to have all of the colors available in the different shades and undertones so people know that the product will work for them. And we've always represented diversity well on all of our platforms and social media."