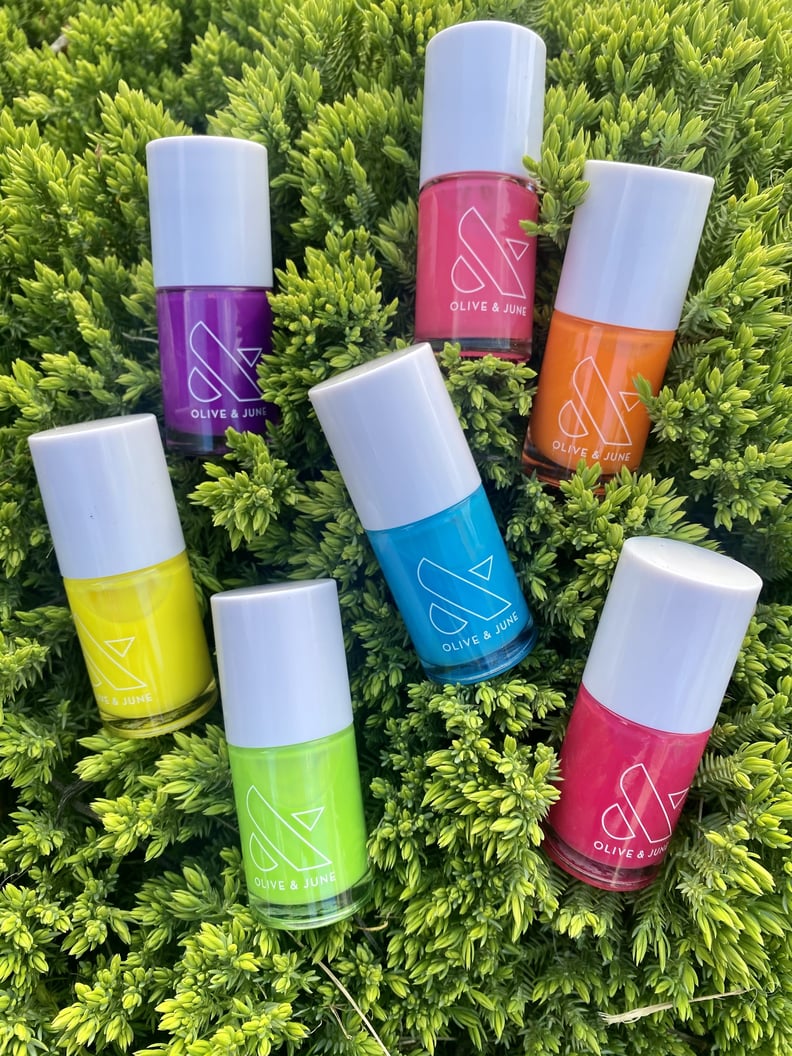 POPSUGAR Photography | Anvita Reddy
POPSUGAR Photography | Anvita Reddy
As POPSUGAR editors, we independently select and write about stuff we love and think you'll like too. If you buy a product we have recommended, we may receive affiliate commission, which in turn supports our work.
Olive & June's Summer 2021 Collection is all about self-expression and embracing color — it's by far their boldest collection to date. Inspired by the vibrant flavors and colors of fruity goodness, each shade is bright and beaming with an opaque pigment. You can literally rock the rainbow all season long. Whether you lean cool-toned or warm-toned, or you just love playing around with color, you can mix and match these shades for a unique and vivid manicure. It's the perfect way to get creative and playful with your nails for the summer.
The entire collection and color palette reminds me of festival season with its carefree and creative vibe and electric and neon shades. It was fun to play around with different shades and combinations — my nails looked like a delicious bowl of Jolly Ranchers. Some of the colors were opaque enough for one coat, however, I recommend using two coats for a bold and vibrant color payoff. The shades in this collection dry down to a fairly matte finish, so if you want that high-shine glossy finish, top it off with the Olive & June Super Glossy Top Coat ($8).
We've been sporting neutrals and muted colors for far too long. It's finally time to taste the rainbow. Keep reading to see all the vibrant colors in Olive and June's Summer 2021 Collection and even the new sticker pack.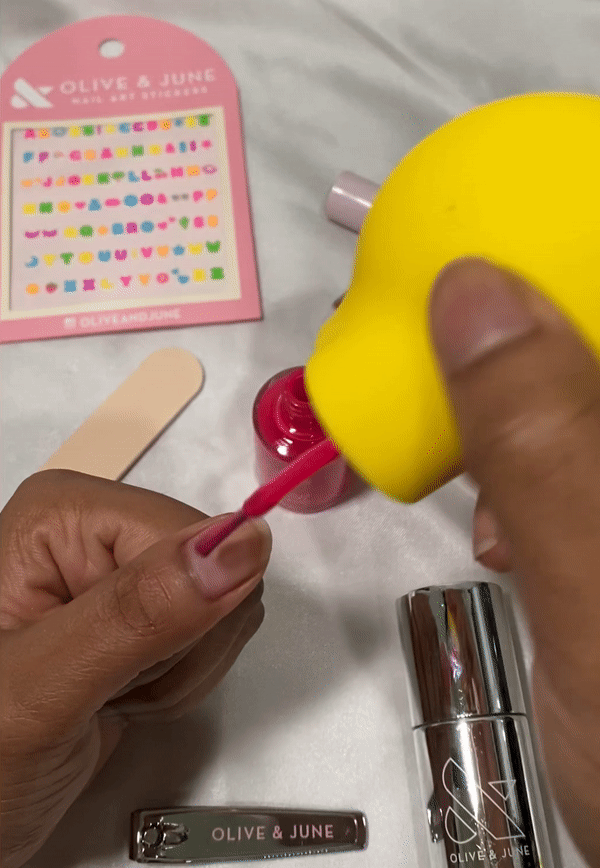 Cherry Crush
Cherry Crush ($8) is a bright deep hot pink that will make you feel fun and flirty. It's one of my favorite shades in the collection since it's bold and bright, yet still approachable.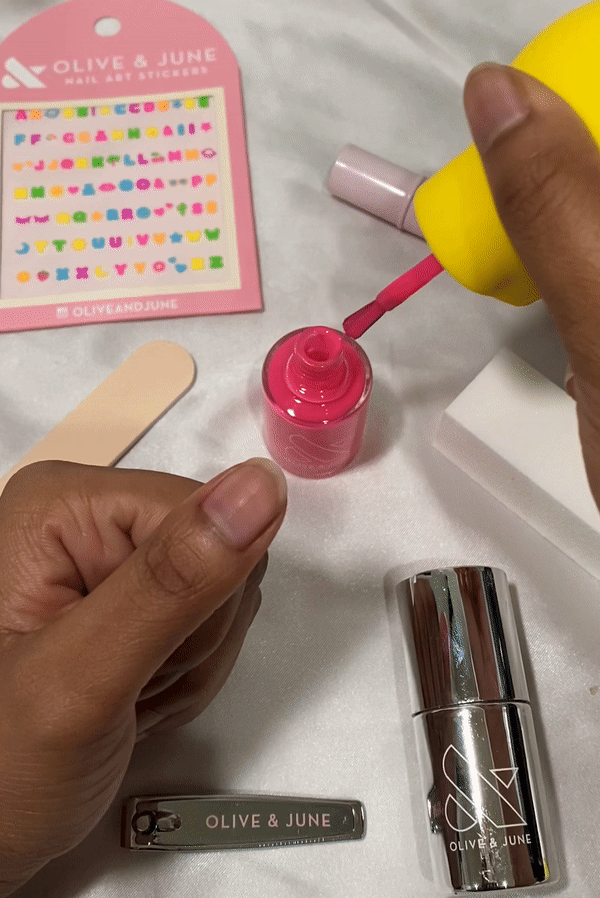 Hot Strawberry
Embrace your inner glam Barbie with Hot Strawberry ($8). It's an electric, neon pink that makes a statement.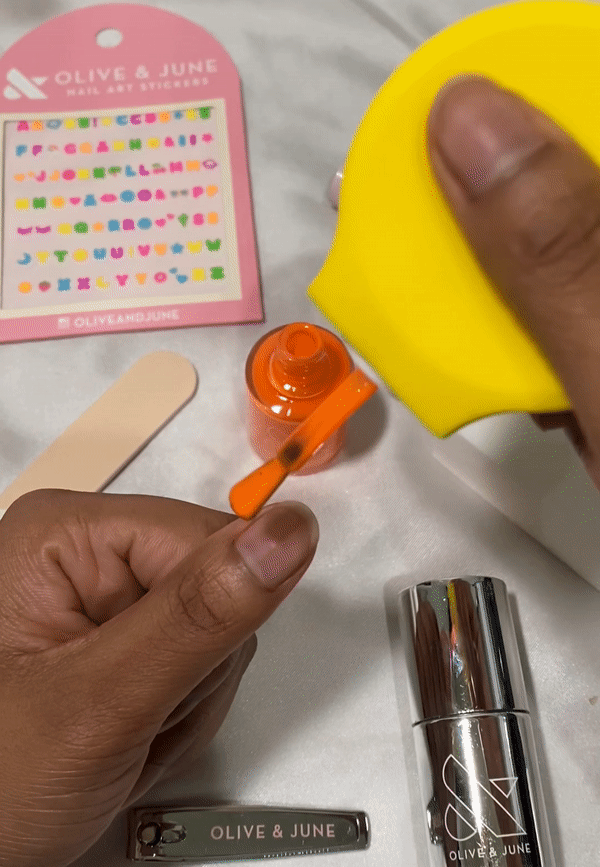 Orange Wedge
The Orange Wedge ($8) shade is a true bright and vivid orange that reminds me of a delicious orange creamsicle.
Lemony Lemon
Bring on the sunshine with the beaming Lemony Lemon ($8). It's a bright true yellow that will brighten up your manicure.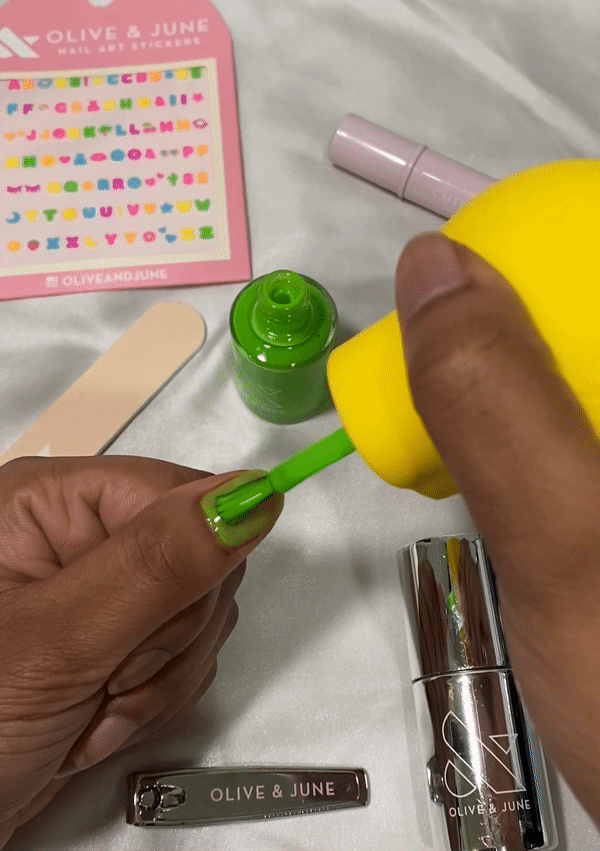 Lime Fizz
Make a statement with Lime Fizz ($8), which is a stunning lime green neon shade. All that's missing is a tall margarita.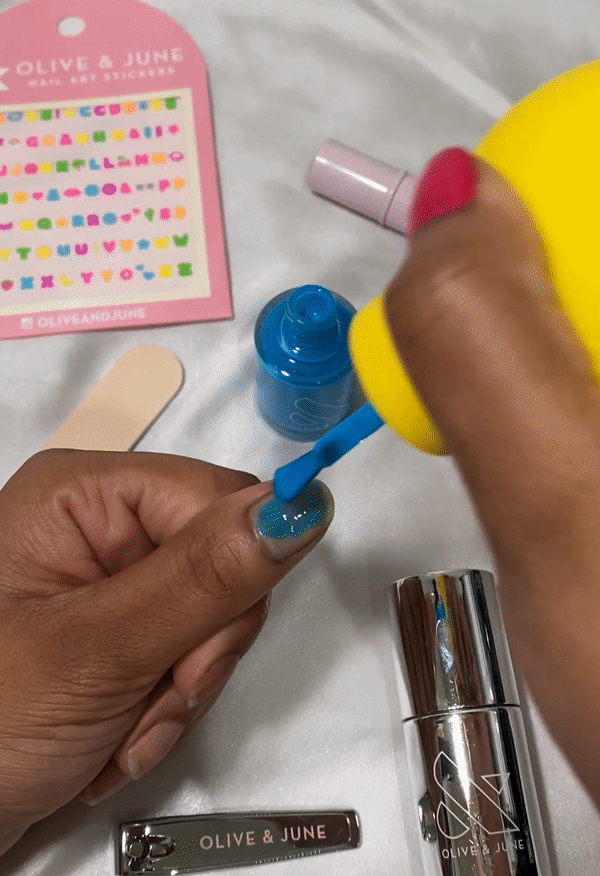 Blueberry Smash
Blueberry Smash ($8) is a bold neon blue that will remind you of gorgeous clear skies and crystal blue waters.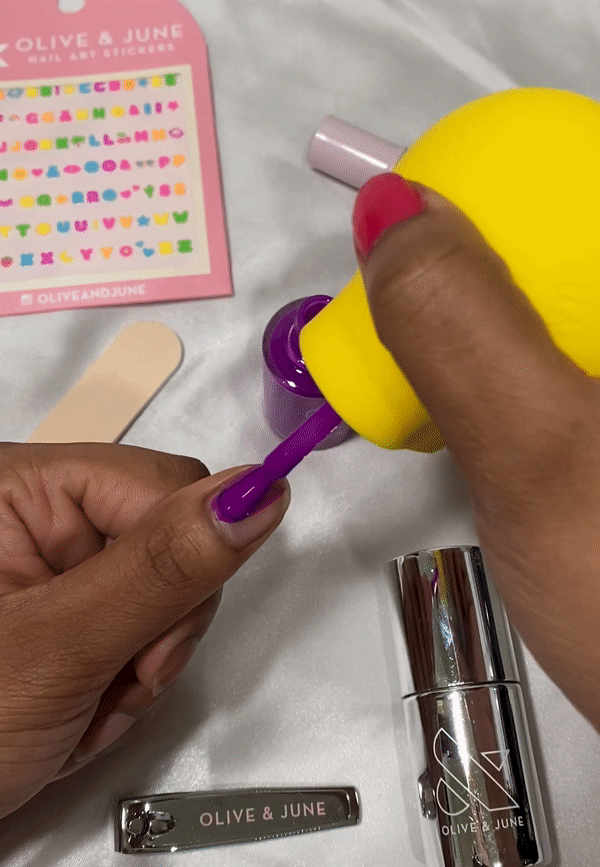 Grape Soda
Embrace the purple trend for the summer with Grape Soda ($8). It's a brilliant purple that will make a statement, especially if pastel lavender is not your thing.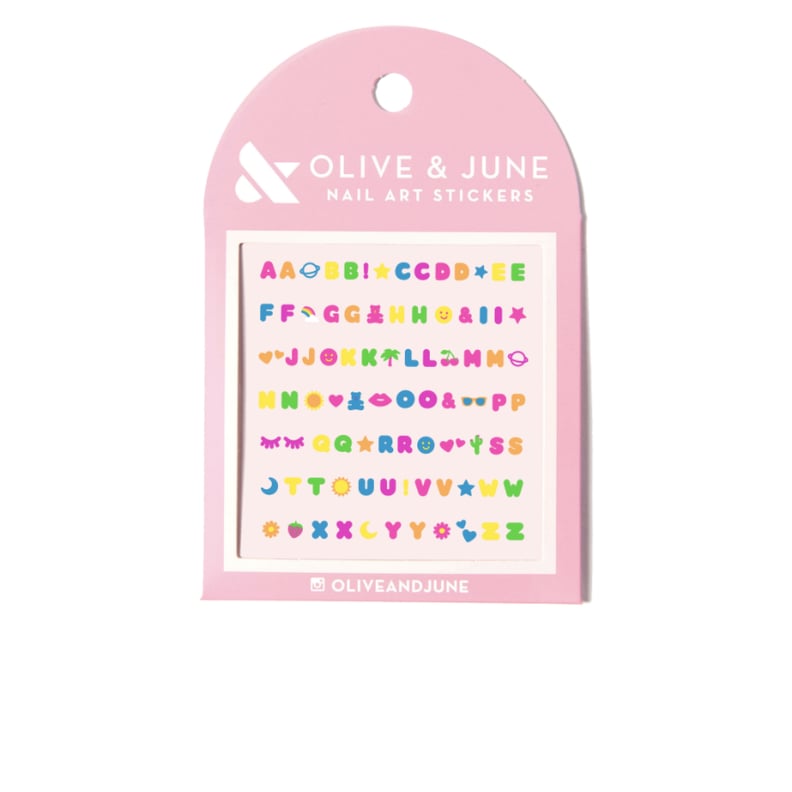 Alphabet Nail Art Stickers
Personalize your manicure with these adorable Alphabet Nail Art Stickers ($8). From using cute summer motifs to expressing yourself with your nails, this sticker kit will help you make a statement.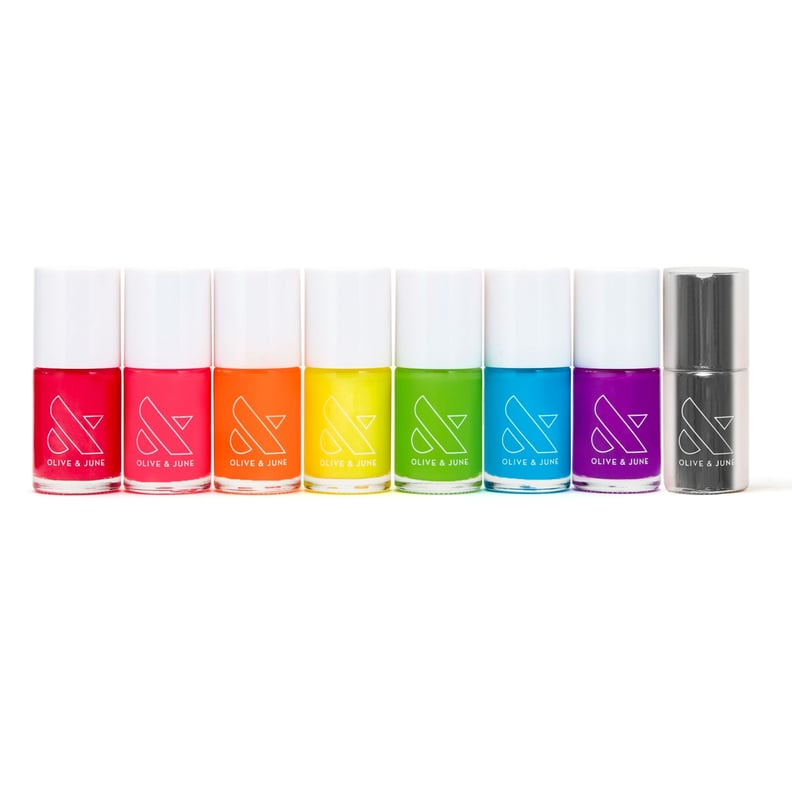 The Summer Set
Rock the entire rainbow with The Summer Set ($64). It's bold and beautiful, and perfect for mixing and matching colors for a truly creative manicure. It even comes with their bestselling Super Glossy Top Coat.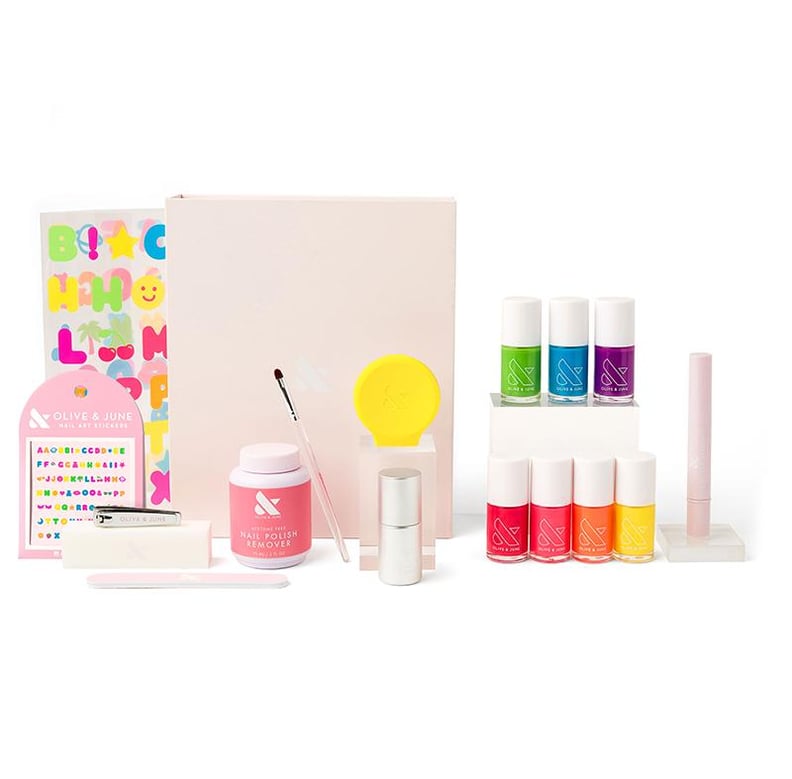 The Summer Box
The The Summer Box ($90) comes with all seven shades of the summer collection, the new alphabet sticker collection, the Super Glossy Top Coat, a neon yellow Poppy, nail polish remover, a nail filer, a nail buffer, a nail cutter, cuticle serum, and a clean-up brush.