If You Have $28 and a High Pain Tolerance, You May Be Able to Fade That Pesky Wrinkle
As POPSUGAR editors, we independently select and write about stuff we love and think you'll like too. If you buy a product we have recommended, we may receive affiliate commission, which in turn supports our work.
As a brand, Peace Out has made a name for itself with dots to heal your acne, patches to banish puffy under-eyes, and strips to clear your pores. In 2019, they essentially built the affordable at-home microneedling bandwagon with solutions for dark spots and now wrinkles.
Peace Out Wrinkles: Microneedling Anti-Wrinkle Retinol Patches ($28) sound, like many beauty products with overreaching promises, too good to be true. The basics: the package (six patches) retails for $28, which means each patch is just under $5. Unlike the brand's "brightening dots" for dark circles, which come infused with vitamin B and licorice extract, the antiwrinkle patches come with a cocktail of retinol, vitamin C, and peptides to reduce the appearance of fine lines. Peace Out asserts that 70 percent of women felt that their wrinkles were less noticeable after two weeks of use.
Now that I've tried the patches — in the name of science, natch — I can tell you that they feel like they're doing God's work. The needles may be "micro," but you definitely feel them puncturing your skin. (And if you're anything like me, you jab them in harder because beauty is pain, and these wrinkles aren't going to fix themselves.)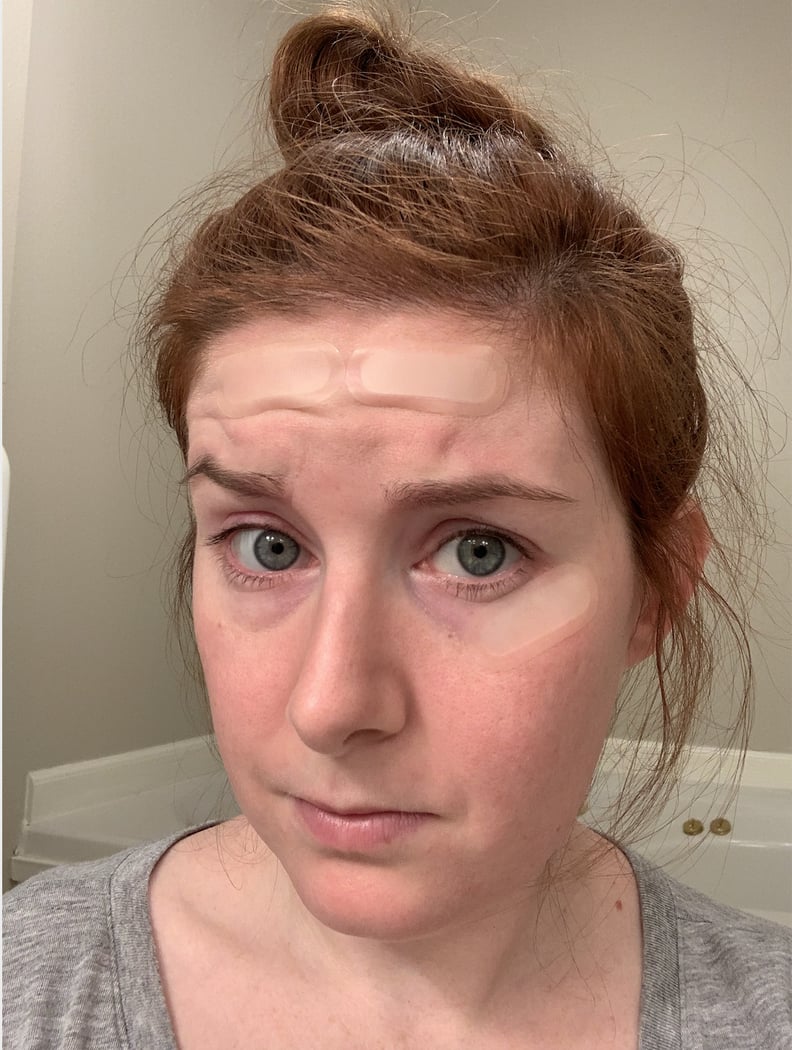 "Why are you sleeping with BAND-AIDS on your face?" is what I imagined my husband saying to me as I slid into bed, patches secured on my forehead to target my "skepticism" wrinkles and one under my eye to plump the skin around my crow's feet. What he actually said was nothing, because the patches are strangely discreet. I wouldn't go to a gala with them on my face, but then again, I wouldn't go to a gala at all.
I couldn't feel them on my face while I slept — not a claim I could make for similar patches from a pricier brand I tried recently — and when I woke up, my wrinkles had completely disappeared! Just kidding. But they did look slightly better after several uses! If I were to do it over again, however, I wouldn't have carelessly strewn three patches over my faces; I would have saved them up to target the same wrinkle over and over.
At $5 a pop, you'd be hard-pressed to find a more effective treatment. The fact that it works while you're in bed gnawing on a tooth-guard and hugging a body pillow is really just icing.