Which Proactiv System Is Right For Your Skin Type? Follow This Guide to Find Out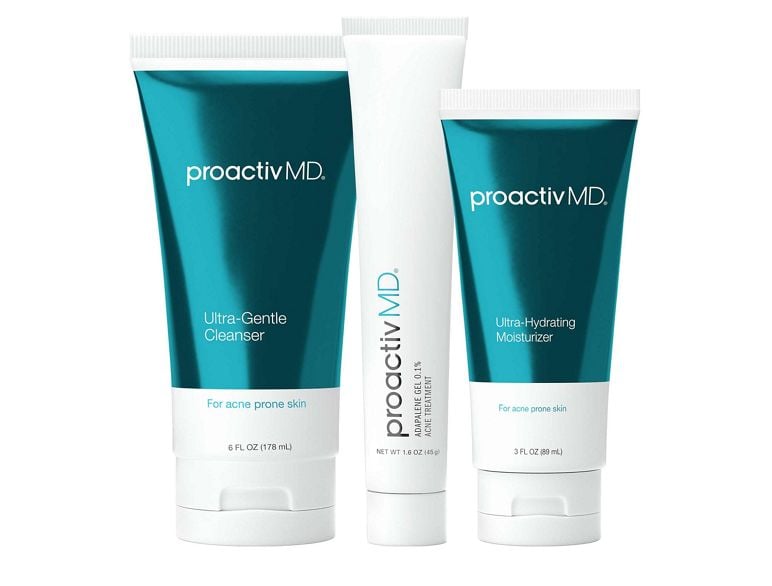 Proactiv
As a child, I distinctly remember the Proactiv commercials of the early 2000s. Each 30-second slot was star-studded with the young Hollywood starlets of the time, like Jessica Simpson and Alicia Keys. I remember wanting the products as a young, pimply teen simply because each person had seemingly perfect, clear skin that radiated against the crisp white backgrounds.
Now, the savvy and informed beauty shopper understands that skin isn't one size fits all. Not be left in the tracksuit and flip-phone past, Proactiv listened to the growing needs of consumers asking for varied product formulas depending on individual skin types. Now, the brand offers several products in each of its three streamlined systems to address your biggest skin concerns. If you're curious about which Proactiv system might be best suited for you, we've curated this guide to help. As always, talk to your dermatologist before starting a new skin-care regimen to be empowered by your potential choice. In the meantime, keep reading ahead.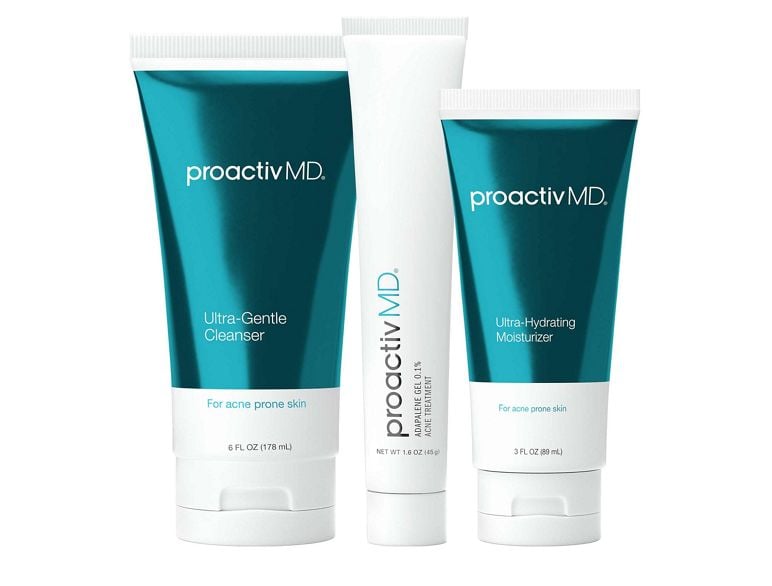 Best For Normal to Oily Skin: ProactivMD 3-Piece System
If you have normal or oily skin and experience sporadic breakouts here and there, you want a simple skin-care system that addresses your needs without going overboard with actives. The key is to choose formulas that won't clog pores. That's where the ProactivMD 3-Piece System ($40) comes in. With this system, only one product contains an acne-clearing ingredient — adapalene, a retinoid you can find over the counter known to decrease inflammation and keep pores clear — while the other two formulas are milder.
The first step you'll want to follow in the morning and evening is the gentle cleanser, which contains tiny exfoliating beads to slough away dead skin cells. Use the Apalene Gel 0.1% once a day at night to prevent new blemishes from popping up, followed by the Ultra-Hydrating Moisturizer. (Retinoids generally speed cell turnover and smooth rougher sections of skin, but can also cause dryness and flakes.) The final step is to apply your moisturizer that can be used as needed throughout both the morning and evenings. Again, it's worth noting: just because you have normal or oily skin does not mean you shouldn't add extra moisture to your routine.
As with any face products and skin programs, make sure to use sunscreen with an increased level of SPF if you go outdoors or intend to be in direct sunlight.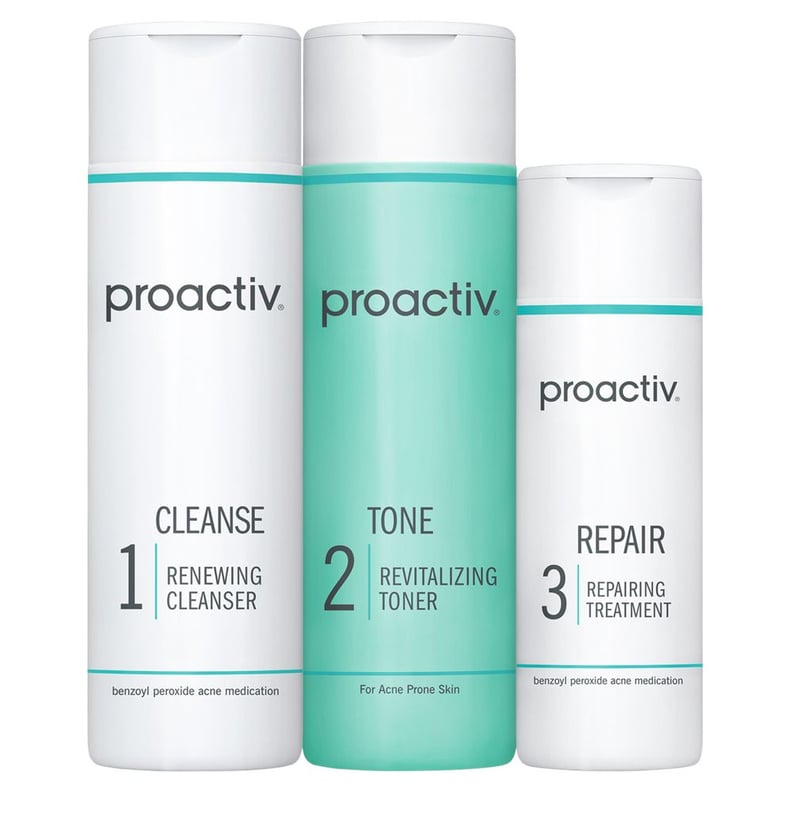 Best For Acne-Prone Skin: Proactiv Solution Acne Treatment System
If you've heard of Proactiv, this is the original three-step regimen you're probably familiar with. The Proactiv Solution Acne Treatment System ($40) relies on a high concentration of the ingredient benzoyl peroxide, a topical antiseptic that clears the skin of oil, dirt, and acne-causing bacteria, which is why it works best for people with acne-prone skin versus the occasional breakout. (There are multiple causes of acne, so if your acne is chronic and persistent, it's always your best bet to visit a dermatologist to pinpoint the best course of treatment for you.) This system may be too strong for sensitive skin.
The first step includes a cleanser that can be used in the morning and evening. It contains 2.5 percent benzoyl peroxide to target blemishes, plus tiny exfoliating beads to physically remove any dirt and oil. The second step includes an alcohol-free toner, which contains glycolic acid and witch hazel to clarify the skin and remove any excess oil left behind after using the cleanser. Add a few drops of the liquid to a cotton ball or pad and sweep it across the face. Finish with the Repairing Treatment, which is an all-over treatment loaded with 2.5 percent benzoyl peroxide meant to be applied morning and night. If your skin feels tight, apply moisturizer. Make sure to use SPF when using this Proactiv system.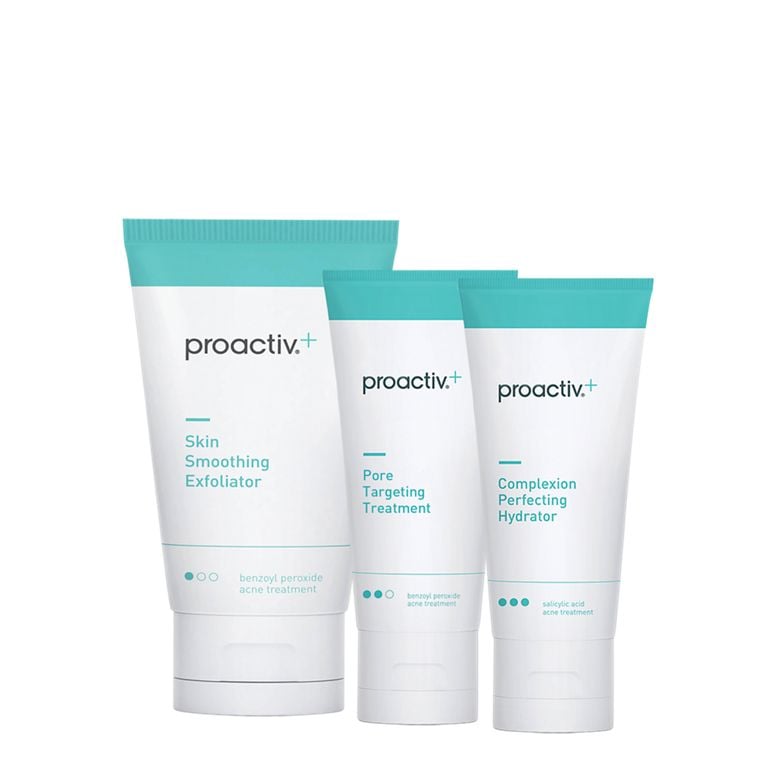 Best For Sensitive Skin: Proactiv+ Acne Treatment System
If most acne products you've tried are too harsh, you may have sensitive skin. This skin type is easily irritated and tends to flare up when the natural skin barrier has been compromised leaving symptoms such as redness, itchiness, and flaking. For those who fall in this category but are still looking for acne solutions, the Proactiv+ Acne Treatment System ($40) might be for you.
Both the Skin Smooth Exfoliator (the first step) and the Pore Targeting Treatment (the second step) contain benzoyl peroxide. Because it can be difficult to introduce new actives into your routine without an adverse reaction, it might be helpful to start usage of the cleanser and treatment a few times a week first to test your tolerance before building to every other day, then every day. The Complexion Perfecting Hydrator (the final step) contains a low dose of salicylic acid (just .5 percent), which dissolves dirt and oil from pores but also tends to be more easily tolerated by people with sensitive skin, so start by applying this as your moisturizer once a day and when needed. As always, be sure to use sunscreen in order to protect your skin from sun damage.