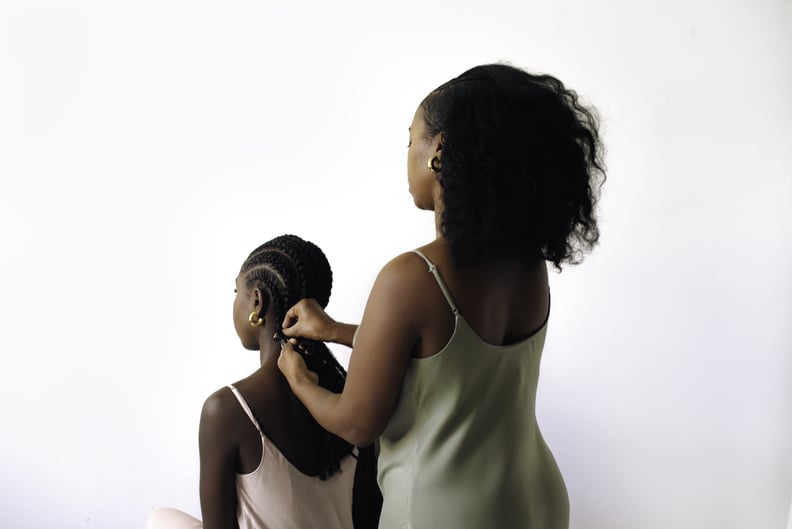 Rebundle | Curtis Taylor Jr.
Rebundle | Curtis Taylor Jr.
Around this time last year, I got box braids. Like plenty of other Black women, I frequently style my hair this way during the winter months as a way to grow it out without manipulating it and to protect my fragile curls from the cold. Satisfied as I was after the braids were finished, my scalp became unbearably itchy about a week into wearing the style. An extensive search for answers on YouTube and one apple cider vinegar rinse later, and I was able to get rid of the itching. I took the braids out about a month later, but I've known plenty of others who couldn't even wait that long, resulting in a waste of time and money spent getting them installed.
Ciara May, founder and CEO of an all-new beauty brand called Rebundle, had a similar experience with box braids once upon a time, but unlike myself, her solution to the problem didn't lie in dousing her head with apple cider vinegar and hoping for the best. Instead, she created a company specializing in plant-based hair extensions as a way to help people who wear braids avoid this issue altogether.
My scalp just became so irritated, and I felt like I didn't really have any options, and I didn't like that feeling.
"I was wearing braids back-to-back because I was growing my hair out," May told POPSUGAR. "I think wigs are uncomfortable, and my hair was short, and I just didn't really want to deal with it, so braids were my go-to, as they have been for most of us at a lot of different points in our lives. But my scalp just became so irritated, and I felt like I didn't really have any options, and I didn't like that feeling."
Itchy box braids are an all-too-common problem among Black women, and while it's easy to try placing the blame on a dry scalp, the issue is more complex than that. Most of the braiding hair that's used for braided hairstyles is made of plastic and coated in a chemical that can cause a scalp reaction when installed, something that May discovered while researching her irritation.
"I found this article by a high school teacher talking about how she uses synthetic hair as a talking point for girls interested in chemistry because it's made out of plastic," she said. "I was like, 'Oh, my God.' I know it's made out of plastic but . . . it's made out of plastic — and not a good plastic."
While trying to limit the amount of waste she produces, May realized that her desire to live sustainably and her ambition to find a solution to her synthetic braiding hair troubles went hand in hand. Rebundle is now working on a final product for consumers to purchase that will eliminate the use of single-use waste and provide a better alternative for people who deal with scalp irritation and itching. The hair can be installed for just as long as you'd typically keep traditional box braids in — around two months — and is biodegradable.
"Because it's a plant, you can throw it away with your plant compost," said May. "You can compost it at home, and it'll break down naturally."