The Hustle That Made Sheika Daley: From Strip Club Makeup to Red Carpets Everywhere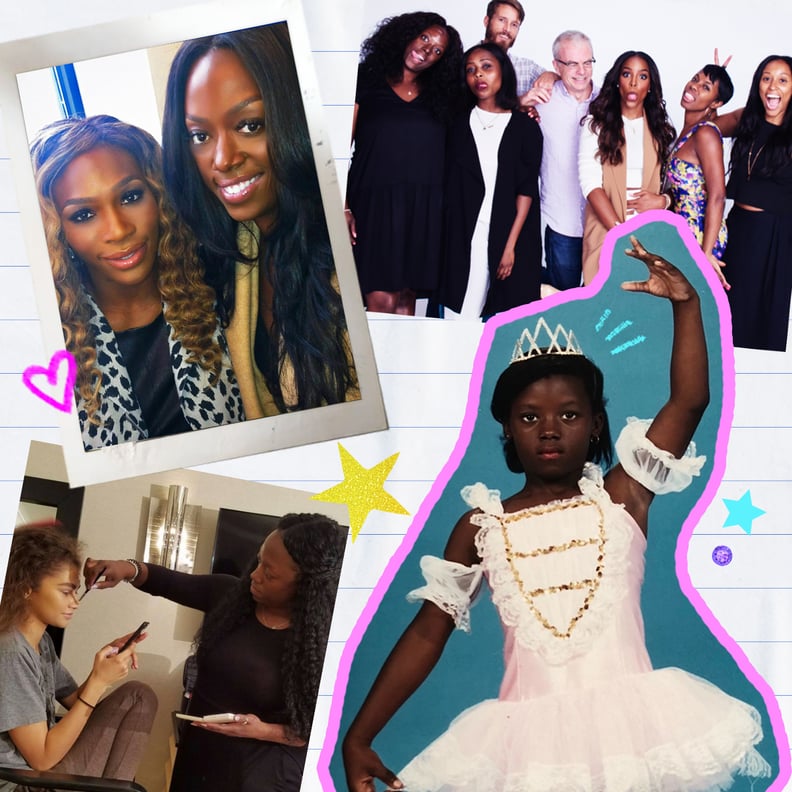 Courtesy of Sheika Daley | Illustrations by Keila Gonzalez
Courtesy of Sheika Daley | Illustrations by Keila Gonzalez
As POPSUGAR editors, we independently select and write about stuff we love and think you'll like too. If you buy a product we have recommended, we may receive affiliate commission, which in turn supports our work.
Welcome to Big Break, where some of the most influential figures in the beauty industry reflect on the moments that made them — from the good to the bad, and everything in between. Here, veteran (and self-taught!) makeup artist Sheika Daley shares how she went from doing makeup at the top gentleman's club in Miami to being a makeup artist for some of the biggest names in Hollywood, including Zendaya and Beyoncé.
After slipping into the ballerina pink tutu, but before the curtain drew to a legion of parents, 7-year-old Sheika Daley would wait backstage for the finishing touch: red lipstick. Her mother, a painter, quickly became everyone's go-to for makeup at dance recitals. She could get 20 to 30 girls ready with a single Fashion Fair eyeshadow trio.
"I was fascinated with how she held the brush, how she painted on the colors," Daley said. "Somehow she would make us all look different, and I would just watch her as she worked. When she put on that red lipstick I was like, 'Wait a minute. This is a whole 'nother world for me.'"
That fascination lingered well into college, where she was studying mathematical science on a full-ride scholarship. Her life trajectory was in plain sight: professor, actuary, mathematician. Still, "as much as I was trying to excel in that world, my mind was still on makeup," she said. "In my first year of school, I spent most of my time in my dorm room getting people ready for pageants. It was my thing. I realized then that I already knew what I really wanted to do with my life, and that wasn't it."
"While they were selling panties, I was reading up on color correction and skin tones and product formulations."
By the end of freshman year, Daley was headed back home to Florida to launch a job hunt that would get her foot in the door. Soon, she got a gig at Victoria's Secret — "that was the only company I knew that had makeup and skin care" — and ended up working as the head of the beauty counter. Without formal cosmetics training, she began to teach herself everything there is to know about makeup. "I was a student again, reading everything I could get my hands on. While they were selling panties, I was reading up on color correction and skin tones and product formulations."
Around that same time, MAC Cosmetics was just emerging onto the beauty scene as this "hip, new, fun, energetic makeup line that was all inclusive for everyone," she said. "As a woman of color, that was huge, because back then there weren't a lot of makeup lines that had a full range of color for everyone."
Needless to say: Daley wanted in on the magic — and after two years of frequenting the store every single month and asking the store manager for a chance, she finally landed the job.
Learning the Tricks of the (Makeup) Trade
Once there, she was like a beauty sponge, soaking up as much information about the world of pro makeup as she could. Over the next few years, "MAC taught me how to build my portfolio, that I needed to build relationships with photographers, that I needed to find an agency," she said. "I realized, This is just the beginning; the first step. There was so much left to do, and I was getting older."
Beyond that, working 20 hours a week at a beauty counter also wasn't bringing in much money, and Daley knew she needed to branch out in order to turn this profession into a career. Then, in walked her opportunity: a freelance makeup artist who rotated nights doing the glam for girls at a local strip club called Tootsie's in Miami.
"One day she told me how much money she made in one night, and I said, 'You need to sign me up. Immediately.'"
And sign up, Daley did. Two months later, she secured a position working anywhere from two to seven nights a week at the gentleman's club. "The girls ended up loving me," she recalled, adding that this was where she really got to play. "That ended up being where my creativity just exploded, because I had the freedom to literally do whatever I wanted."
You could also say it was the first time she got to put her makeup mastery to work on the big stage.
"No one said anything if I did something bold. I could explore. And then I could also see how the products held up and how they looked on the girls. Because I would get them ready. They would go out, and I would watch them perform. I could see what the lights were doing and how it looked when they came back to the dressing room."
It wasn't completely unlike doing the makeup before a big recital, much like Daley's mom did for her and her friends backstage growing up.
"They would come back and I could see, OK, did this foundation stay or does it sweat off? Does this glitter work under the light? Does this glue stay on? What about this eyeshadow? I was literally testing products every single day for three years while I was at the club."
For the last year of her time at Tootsie's — and because she "didn't want to get stuck there," Daley said — she started double-booking herself, assisting other hair and makeup artists until she could sign with an agency. The work was solid, including catalog photoshoots for retailers like Sears, JCPenney, and Kohl's. And so it went: work from 5 p.m. to 2 a.m. at the club, up again by 5 a.m. to make a 6 a.m. call time.
"That was hard for a year, but I wanted to be looked at as a solid makeup artist." She never let up the hustle, and eventually, she signed on with a modeling agency that also repped artists. Next up? An A-list clientele.
Booking the Big-Time Names in Hollywood
Daley's first official celebrity client was comedian Sommore, followed shortly thereafter by rapper Trina, a job which took her from Miami to Chicago, followed by Milwaukee, WI, and Green Bay, WI, on weekends. While in Chicago, she then landed a gig working on the set of The Oprah Winfrey Show doing correspondent Ali Wentworth's makeup.
"It was all one big pinch-me moment," she said. "But I'll never forget one morning, I was just sitting there and Oprah came into our dressing room and gave me a hug. It was mad early — call time for those morning shows was something like 6:30 a.m. — and she had just gotten off a flight from Africa. She walked in and said, 'Good morning,' gave me the biggest hug, and then just walked out. I looked around like, What just happened? I nearly lost my mind. I still have my badge, my sticker, and I still have the red cardigan that I had on; it's on a mannequin at my mom's house and it's never been touched since."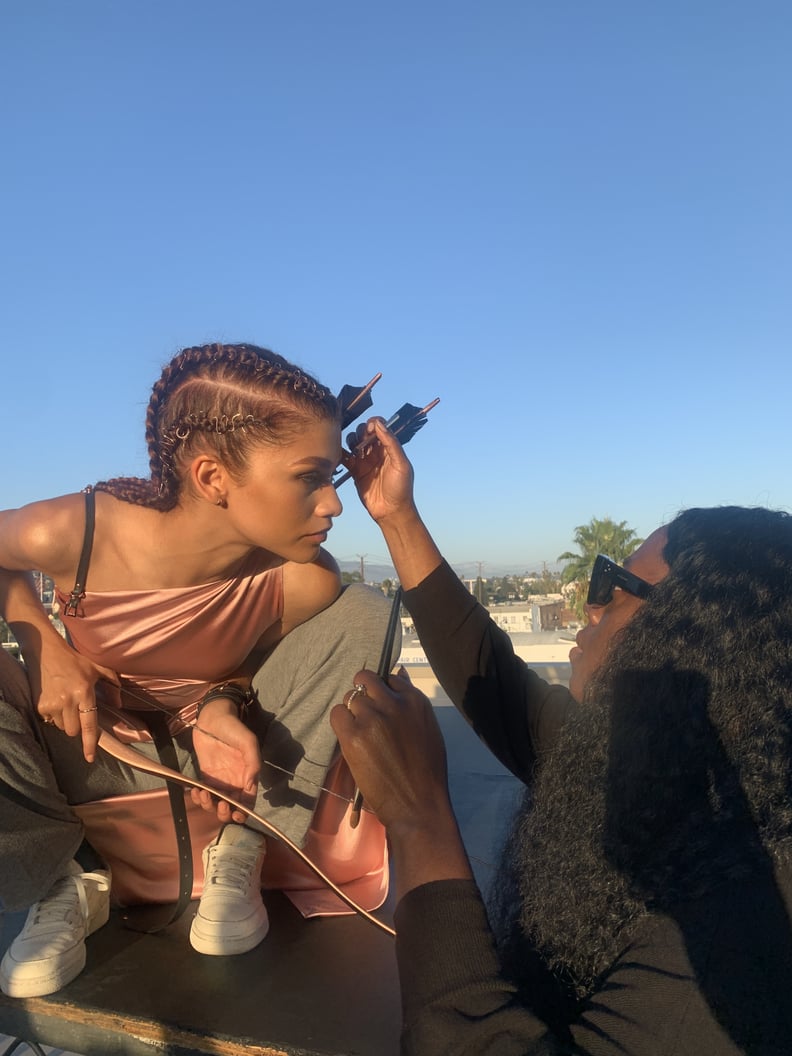 That experience, of course, was only the kickoff to Daley's rise up the celebrity makeup team roster. After fleeing the cold of Chicago for Miami, and before eventually making her way to New York City, the artist booked a flurry of clients via word of mouth — from Kelly Rowland to Serena Williams to La La Anthony. Her star, it seemed, was on the up.
"I've been able to work with some of the most amazing women in the world," she said. "I couldn't tell you the exact scenario that made all of it happen. I can only sum it up as: I just put my head down, I went to work, I stayed focused, kept clear of the drama, and just tried to be consistent with what it is that I was doing."
Not that the work stopped there: "I didn't want to go to New York because I didn't know what to expect. All I knew was I wanted to do makeup, so I packed up and lived with my uncle for four months until I could find a place and figure it out. Then I grinded it out every single day. I never turned a job down and I did whatever it took to make sure that I was going to succeed, because I had my father and my mother looking over my shoulder at the end of the day."
Meeting Zendaya — and Paving the Next Frontier of Beauty
Daley had been booking a steady stream of jobs in New York when the opportunity to work with Hollywood's biggest up-and-comer presented itself. "I met Zendaya when she was 15 through her stylist, who I have a great working relationship with through La La [Anthony]," she said. The gig was for a Macy's campaign surrounding the Material Girl collection, and the partnership has been going strong ever since — extending from magazine covers for Elle and InStyle to brand campaigns, and even an Emmy win.
"It's been a long, joyful, wonderful ride," Daley said.
Still, despite the thousands of photoshoots under her belt, and the hundreds of red carpet moments she's crafted behind the scenes — not to mention co-creating a synthetic and cruelty-free false mink lashes line called Elora Lane Beauty with Kelly Rowland — one thing is clear: there's more to be done in this space.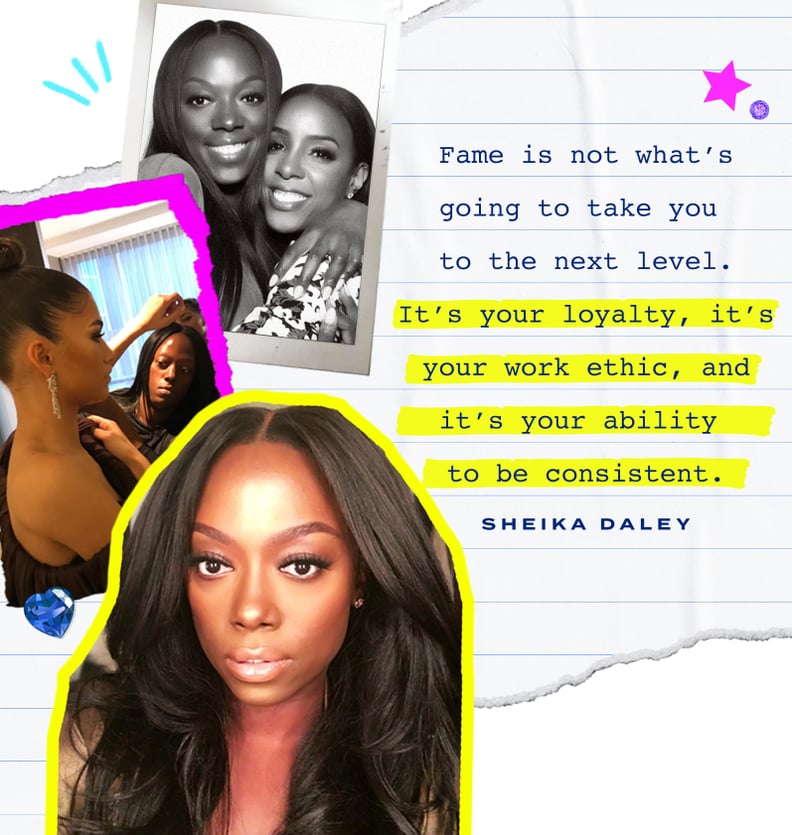 "Even now, I don't think I've reached 'success' yet," she said. "I still see myself as this little girl or teenager, trying to convince my parents that this is what I'm supposed to do. I'm always going to be that no matter what, no matter how successful I am."
To achieve success as a makeup artist, Daley admits, it should be less about notoriety or acknowledgement, and more about taking care of the people around you. "Success for me is making sure that my mom and dad don't have to work anymore, or that I can put them in a nice house they can retire in. That my son has everything he needs. I'm not there yet. So I'm still grinding. The head is still down."
This is the one thing she wants to teach other up-and-coming artists in the industry, "because I feel there's so many artists out there that are more caught up with being the celebrity itself than providing a service," she said. "My legacy is not fame — it's the art, it's the craft. Fame is not what's going to take you to the next level. It's your loyalty, it's your work ethic, and it's your ability to be consistent."
She added: "Oprah once told me, 'Do your best and the right people will notice.' And that's all I've been doing my entire career — the best that I can do. The people that are meant to notice will. I know I still have a lot of work to do. There's more for me to give."
Put simply: the show for Sheika Daley — even all these years later — has only just begun.