POPSUGAR
/ paid content for /
Ulta Beauty
Shop Andrew Fitzsimons's New Hair Line at Ulta Beauty
Andrew Fitzsimons's Hair Line Will Give You the Celeb-Inspired Hair of Your Dreams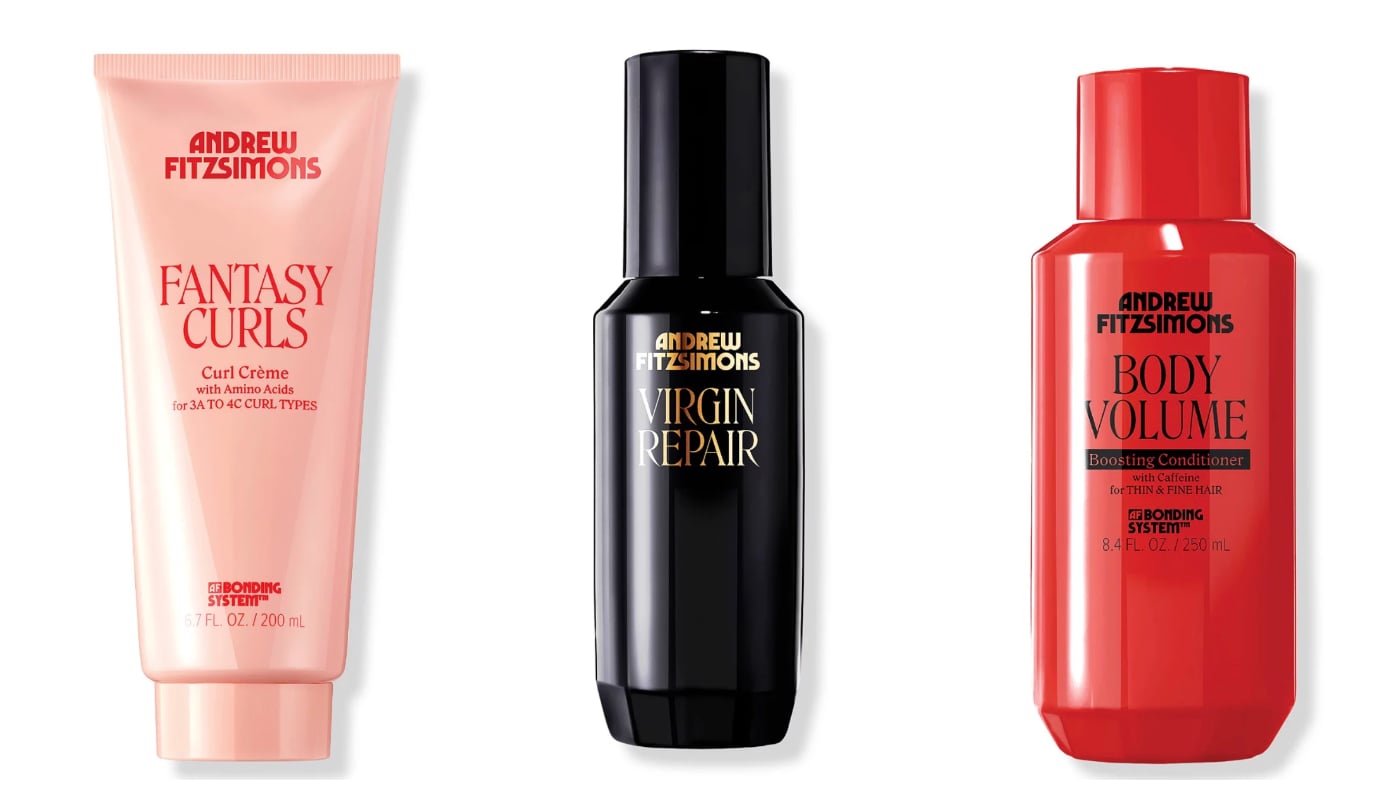 Celebrity hairstylist Andrew Fitzsimons's new hair line is nothing short of extraordinary if you're looking to sport some effortless, cool hair. Exclusively sold at Ulta Beauty, our favorites include the Après Sexe Texture Spray ($14), which gives that highly coveted off-duty model hair, and the Discreet AF Dry Shampoo ($14) that, as suggested by its name, keeps second-day (maybe third-day?) hair hush hush, revealing nothing but bouncy, glossy strands. But depending on your hair type or mane desire, there's a wide array of styling products, treatments, and shampoo and conditioners to give you celeb-worthy hair. Check out the collections ahead!
Virgin Repair
This collection is for dry or damaged hair that's in serious need of repair from chemical and thermal damage or environmental stressors. For an intense strengthening of the hair structure, it's best to use the Virgin Repair Shampoo ($14) and Virgin Repair Conditioner ($14), followed by the AF1 Repair Leave-In Conditioner ($10) and the Virgin Repair Restructuring Serum ($14). For days when you're in the mood for some extra pampering, the Virgin Repair Restructuring Hair Mask ($14) deeply conditions and strengthens hair, leaving it super soft, shiny, and smooth.
Fantasy Curls
Besides the cute pink-and-red colorway on the packaging, the Fantasy Curls collection gives all curly hair types a moisture-quenching and deep nourishing routine. The products in this line contain amino acids that help control volume and tame frizz without stripping the hair of its natural oils, and they also work to rejuvenate dry, thirsty hair. For a solid routine, start with the Nourishing Shampoo With Jojoba Oil ($14) and follow up with the Nourishing Conditioner With Coconut Oil ($14). If you want to give your curls an extra kick, the Curl Amplify Texture Spray ($14) boosts volume and gives a thickening effect. If your coils are in need of some extra definition, the Curl Crème ($14) will wrap those babies in a rich, antihumidity treatment that will leave them looking bouncy and defined.
Prism Shine
For glossy locks that shine from afar, the Prism Shine collection delivers ultimate moisture and extreme shine. Yes, the bright-pink packaging is an indicator of something cute, but what's truly eye-catching is that it's infused with a hyaluronic-acid protein complex that helps in replenishing fibers from root to tip while leaving strands soft, smooth, and silky (how's that for alliteration?). The Prism Shine Glossy Shampoo ($14) contains coconut-oil-derived ingredients and aloe vera that provide a shine-boosting effect, delivering maximum impact when paired with the Prism Shine Glossy Conditioner ($14). Next, follow up your routine with the Prism Shine Softening Crème ($14), which delivers intense shine and eliminates frizz and flyaways. Finish off with the Prism Shine Invisible Shine Hair Spray ($14), which acts as the ultimate topcoat that adds luster without the greasiness.
Body Volume
If your mane's been looking a bit slumpy, level up with the Body Volume collection. Start with the Body Volume Boosting Shampoo ($14) and the Body Volume Conditioner ($14), both of which contain caffeine to help thicken and texturize fine and thin hair. Next, use the Body Volume Blowdry Hold Spray ($14) ahead of using the blow dryer of your choice. In a how-to video, Fitzsimons shares, "The more you spray, the more hold you're going to have to your blow-dry," so keep that in mind as you prep your hair for a va-va-voom effect. Another tip he shares is to dry hair with heat for a few seconds and switch to the cool setting immediately after, as this will set your hair with the shape of the brush.