As POPSUGAR editors, we independently select and write about stuff we love and think you'll like too. If you buy a product we have recommended, we may receive affiliate commission, which in turn supports our work.
I love my linen sheets — like, a lot. I would shout my devotion from the rooftops if that was socially acceptable. So the idea of switching to a silk pillowcase always seemed a little pointless to me. I've always thought the hype of the silk pillow was a bit overblown; could a change in fabric really make that much of a difference to the overnight care of my skin and hair? However, seeing as I have a lot more time on my hands to do some experimenting (aka sleeping), I figured, why not see if all the fuss is warranted?
I ordered a Night Clean Silk Pillowcase ($110) and got to snoozin'. The silk-pillowcase devotees claim sleeping on silk keeps your hair from breaking, frizzing, and crimping as you move around in your sleep and won't pull on your skin in a way that causes wrinkles and pillow marks. I chose the Night pillowcase in particular because it's made from clean (meaning untreated), all-natural silk fibers — it's naturally hypoallergenic and free of dyes and chemicals.
Before Bed and After Waking Up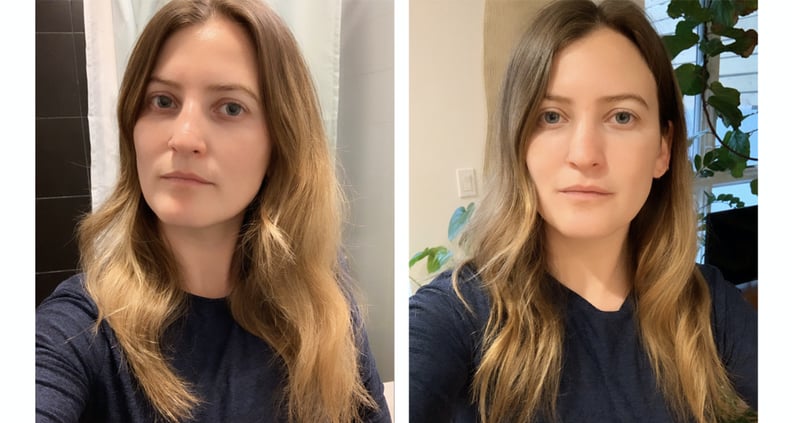 I was excited for this experiment because A) I'm all for anything that's going to help maintain the quality of my skin and hair, and B) I had to dry and style my hair, something that's becoming pretty rare in this 500th week of social distancing. Before I went to bed, I brushed out my hair so it was a little voluminous, with some heat-induced waves. I have to say, the feeling of the silk against my skin was nice and crisp and cool, and I had a very pleasant night's sleep. When I woke up, there wasn't a pillow line in sight and my hair had retained most of those waves — just a little bit flatter.
If I had anywhere to go, I would just need to throw in some dry shampoo or salt spray to get that volume back, without having to add any more heat to my strands — a welcome morning routine for someone who has colored their hair forever and could use as many breaks from heat as possible. Because the only place I'm traveling to right now is my couch, I left it as is for my Zoom meetings — and whaddya know, the compliments from my coworkers rolled in. Consider the silk pillowcase my new go-to even over my beloved linen.