Skin-Filler Serums: Can the Trend Replace Injectables?
The Appeal of Skin "Filler" Serums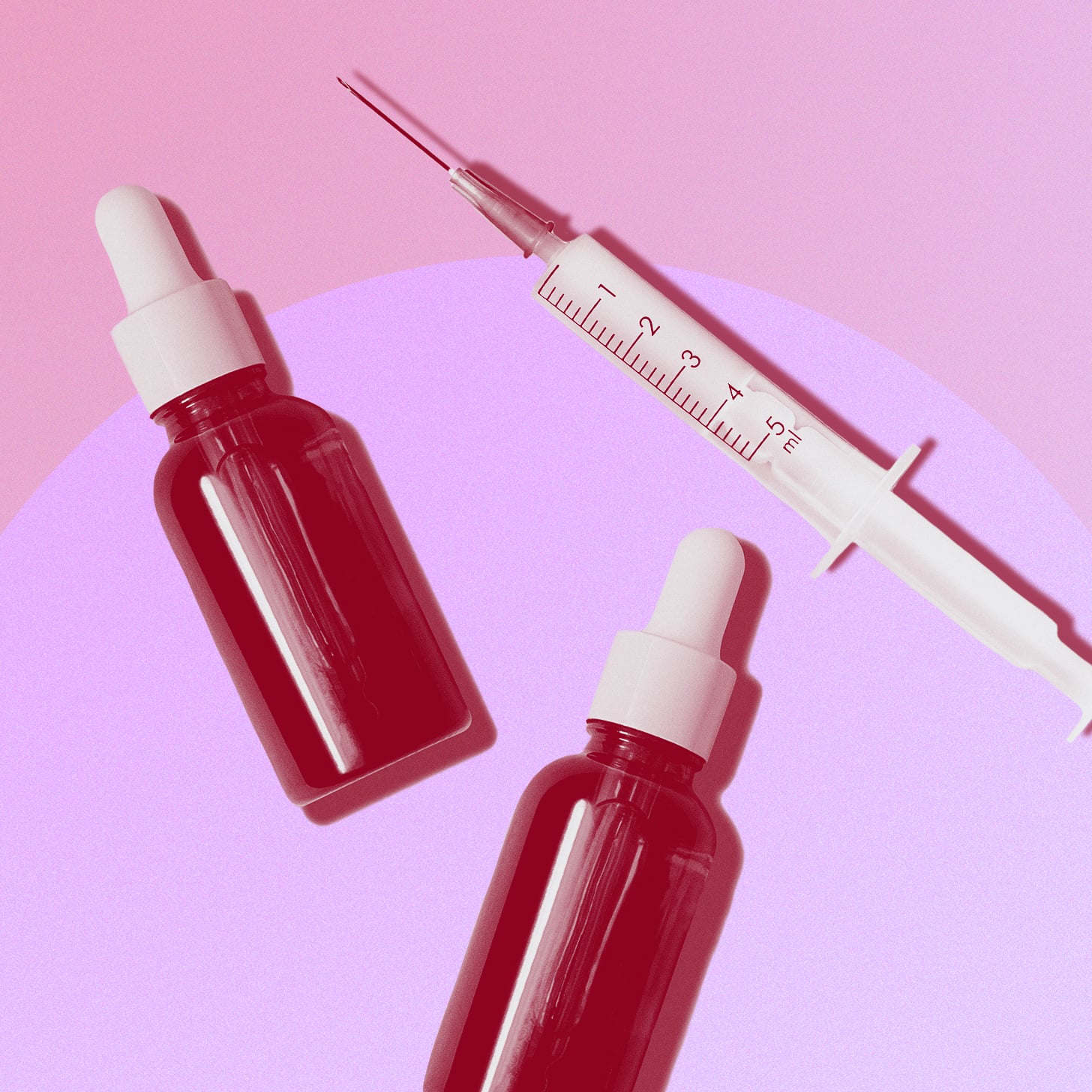 Image Source: Getty / Sofia Polukhina, retales botijero and Illustration by Michelle Alfonso
The appeal of a fine-line-filling serum is obvious. No one particularly enjoys being under the needle, and many downright fear it. "The aesthetic procedures that are driving the market are the ones considered as 'nonsurgical,' the top three being Botox injections, hyaluronic-acid filler, and hair-removal procedures," says Gisela Ballard, the vice president of training and US education for Shiseido. As such, the emergence of "filler" serums, marketed as alternatives to injectable hyaluronic-acid filler, has set the skin-care space abuzz.
"The hype revolves around the name itself — filler serum," says double board-certified adult pediatric and cosmetic dermatologist Karan Lal, DO, who notes that these serums contain ingredients that temporarily soften the appearance of fine lines. But "nothing applied topically is going to fill your face." Medical aesthetician Amy Peterson, founder of Miami MedSpa Skincare by Amy Peterson, names hyaluronic acid, peptides, lipids, and growth factors as the top classes of ingredients to look for in this category of product.
Experts agree that the marketing claims mismanage expectations, with London-based plastic surgeon Yannis Alexandrides, founder of 111SKIN and 111Harley Street, saying, "Coining a product as a 'filler serum' is a marketing mislead."
Still, don't discount these innovative plumpers just yet, as there are many benefits to be had. "There are all sorts of claims about ingredients, molecular size, and how the smaller ingredients can penetrate the skin, and none of these claims have been substantiated by research," says double board-certified plastic surgeon Ben Talei, MD, founder of the Beverly Hills Center. "However, it is hard to deny that many of them do have tremendous benefit [to the skin] — even if the companies do not accurately describe them all the time."
Below, learn more about the skin-filler serum category, from exactly how they work to whether they live up to all the promises.
What Are "Filler" Serums?
"Many companies and brands have released serums and creams that mimic filler and Botox, claiming to have created and manipulated ingredients designed specifically to achieve these results, which is also how they differ from conventional serums," Peterson says. Most of these serums feature ingredients enhanced by new technologies, are bolstered with a unique delivery method to reach greater dermal depths, or, in some cases, offer new active-ingredient combinations.
"Most filler serums work by using ingredients in a smaller molecule size that can penetrate to deeper layers of the skin, where they can work more effectively and for a longer duration," says board-certified dermatologist Corey L. Hartman, MD, founder of Skin Wellness Dermatology in Birmingham, AL. Dr. Talei elaborates that "line-filling serums thus work either by hydrating the skin and drying-in water or tightening the skin with surface tension produced by the product or by reflecting light."
As for claims that reference injectable hyaluronic-acid filler, the experts are less enthusiastic. "This is all about degrees," says cosmetic chemist Ron Robinson, founder of BeautyStat. "It's one thing to hydrate and plump the skin, [but] it's another [to claim to be able to] replace a dermatological injectable treatment."
How Filler Serums Work
In a market as saturated as the skin-care industry, it takes a lot for formulators to push the envelope. Sometimes this means taking a staple active ingredient and finding a way to make it more bio-available, pairing it with a physical delivery method to help it penetrate to new depths, or finding synergistic ingredient combinations. As we saw with Fibroquin, some chemists have even turned to AI to scout out new ingredients.
1. Enhanced Actives Give a Skin-Plumping Effect
Hyaluronic acid, a hydrophilic molecule known for holding 1,000 times its molecular weight in water, is the most common active ingredient when referencing skin-filler serums. "When additional moisturizers are applied to the skin, hyaluronic acid will attract that water and plump the skin," Dr. Hartman says. Yet the conundrum has been finding ways for the more-potent, high-molecular-weight hyaluronic-acid molecules — which function at the surface of the skin — to reach greater dermal depths and hydrate from within.
Ballard describes how Shiseido spent decades developing its MolecuShift technology featured in the Shiseido Bio-Performance Skin Filler Serum Duo ($295). This enabled the two-part system to deliver potent, high-molecular-weight hyaluronic acid to deeper skin depths overnight before restoring their original size with the daytime serum. "I am very intrigued by this product," Robinson says. "I see that they have clinical data. They make a big claim, [and] I would like to see clinical before and after photos." Anecdotally, I noticed an overall softness and hydrated glow that makes it my favorite hyaluronic-acid serum to apply; however, I would not liken it to receiving an injectable.
Most filler serums work by using ingredients in a smaller molecule size that can penetrate to deeper layers of the skin where they can work more effectively and for a longer duration.
Peptides are go-to ingredients for targeting elasticity in the skin. Made up of amino acids, they work to firm the skin by encouraging the skin cells' fibroblasts to create more of the skin's structural proteins — namely, collagen and elastin. Yet the StriVectin Peptide Plump Line-Filling Bounce Serum ($89) utilizes a proprietary peptide blend to also target the skin's innate supplies of hyaluronic acid for a three-in-one boost. In the case of the uberpopular Lawless Forget the Filler Lip-Plumping Line-Smoothing Tinted Lip Balm ($26), a double dose of the peptide-powered ingredient MaxiLip promotes collagen and hyaluronic-acid synthesis, along with additional hydrators and occlusives, for immediate plumping and long-term results.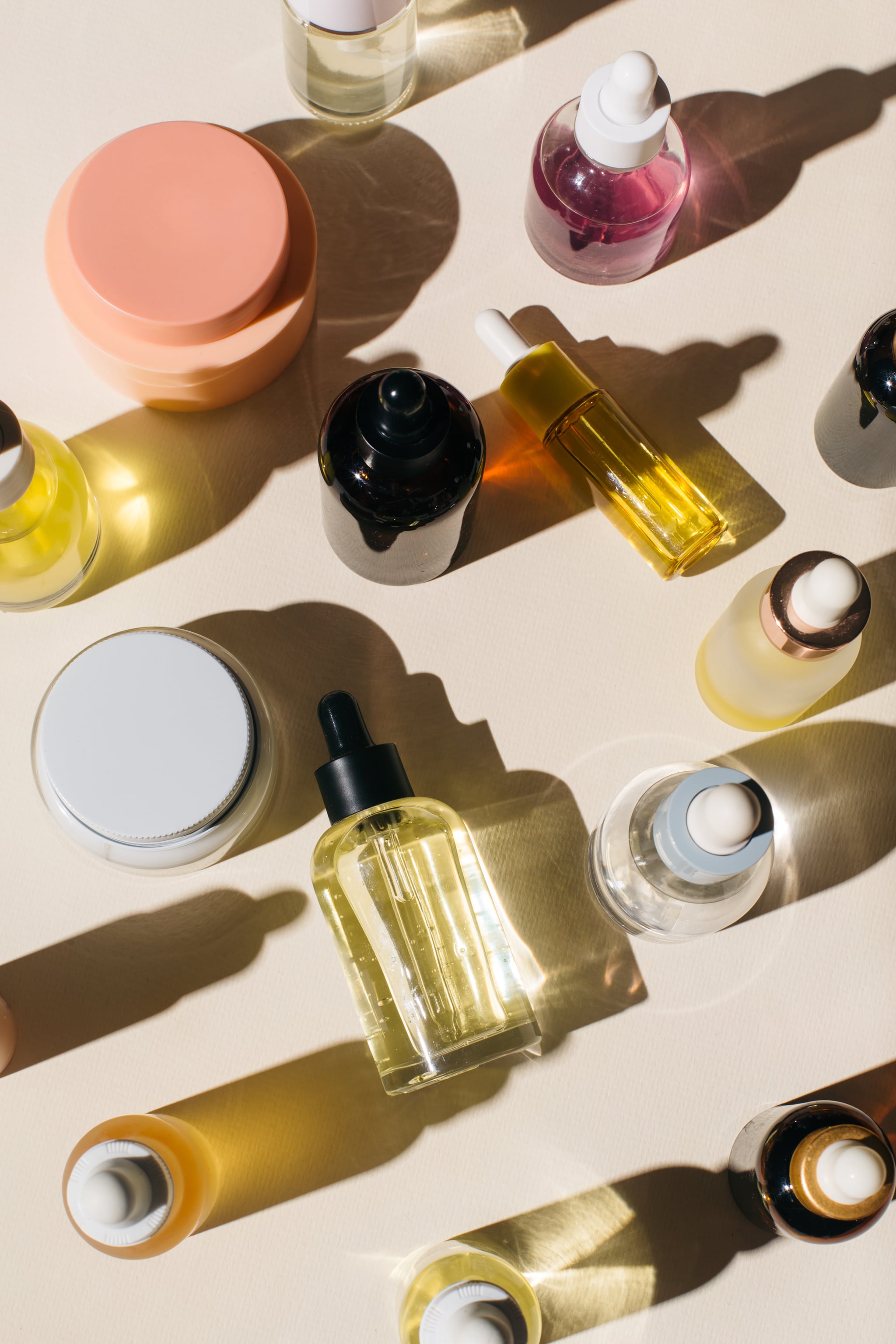 Image Source: Getty
2. New Delivery Methods Maximize Bio-Availability
Oftentimes, formulations work by helping larger-size active ingredients work on newer skin by pairing them with exfoliants or retinoids. Micro-darts, or micro-cones, are another that brands are delivering larger actives to deeper dermal depths on patches. Though the brand's founder, Dr. Alexandrides, is opposed to the marketing claims of so-called "filler serums," he offers micro patches that utilize a physical delivery method. The 111SKIN Meso Infusion Overnight Micro Mask ($50) is a small patch containing dissolvable micro-cones that penetrate the skin at 0.3mm, delivering 95 percent hyaluronic acid and five percent vitamin C to areas with wrinkles.
"The mask will dissolve into the target area — most commonly under the eyes, or on crow's feet, frown lines, or nasolabial folds — overnight to infuse the skin with the two-ingredient formula," he says.
Much notoriety abounds around the Ourself HA+ Replenishing Serum ($260) for its combination of low- and medium-weight hyaluronic-acid molecules along with firming peptides, vitamin C, and niacinamide. Its potency is preserved thanks to a patent-pending delivery system that utilizes lipids to protect the integrity of the active ingredients from oxidation and breakdown longer term. Yet another novel delivery system can be found in the Fillerina PLUS Treatment Grade 4 ($175). The targeted applicator tip enables you to apply the serum and its eight forms of hyaluronic acid and the peptide Matrixyl specifically to the lines, creases, and depressions you are looking to treat.
3. Targeted Ingredient Combinations Yield Promising Results
"Other 'skin filler' serums have manipulated or created peptide or lipid complexes in order to target and improve the skin's own collagen, elastin, or hyaluronic-acid [supplies]," Peterson says. In general, peptides like Matrixyl 3000 and Copper Peptide stimulate the production of collagen in the skin for firmer, fuller results. Copper peptide is be found in the skin-care line of New Zealand skin-cancer expert Sharad Paul, MD, featuring what the brand calls "No-Tox." Two serums — Skin by Dr. Sharad Neck+Face Smoothing Elixir ($95) and Skin by Dr. Sharad Eye Smoothing Elixir ($75) — were developed to provide an alternative to injectable neurotoxins like Botox.
"No-Tox works based on a cumulative effect and proportionality of ingredients, many of which are well-known," says Dr. Paul, who conducted extensive research on skin wrinkling. The effect of his combination of vitamin C, niacinamide, copper peptides, hyaluronic acid, and superfoods like sacha inchi oil was measured in a clinical trial using 3D imaging and published in the peer-reviewed Journal of Clinical and Cosmetic Dermatology.
Can Filler Serums Replace Injectables?
As to whether or not topical skin-care products can provide comparable results to injectable filler, the expert opinion is a resounding no, and Dr. Hartman points out that no topical is going to replace the skill of an experienced injector. "[Injectables and topicals] produce quite different effects and cannot be compared," corroborates Dr. Talei, who is skeptical of the lack of research to substantiate marketing claims. "With the exception of retinoids and vitamin serums, most of these [skin-care products] aren't able to penetrate the skin very much. The particles and ingredients stick onto the skin surface and provide their benefits from there."
In an industry where ethical debate abounds, there's something to be said for supporting companies that avoid misleading marketing gimmicks. Still, experts do vouch for the merits to be found in many. Peterson points out they are a great way to extend results between injectable appointments or for those who want to avoid injectables altogether. As Dr. Talei points out, there is no one magic serum or cream for any skin, and many of the products offer great benefits regardless of whether they function exactly as marketed.
More interesting still is the reason behind the marketing en masse of filler serums, with Dr. Paul tapping into a counterculture of sorts to the cosmetics-obsessed Zoom Boom era. The research to develop the proprietary compound No-Tox, he says, came from the increasing demand from patients for non-toxin-based options. "There has been an uptick in the demand for injectables, but also in people looking for less-invasive treatment options that were based on more natural, safe, and vegan ingredients," he says.
Image Source: Getty / Sofia Polukhina retales botijero and Illustration by Michelle Alfonso