I've Never Loved a Hyaluronic Acid Serum Until I Tried Skkn by Kim's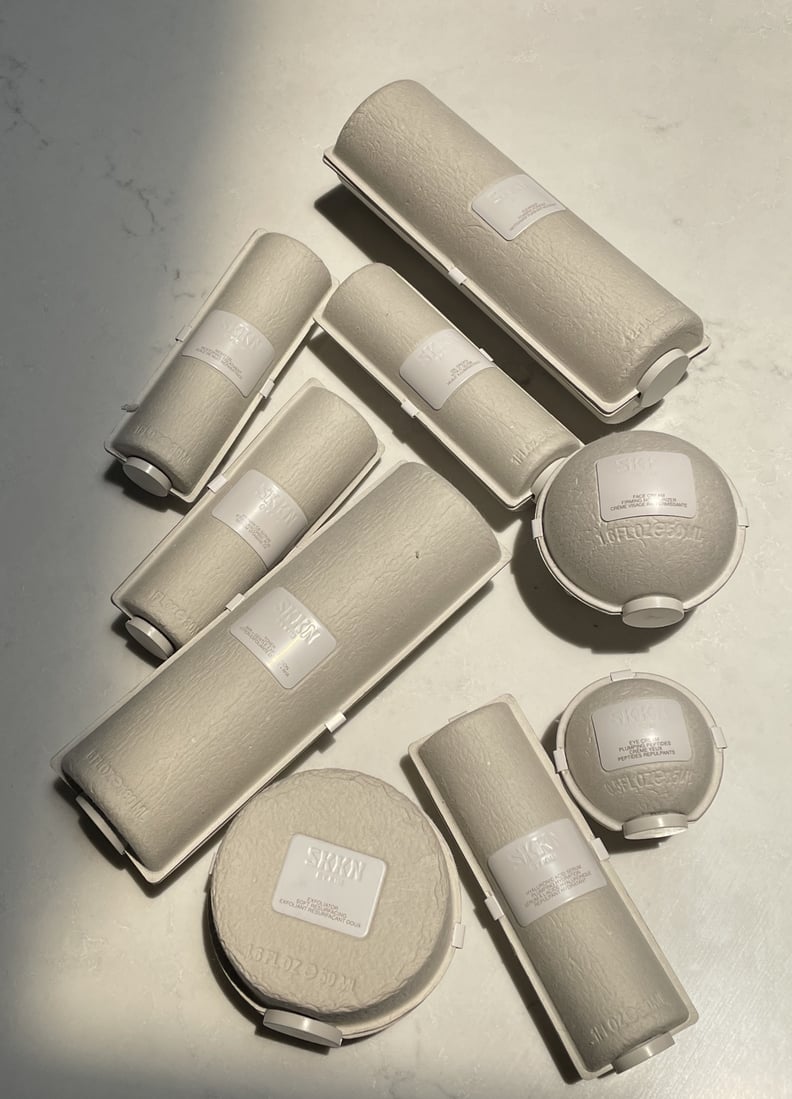 Jessica Ourisman
Jessica Ourisman
Every editorial product is independently selected by our editors. If you buy something through our links, we may earn commission.
There was a time when it was not at all uncommon for me to wake up with a fresh breakout. That time has thankfully passed, but for a solid chunk of my 20s after discontinuing birth control, my hormones went berserk, and my life was turned upside down by cystic acne. These inflamed, underground skin eruptions would pop up overnight, at times making me feel disfigured due to the swelling on my angular face. They took weeks to subside, leaving behind purplish, post-inflammatory erythema that made me self-conscious AF without makeup.
Fast-forward to 2022. I have since gotten my breakouts under control with the help of spironolactone, stress-reduction, and anti-inflammatory dietary changes. Yet the morning I went to meet Kim Kardashian's facialist — the legendary celebrity aesthetician Joanna Czech, who would be performing a facial using Skkn by Kim products — I awoke to an angry red monstrosity on my cheek. Still, I trusted if anyone knew what to do with this inflamed intrusion, it would be her.
What ensued was evidence of the Universe's sense of humor. As my zit and I were led back to Kardashian's social media-famous Glam Room, a couple high-profile encounters ensued. First, we passed by her makeup artist, Mario Dedivanovic, who was lackadaisically lounging on a neutral-hued ottoman. ("Was that Mario?" I asked my escort. "Yep," she said.) Once inside the Wabi-Sabi-esque room of my dreams, I received a set of SKIMS robe, wrap, slippers, and headband to change into before my facial.
I changed in the bathroom, taking note (and an obligatory selfie with) the consistently styled packaging of the nine-step line on display. When I emerged with said zit still prominently displayed on my face, Kardashian's hairstylist, Chris Appleton, was there recording a video for his Instagram. I waited, and then dashed past, still managing to crash his recording, which he then graciously re-recorded.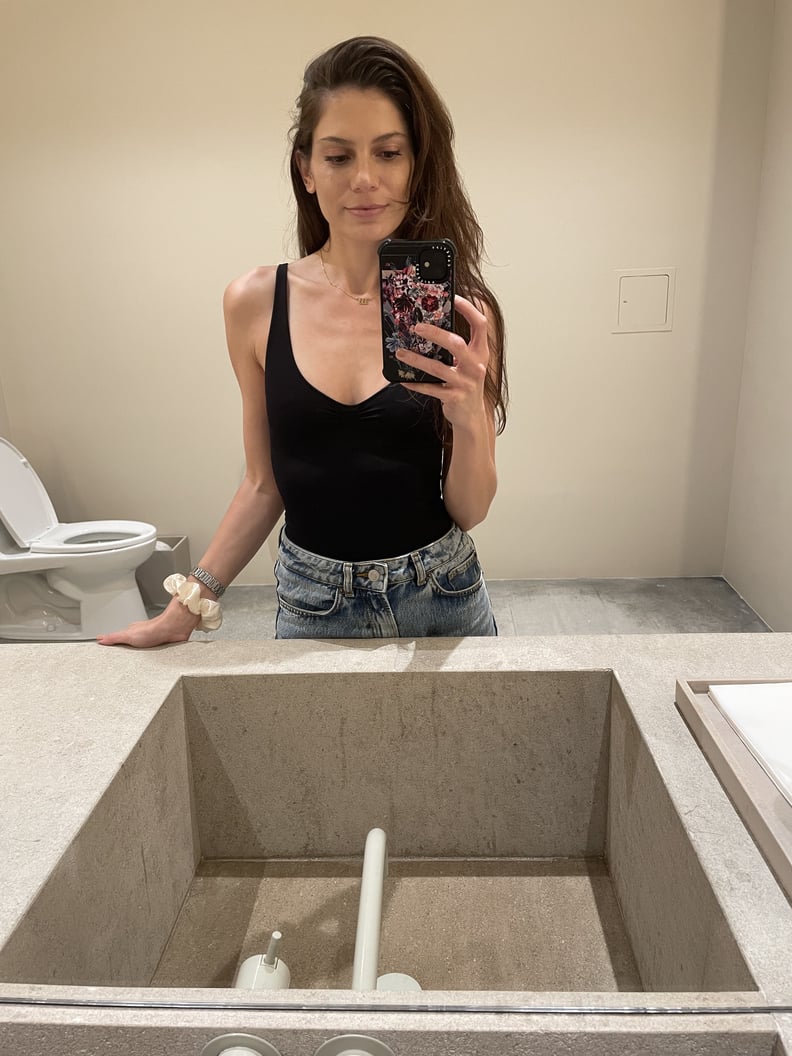 The Facial
Having recently undergone radiofrequency microneedling, my skin was in an ultra-delicate state. So, Czech modified the facial to suit my skin's needs: no exfoliant and a gentler form of microcurrent than her go-to. It also included circulation-boosting massage, the cold Lyma laser, healing Celluma LED light, and lifting microcurrent that sculpts the face. Her chosen products are always pH-balanced (Czech teaches that skin health stems from proper skin pH), anti-inflammatory, and perhaps deceptively simple in that she believes only nine main ingredients are necessary.
After the facial, I was hydrated, glowing, and lifted — my skin felt plump with moisture; my complexion looked bright; and my bone structure looked more defined due to the microcurrent (think: more prominent cheekbones, less prominent crow's feet). She gave me a sample of a 5 percent glycolic acid pumpkin peel to spot-treat my zit with — a green beauty product whose ingredient's list consists entirely of pure pumpkin extract (concentrated pumpkin extract, pumpkin wine, and pumpkin enzymes, to be exact), fructose, and essential oils — until it went away.
Knowing that the Skkn by Kim products would adhere to her skin philosophy, and that her massage and microcurrent would help to detox by stimulating the lymph fluid in my face, I anticipated a less-inflamed pimple. The very next day, the zit was flattened — and from that moment on, my interest in the entire skin-care line piqued.
Review of the Skkn by Kim Hyaluronic Acid Serum
One product that stood out the most during my treatment was the Skkn by Kim Hyaluronic Acid Serum ($90) — mainly because the post-facial plumpness of my skin was something I wanted to re-create. Plus, the hydrophilic active is a near-universally tolerated ingredient that already exists in the skin and can be easily incorporated into an existing regimen. So even if you don't shell out the dough for the entire nine-step line, you can start with this serum and rest assured that it will "play well with the others" in your regimen.
It also highlights the Czech-Kardashian collaboration process. Left to her own devices, Czech would have simply incorporated hyaluronic acid into the toner. Yet Kardashian was adamant that she wanted a hyaluronic acid serum to be "like a drink of water" for the skin after toning. And so the beauty world has been presented with a product that would otherwise never have existed: a Czech-approved hyaluronic acid serum.
But first, know that supplemental hyaluronic acid can be beneficial in a topical skin-care regimen. As celebrity aesthetician Celeste Rodrigues told me, the body's natural production of the water-binding molecule decreases with age along with the skin's natural stores of collagen and elastin. By adding it back in topically, she points out that you are giving the skin back the molecule responsible for a dewy, hydrated appearance.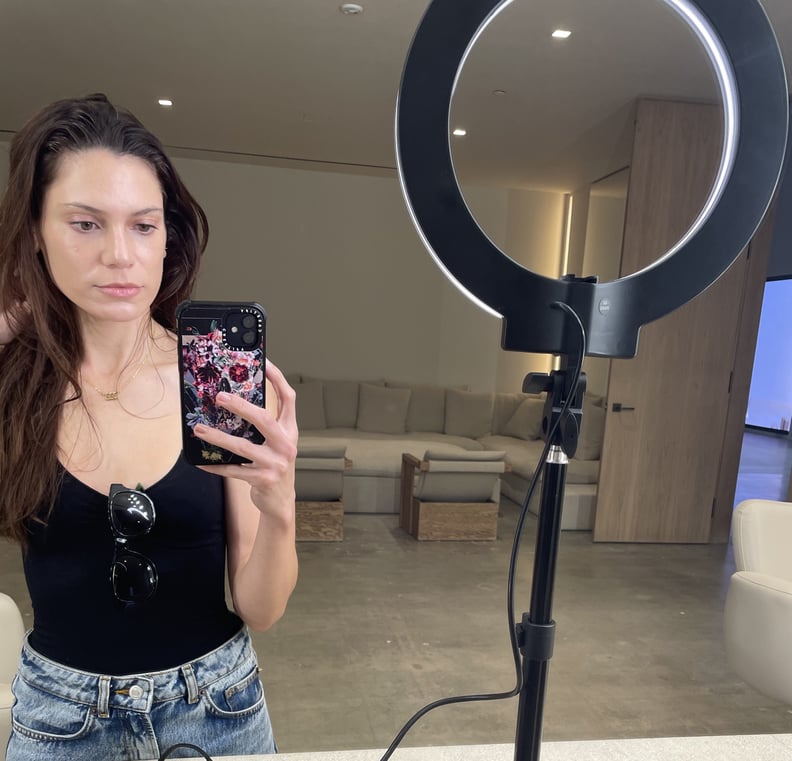 Because hyaluronic acid also holds several times its molecular weight in water, you are also giving the skin a plumping effect courtesy of water molecules. But this is where things get interesting: it depends on the size of the hyaluronic acid molecule in a formula where this takes place. Larger molecules will result in plumping closer to the surface, which is ideal for fine lines and wrinkles; smaller molecules of hyaluronic acid are absorbed into deeper layers of the skin to plump and hydrate from beneath.
I do not always opt for a hyaluronic acid serum in my regimen because it is already included in my vitamin C of choice, but this one stood out to me because it contains multiple molecular weights of the molecule and conditioning agents that make it potent and long-lasting, from sodium hyaluronate and sodium hydroxide to hydroxyacetophenone, glycerin, aloe, and floral extracts. In order to ensure that the molecule is bringing water into the skin — and not simply attracting the water to it that is already there — it is important to always follow up your hyaluronic acid serum with a water-based moisturizer. In the daytime, I like to use an indie brand called Priya Apotheca Phyto Metamorphosis Crème ($80). At night, I opt for Bioeffect EGF Power Cream ($215).
The result? Juicier, plumper, ever-dewy skin.
The Verdict
If you are thinking about giving Skkn by Kim a try, I say to go for it. In a world that is incredibly polarized when it comes to the Kardashians, I do not watch the show. And in an industry that is inundated with celebrity beauty brands, I am less than enthused by new launches. But here's the thing: I absolutely adore Joanna Czech.
The main reason why I would encourage you to give Skkn by Kim a chance is that it gives you access to the work of Czech, who has her own exclusive product line that adheres to her skin-care philosophy but falls firmly in the luxury skin-care category. For the average consumer, Skkn by Kim is a Czech-vetted line that is perhaps still a splurge — products range from $43 to $95 — but more reasonably priced than the alternative. Plus, the design is chic, the jars are refillable, and they arrive in biodegradable paper packaging that looks like something out of Star Wars.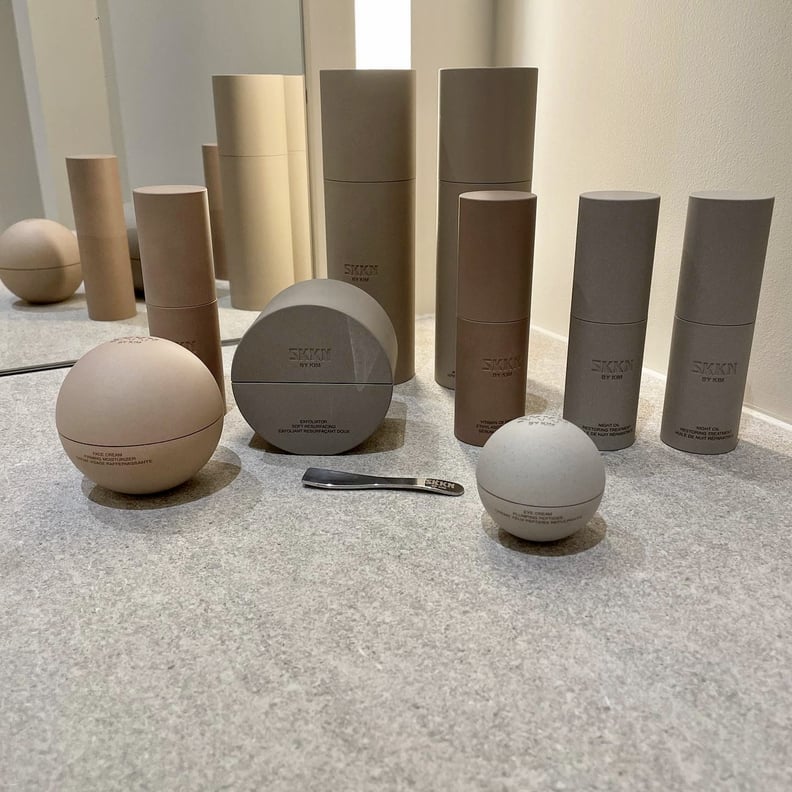 Unlike many celebrity beauty brands that are bought pre-made and attached to a celebrity name (i.e., "private label"), Kardashian and Czech envisioned Skkn by Kim from scratch. The line's creation process involved their collaboration, drawing from Czech's expertise and Kardashian's preference, before being created in a Coty lab (KKW Beauty's parent company) and tested extensively between the two of them. (One of the things I learned is that they sent back the line's moisturizer more than 20 times before achieving the perfect texture.) "If my name was going to be attached to it, it had to be perfect," Czech told me.
The main criticisms I have heard of the line are that it seems too basic or straightforward. In the saturated, billion dollar beauty world we live in, it is hard to process a new launch that does not contain "snake venom" or epigenetically developed synthetics that promise never-before-seen results. (For the record, I like those, too!) It is harder still to process yet another celebrity beauty brand. But when you take Czech's skin-care philosophy into account, it completely makes sense — to her, you can incorporate all the beauty gadgets and devices into your overall skin regimen, but when it comes down to the products you use, anti-inflammatory simplicity in their building blocks is what is needed to help the skin thrive.
Rating:
★★★★