As POPSUGAR editors, we independently select and write about stuff we love and think you'll like too. If you buy a product we have recommended, we may receive affiliate commission, which in turn supports our work.
My makeup routine has stayed relatively the same, give or take a few items, since I was 16 years old. That means that for the past nine years, I've rarely gone a day without full-coverage foundation (and most of the times when I have, it's because I opted out of wearing makeup entirely). But foundation and hot weather aren't the best combination, and now that summer is nearing (and I'm finding myself spending a lot more time in the Atlanta heat), I figured this would be the perfect time for me to at least attempt to adopt a more minimal makeup routine that won't leave me looking a shiny mess after a hot day. Enter: concealers.
I've always slightly envied other people who could go on about their days wearing nothing but concealer as their base even when they consider themselves all glammed up. My skin isn't exactly flawless, so I unfortunately have never had that kind of confidence, though Tarte Cosmetics Hydrocealer Concealer ($24) may have made me reconsider. It's an all-new launch from the beauty brand, and it uses a vegan, medium-coverage formula to brighten the under-eye area and cover up redness, dark circles, spots, and blemishes. The product also touts itself as being sweatproof and waterproof, weightless enough to make you feel like you're barely wearing makeup but still powerful enough to provide coverage that lasts up to 12 hours, even on a day with a ton of activity. It sounds to me like it was made for summer.
I'll admit that, while I frequently wear concealer, I've never put a lot of effort into finding one that I like. Dark circles and blemishes have never been much of an issue for me, so I like to let full-coverage foundations do most of the work. I decided to add the Hydrocealer to my routine in place of foundation for a day. I tried it out in the shade 48N (tan-deep neutral) and applied it under my eyes in a triangle shape before blending it in with my finger (I didn't want to lose any product with a sponge).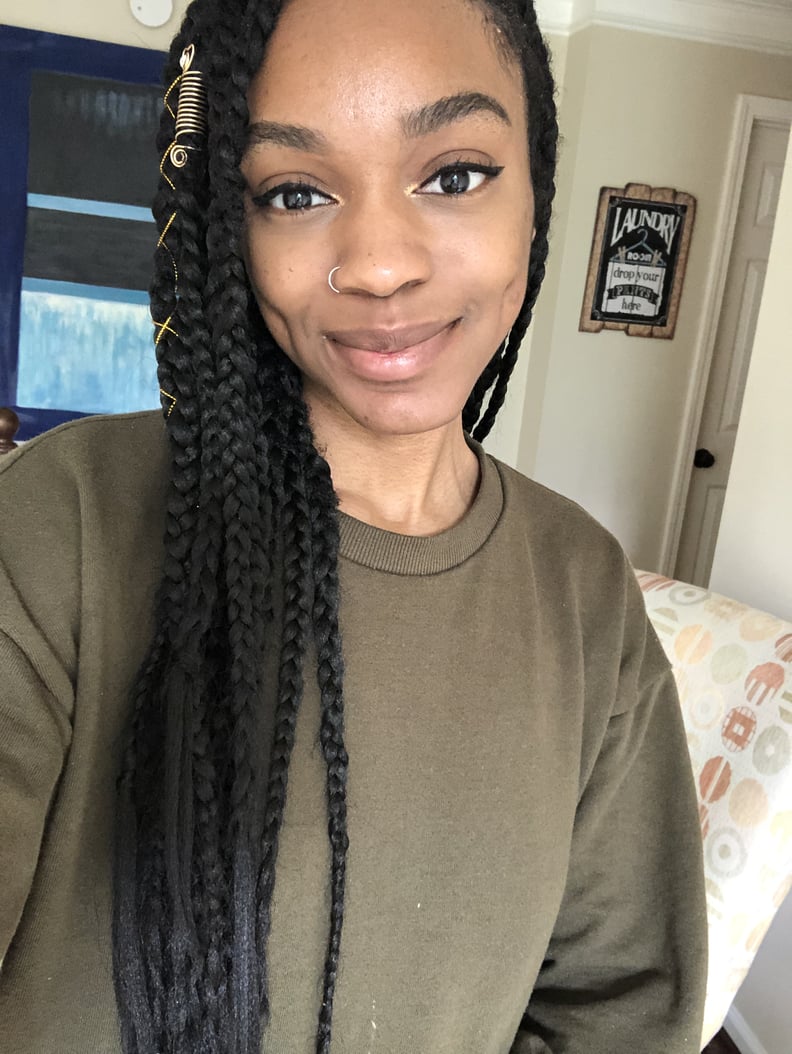 The first thing I noticed was that I didn't need to use very much of the concealer to get the look I wanted. It blended into my skin easily and made me look (and feel) as if I was barely wearing anything. Whenever I go foundation-less, I can see the difference in my skin's appearance — it doesn't look as even — though this product proved to be a perfect replacement, minus the slightly heavier feeling my foundation often leaves me with. Even though I've been wearing makeup a lot less these days, the Hydrocealer is definitely a product that I can see myself adding to my routine to wear during virtual meetings when I want to look presentable but don't feel like putting on a face full of foundation.
Tarte Cosmetics Hydrocealer Concealer is officially available for purchase on QVC.com where it comes with a mini blending sponge, though it looks like the product is available in a wider range of shades (there's 30!) on its official website. Shop the concealer ahead.