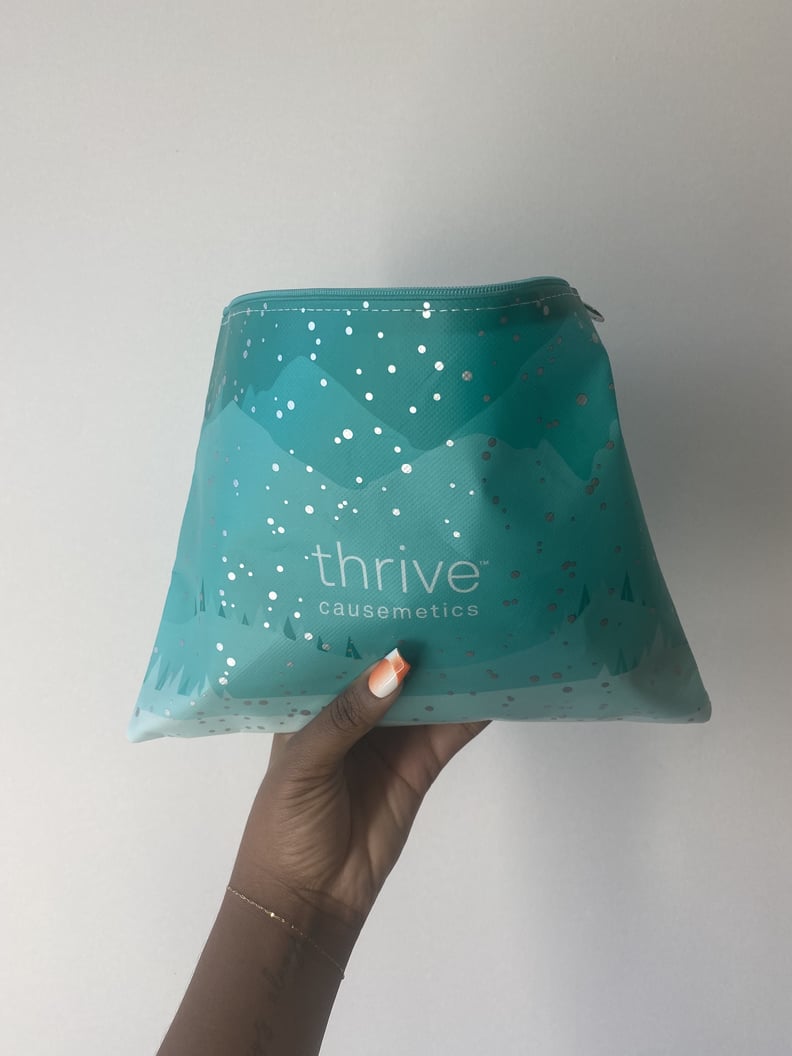 POPSUGAR Photography | Ariel Baker
POPSUGAR Photography | Ariel Baker
As POPSUGAR editors, we independently select and write about stuff we love and think you'll like too. If you buy a product we have recommended, we may receive affiliate commission, which in turn supports our work.
If you've spent any time on social media, then you've likely come across someone using products from Thrive Causemetics. The brand is lauded by influencers, makeup artists, and beauty enthusiasts alike — and for good reason.
The line was created in 2015 after founder Karissa Bodnar's best friend died from cancer. The loss inspired Bodnar to create a makeup brand that immunocompromised people could safely wear while empowering women all over the globe. One of the company's biggest efforts is to make the world a better place. With every Thrive Causemetics product purchased, the brand donates that same product or gives a monetary donation to charitable and philanthropic causes, such as the National Breast Cancer Foundation, the University of Louisville Breonna Taylor Memorial Scholarship Fund in Nursing, and the Los Angeles Fire Department Foundation.
Not only is the brand socially responsible, but the products also pack a punch. They are pigmented, inclusive, and smart, exactly what a beauty line needs to stand out in this market. With a range covering everything from complexion, eyes, and lips, the line would be well suited for beginners and expert makeup artists alike. Clean ingredients, inclusive color ranges, and innovative products are the brand's trademarks, so there's plenty to choose from.
To help you decide which products to add to your cart, read ahead for some of the best Thrive Causemetics products worth your money.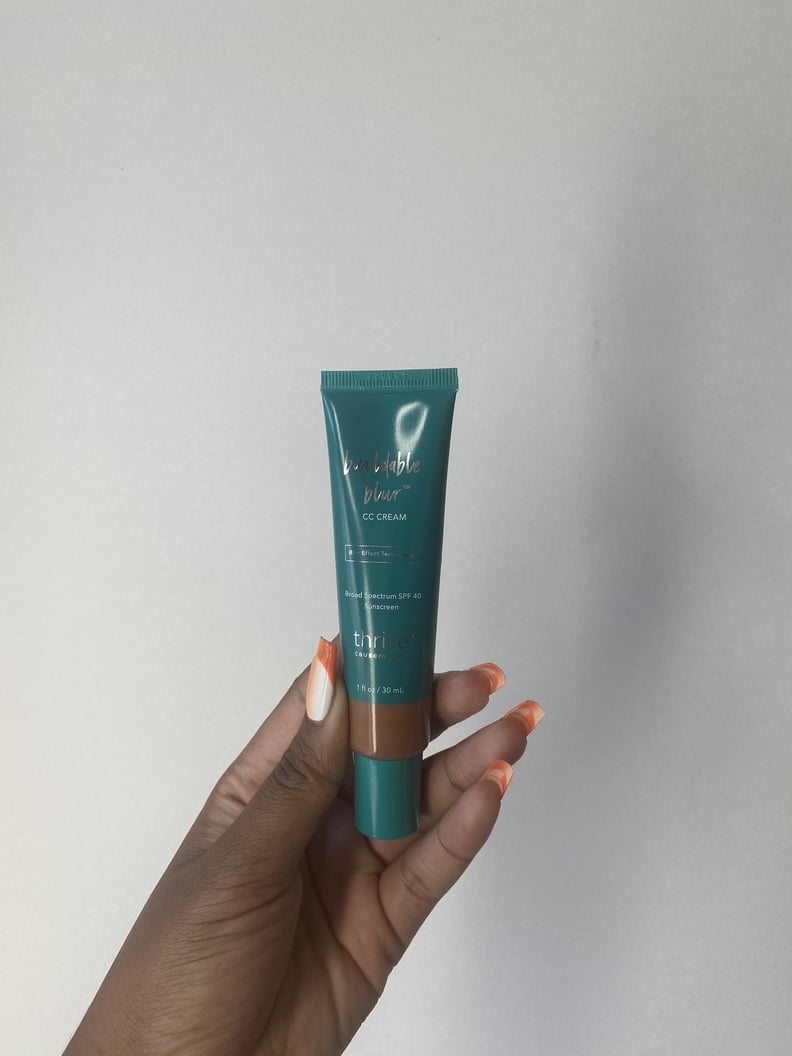 Thrive Causemetics Buildable Blur CC Cream
I'm not the biggest fan of full-coverage foundations; I usually just want to throw something on to even out my skin tone. The Thrive Causemetics Buildable Blur CC Cream ($38) does just that. It's lightweight with a buildable light to medium coverage, and it boasts a shade range of 28 colors. Because it's a CC cream, one shade can work for a range of skin tones, so while I was matched to the shade 280 on the website — which was actually a really great match considering it was done online — I do feel like I had room to try shades 270 and 290 as well. Overall, if you're looking for something to blur some discoloration and add a soft glow to the face, you can't go wrong with picking this up.
Rating: ★★★★★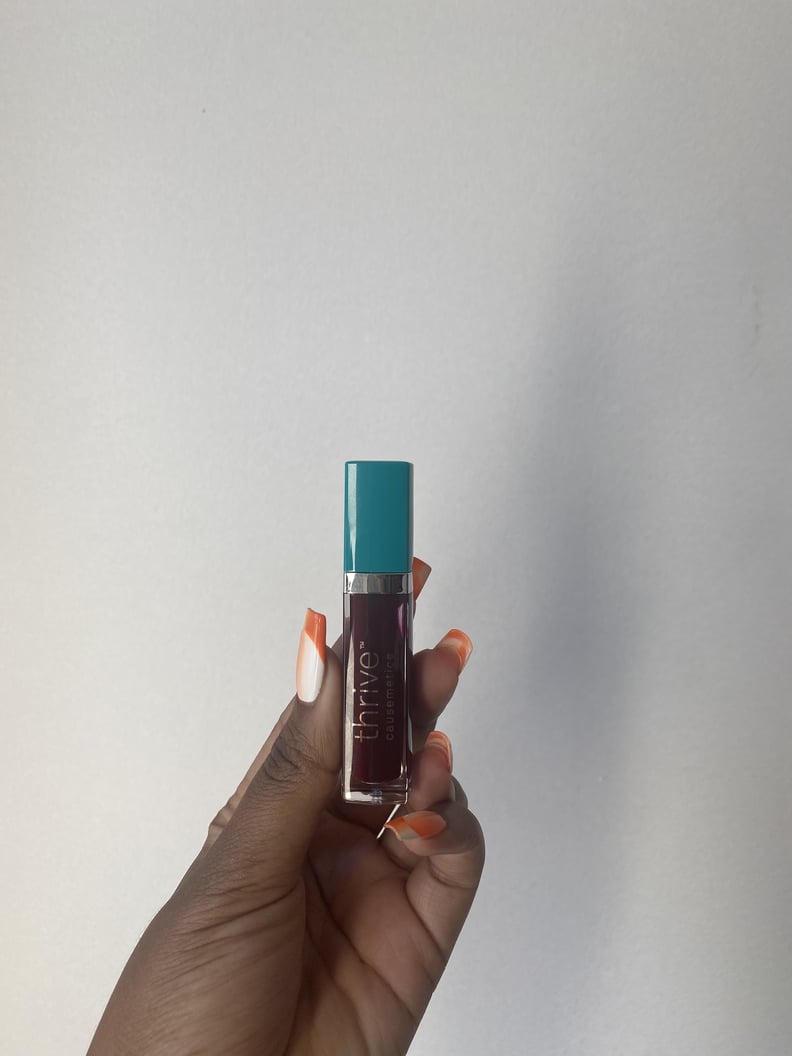 Thrive Causemetics Glossy Lip Hydrating Serum
The Thrive Causemetics Glossy Lip Hydrating Serum ($26) is the perfect cross between lip gloss and balm. Not only does it make my lips feel hydrated when I wear it, but the color payoff is also undeniable, so I can use it in place of a full lip routine (lipstick, liner, and gloss). Like any pigmented gloss formula, there was a slight feathering around the edge of my lips after hours of wear, but I was pleasantly surprised to find it was minimal compared to other options on the market and that there was no color transfer on my teeth after application. This is without a doubt a winter staple.
Rating:★★★★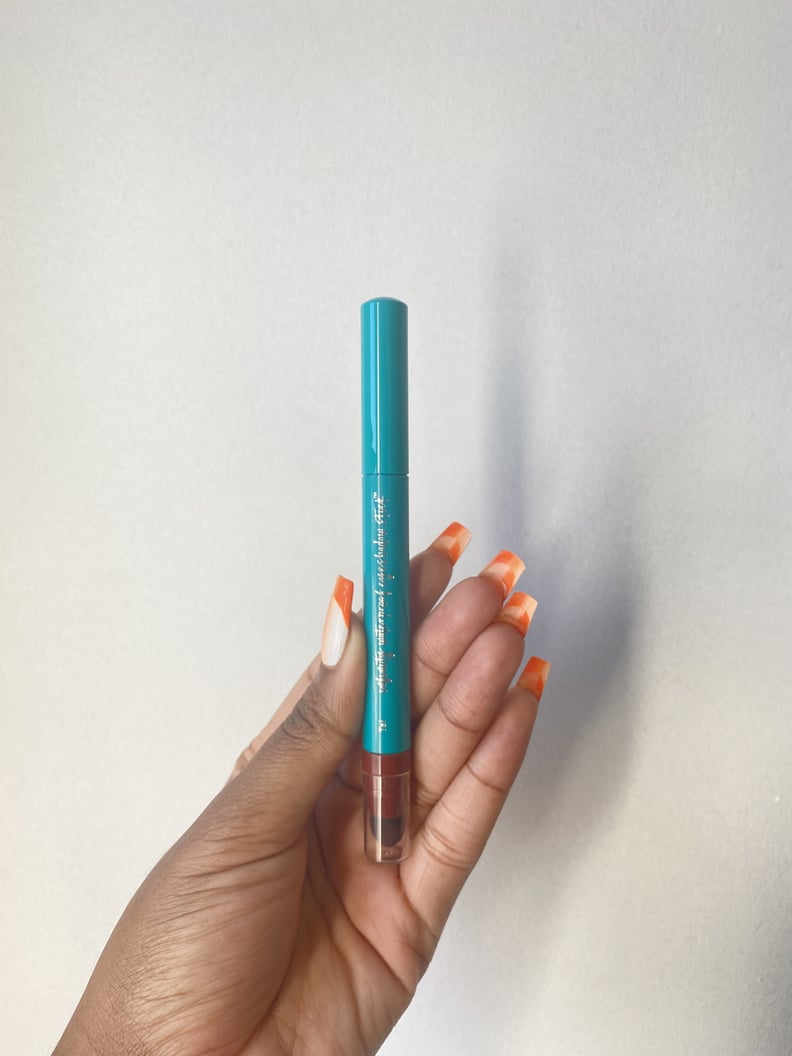 Thrive Causemetics Infinity Waterproof Eyeshadow Stick
I have a complicated relationship with eyeshadow. My eyes have what feels like endless folds and creases, so to save myself the headache, I tend to wear extremely simple one-color looks. When I finally tried the Thrive Causemetics Infinity Waterproof Eyeshadow Stick ($26) in the shade Tai, it's like a choir started singing out of nowhere. The formula felt soft to the touch and glided onto my lids effortlessly. The shadow is dual ended, so I used the small sponge tip at the opposite end — which is so convenient — to blend the shadow out, and I was left with the most satisfying wash of color. The results felt elevated enough to make people notice but subtle enough to leave them wondering if my eyes just look like that. Needless to say, this has secured a spot in my on-the-go makeup bag.
Rating: ★★★★★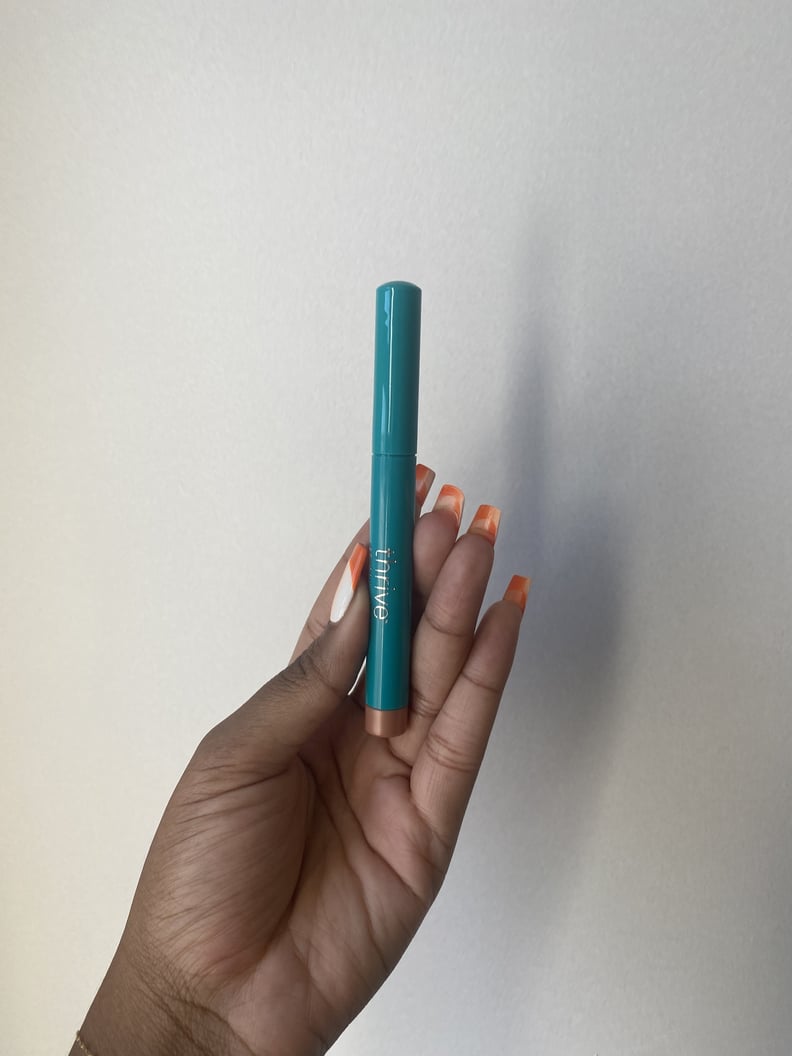 Thrive Causemetics Brilliant Eye Brightener
Another frustration I often have with my eye makeup? Doing the whole inner-corner-highlight thing. No matter how hard I've tried, it always ends up looking like I have sparkly eye boogers. So I was hesitant to try the Thrive Causemetics Brilliant Eye Brightener ($25), but when I did, I was impressed. I used the shade Aurora, which is a rose-gold shimmer. The product was super easy to apply because of its pointed tip, and when I tapped it onto my inner corner, it stayed in one place without migrating to my upper lid or lower lash line. The color was soft but still added this sparkle that looked like a soft-focused light was pointing directly at me. Finally, I can take part in the inner-corner-highlight trend.
Rating: ★★★★★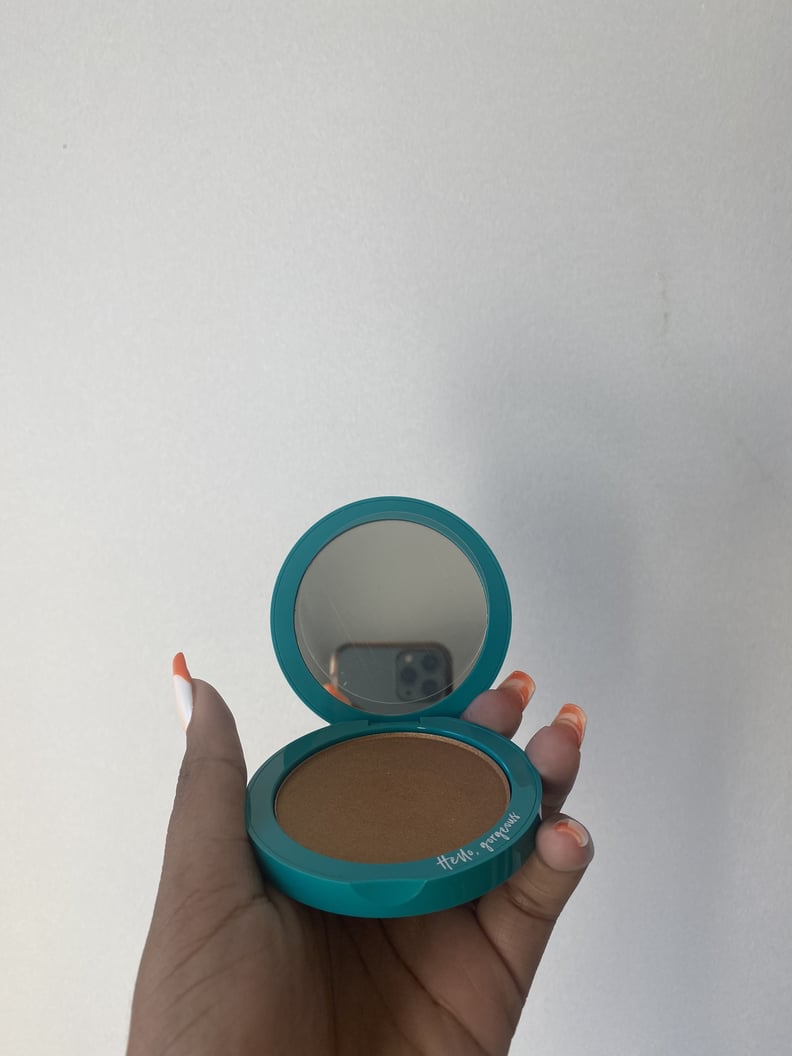 Thrive Causemetics Brilliant Face Highlighter Skin Perfecting Powder
I consider myself somewhat of a highlighter savant, so hear me when I say that I am not easily impressed by a highlighting product. The Thrive Causemetics Brilliant Face Highlighter Skin Perfecting Powder ($34), however, managed to not only grab my attention but also completely blow me away once I tried it. I was initially drawn in by the description: a makeup-meets-skin-care hybrid that uses a combination of vitamin c, hyaluronic acid, and vegan pearls. When I did try it, there was a soft, almost velvety feel to it but also — and most importantly — no fallout like a lot similar formulations. The shade Shirley, a bronze gold, was my color of choice. Once applied, it gave me that gorgeous "I just lazed in the sun" glow that I am absolutely in need of right now. There was no harsh streak across my cheek or strange texture, just a healthy glow. While many are taking a step back from the ultra-glossy-skin look, if you still love a good glow, give this a try.
Rating: ★★★★★