I Tried TikTok's Brow-Mapping Filter Hack: See the Photos
I Tested the TikTok Filter That Promises Perfect Brows For Your Face Shape
As POPSUGAR editors, we independently select and write about stuff we love and think you'll like too. If you buy a product we have recommended, we may receive affiliate commission, which in turn supports our work.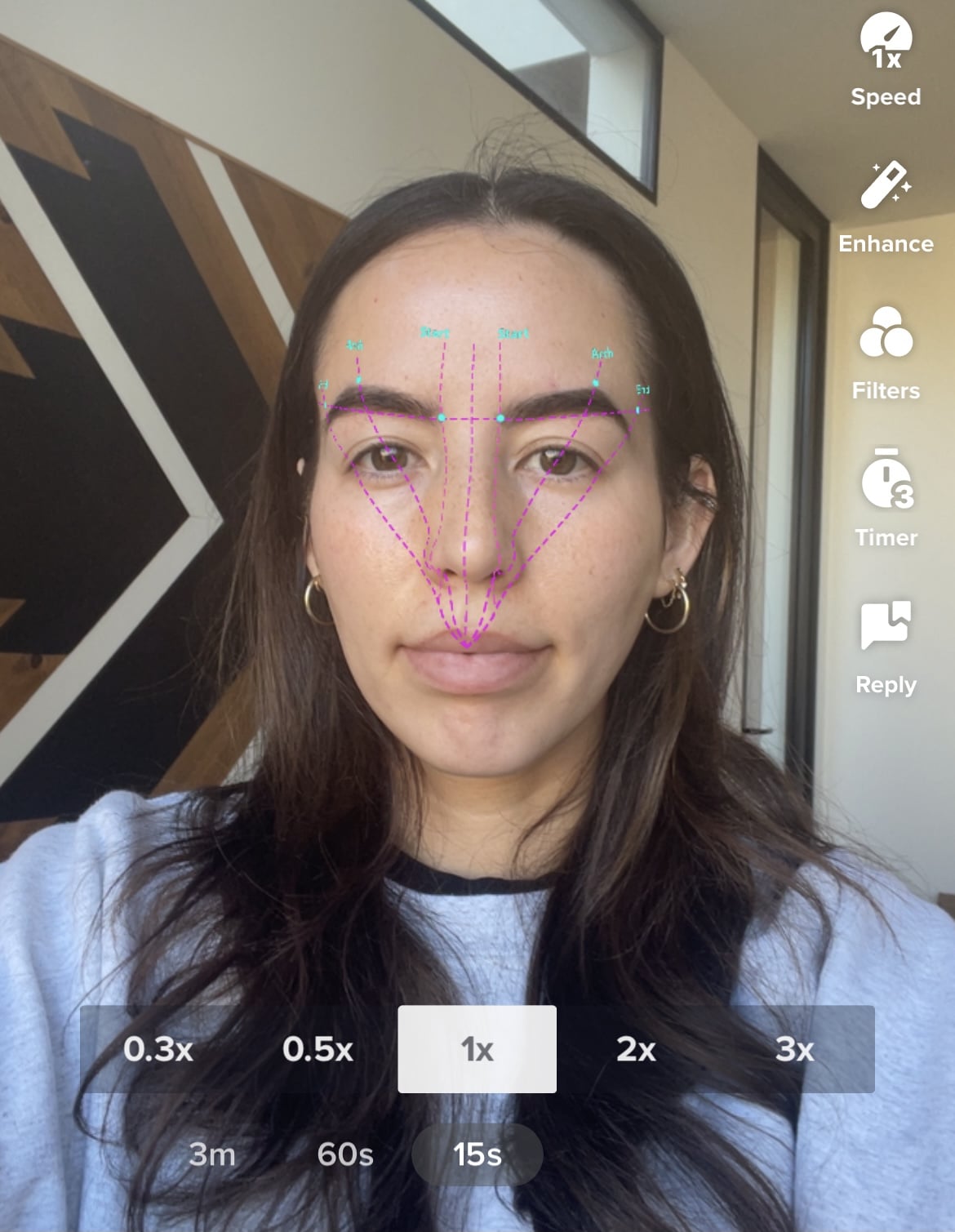 TikTok user Grace M Choi created a filter that helps map out your perfect eyebrow shape.
It utilizes "the golden ratio" and scans your face in order to find the best placement.
One editor tested the filter on her eyebrows to see if it lived up to the hype.
I've always struggled with my eyebrows. Ever since I took waxing a little too far back in seventh grade, I've never been able to get back the beautiful bushy shape I had so long ago. A few things have worked for me, like growth serums, finding the right eyebrow products, and brow tinting. However, one side is still much smaller than the other, and I often find it difficult to get everything looking even at the end of the day. Recently, when scrolling TikTok, I came across a new filter created by user Grace M Choi, which promised to help users map out and draw on their perfect eyebrows according to the golden ratio.
The golden ratio measures the length and width of the face and is often defined by researchers studying physical attraction as the "ideal" facial measurements. The filter Choi created maps out a person's ideal eyebrow position based on the golden ratio by drawing symmetrical lines from the center of the top lip to the outer corner and arch of the brow, as well as from the outer corner of the nose to the start of the brow. Intrigued, I decided to give it a try and see if it would work for my overplucked brows.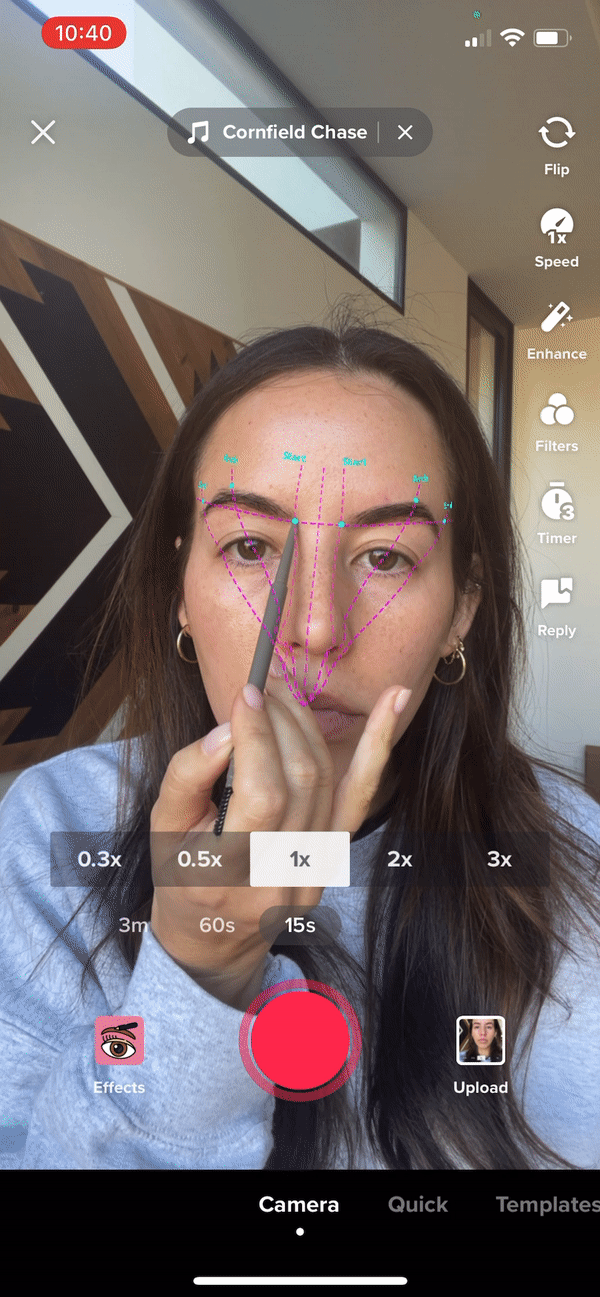 To start, I placed my phone on my tripod (I found this filter was best tested hands-free) and opened up the TikTok app, where I located the filter. At first glance, it seemed like my eyebrows were pretty close to aligned with the filter even without having to fill in too much. However, they definitely needed to start sooner, and the areas where I had sparse hair underneath my arch needed to be filled in quite a bit.
To do that, I used Refy's Brow Pencil ($20) in the shade Dark and made marks where the blue dots were located on the filter. The blue dots are located at the brow's "start," "arch," and "end" points. Next, I tapped the screen, which removed the filter, then I began to fill in my eyebrow by connecting the dots and following my brow's natural shape. Once I was finished, I moved on to the other side, then used a Q-tip to remove the dot marks I had originally used to mark off my brows. To finish, I applied Benefit's 24-HR Brow Setter Brow Gel ($24), which helped set everything in place.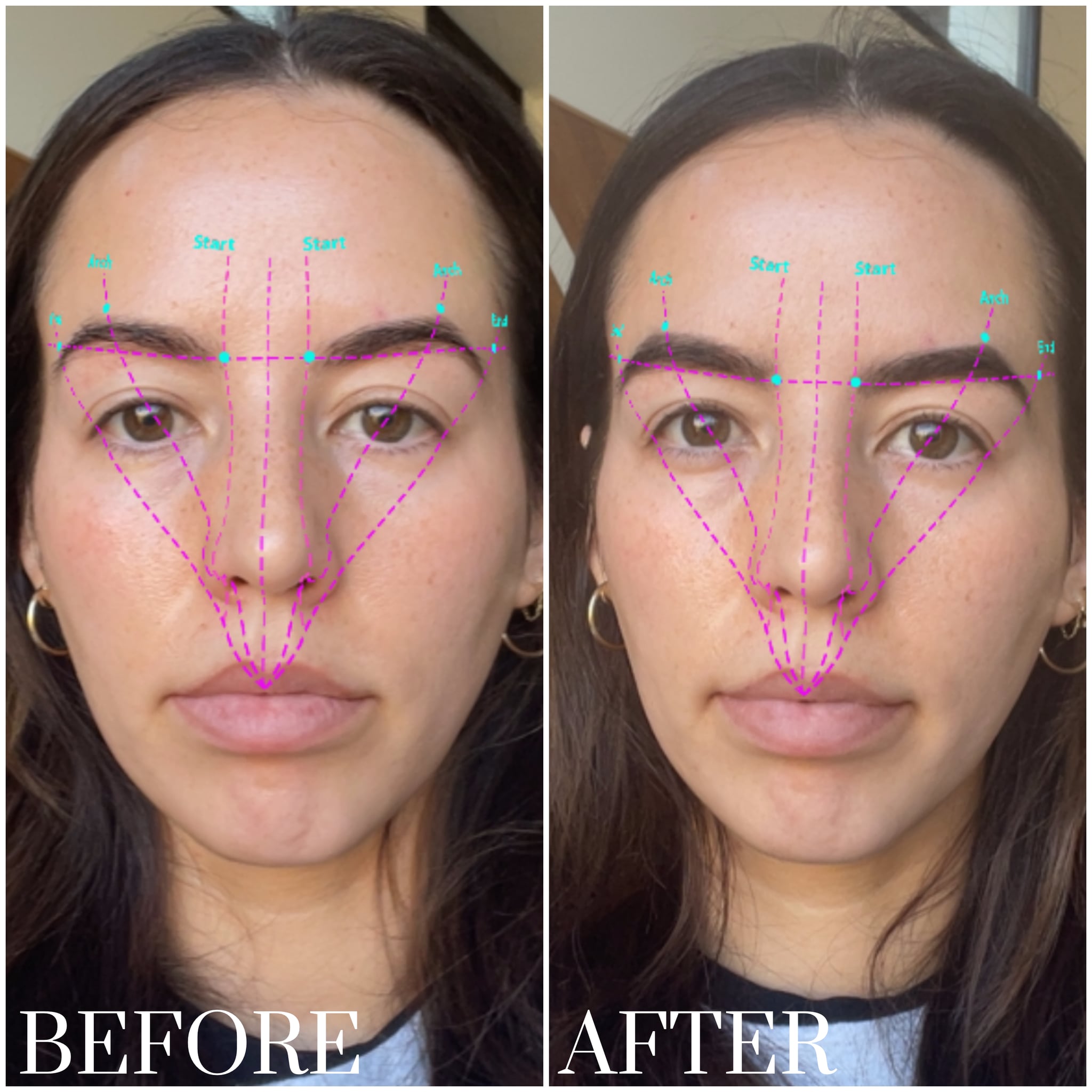 When I took a look in the mirror, I was pretty impressed with what I saw. I genuinely liked the look and shape of my brows after using Choi's filter, and I felt that it helped accentuate them in a way that I hadn't really mastered before. They were definitely thicker than what I was used to, but they reminded me of my bushy brows back before my unfortunate waxing experience.
I probably won't use this filter every time I do my brows, but I'll definitely utilize it whenever I'm trying to achieve a bolder look. Choi also recently created a contour filter as well as a winged-eyeliner filter — which are both things I have trouble with when doing my makeup — so I'm definitely planning on testing those out next. If you've been struggling to fill in your brows, give this TikTok filter a try.
Image Source: POPSUGAR Photography / Renee Rodriguez