People on TikTok Are Bringing Back the Euphoria Makeup Challenge With a Fun New Twist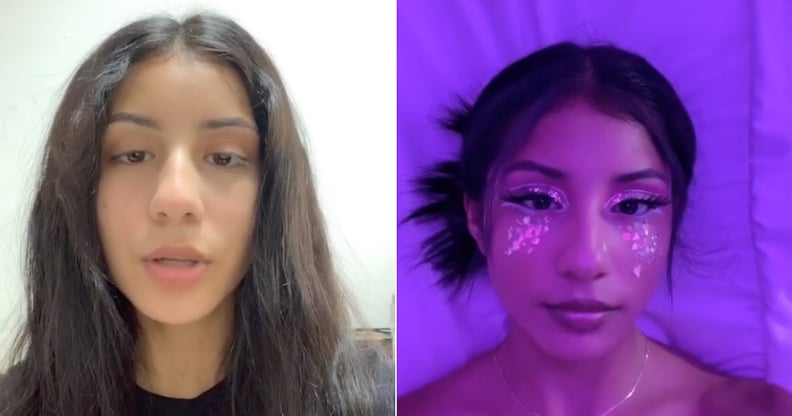 TikTok
TikTok
It's been more than a year since Euphoria's first season premiered on HBO, and we still can't get enough of the show's bold beauty looks. This is especially true for a few creators on TikTok who recently brought back the Euphoria makeup trend with a fun twist. As of now, the trend hasn't been turned into an official challenge with a name and a hashtag, but the videos shared by most of the people taking part all contain the same original sound and are created with the same formula, so it's really only a matter of time before it gets even bigger.
Each video shared so far starts off with someone bare-faced or wearing minimal makeup, mouthing the lyrics to a slightly chopped version of Bea Miller's "Feel Something" before falling backward. Once they fall, the song immediately switches to Labrinth's "Still Don't Know My Name" (which was featured on Euphoria's soundtrack), and it cuts to staring into the camera in a darkened room and wearing bright, glittery makeup inspired by the series.
After scrolling through all of these videos, we're anticipating season two even more now. Read ahead to see some of our favorite videos of the trend.