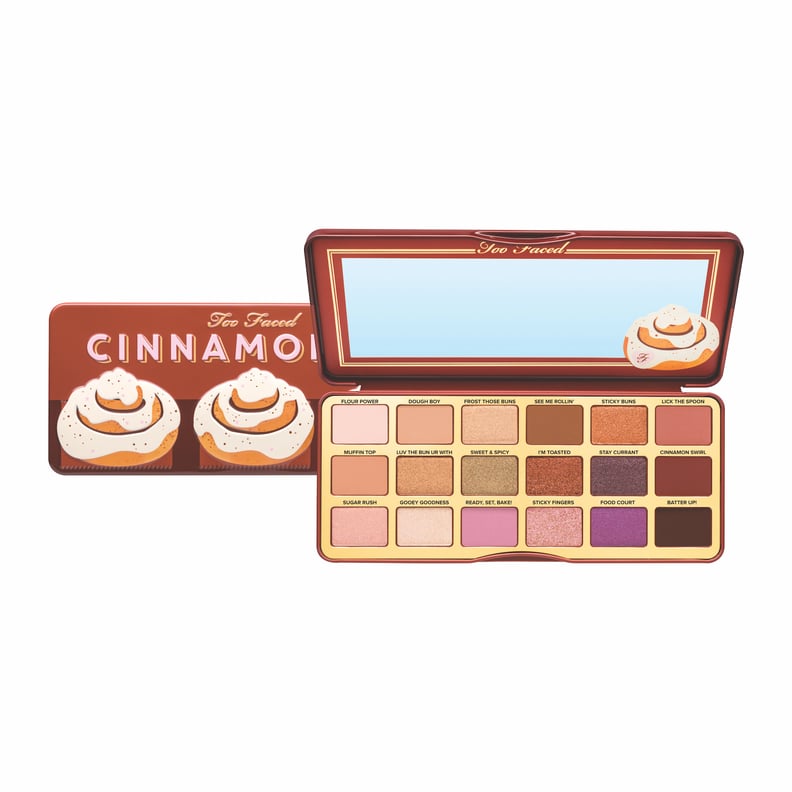 Courtesy of Too Faced
Courtesy of Too Faced
As POPSUGAR editors, we independently select and write about stuff we love and think you'll like too. If you buy a product we have recommended, we may receive affiliate commission, which in turn supports our work.
What's made of sugar and spice and everything nice? The Powderpuff Girls, yes, but also Too Faced's new eyeshadow palette for its Cinnamon Bun collection. Set to launch on Aug. 29, just in time for the cozy fall season, the Cinnamon Swirl Eyeshadow Palette is a limited-edition holiday special that smells as delicious as it looks.
The 18-pan eyeshadow palette features a variety of matte, metallic, and shimmery hues in cool and warm tones inspired by the delicious dessert, with cheeky names like "Flour Power," "Dough Boy," "Frost Those Buns," "See Me Rollin,'" "Lick the Spoon," "Luv the Bun Ur With," "Sugar Rush," "Sticky Fingers," and more. The names, combined with the sweet, cinnamon-y scent that wafts out of the case when you open it, are guaranteed to make you hungry. Add in the cover decorated with illustrations of the tasty treat, and this palette is almost too good to eat — I mean, use.
The eyeshadow pigments in the Cinnamon Swirl Eyeshadow Palette ($49) include light and dark browns, champagne, purple, pink, rust, and chocolate hues, which lend themselves to a copious amount of fall makeup looks. You can wear the matte hues every day or pack on the shimmers and metallics for a glam, nighttime look. To show you just how many ways you can wear this dessert-inspired palette, a few of our editors put it to the test. Keep scrolling to see their spin on the new launch and hear their thoughts — and don't forget to head to TooFaced.com to get yours before it sells out.
"I tend to gravitate to the more rusty eyeshadow colors, so I applied 'Sticky Buns' all over my lids and waterline and topped it with "I'm Toasted" before adding "Luv the Bun Ur With" to my inner corners. As someone who's never been the best at applying eyeshadow, I feel like this palette features lots of shades that are easy to apply and provide just the right amount of pigment to make it look like you're wearing something without being too dramatic." — Danielle Jackson, assistant beauty editor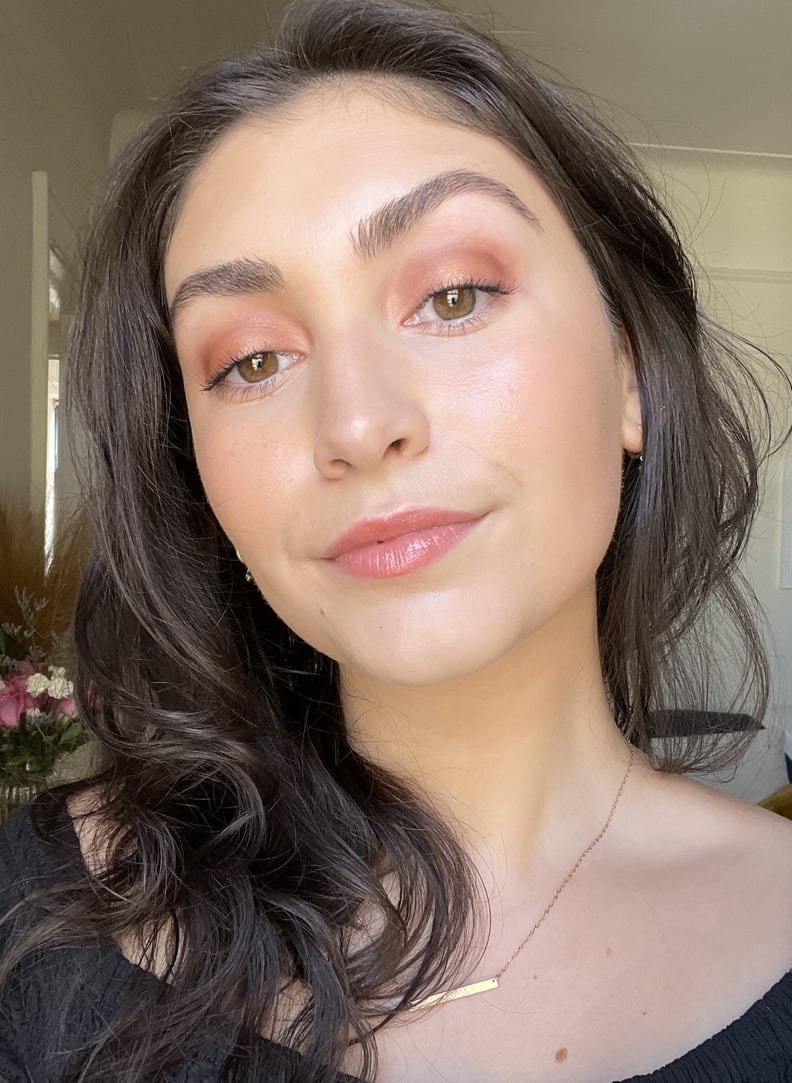 "Once I finally stopped sniffing the palette (I couldn't help myself) and actually took a good look at the shades inside, I knew I was going to have some fun with it. I love using warm pink, tan, brown, and champagne shades in my eyeshadow looks, and this palette has plenty. After much deliberation, I decided to start with 'Lick the Spoon,' a terra cotta-pink hue, on my entire lid, followed by 'Cinnamon Swirl,' a reddish-brown, in my crease. The formulas are super pigmented, and you begin to see good color pay-off with a single swipe of product. There's also very minimal fallout, which is important to me as I like to do my eyeshadow after my base makeup, but hate when shadows leave a mess under my eyes. To finish off the look, because I felt it needed a little bit of shimmer, I used my ring finger to smudge a little bit of the shade 'Sticky Buns,' a golden sparkly hue, into the middle of my eyelid. All of the colors blended seamlessly, making the palette super easy to use. I only incorporated three shades into this eyeshadow look, but I'm already dreaming up all of the different ways I can use the 18 colors this fall." — Jessica Harrington, beauty editor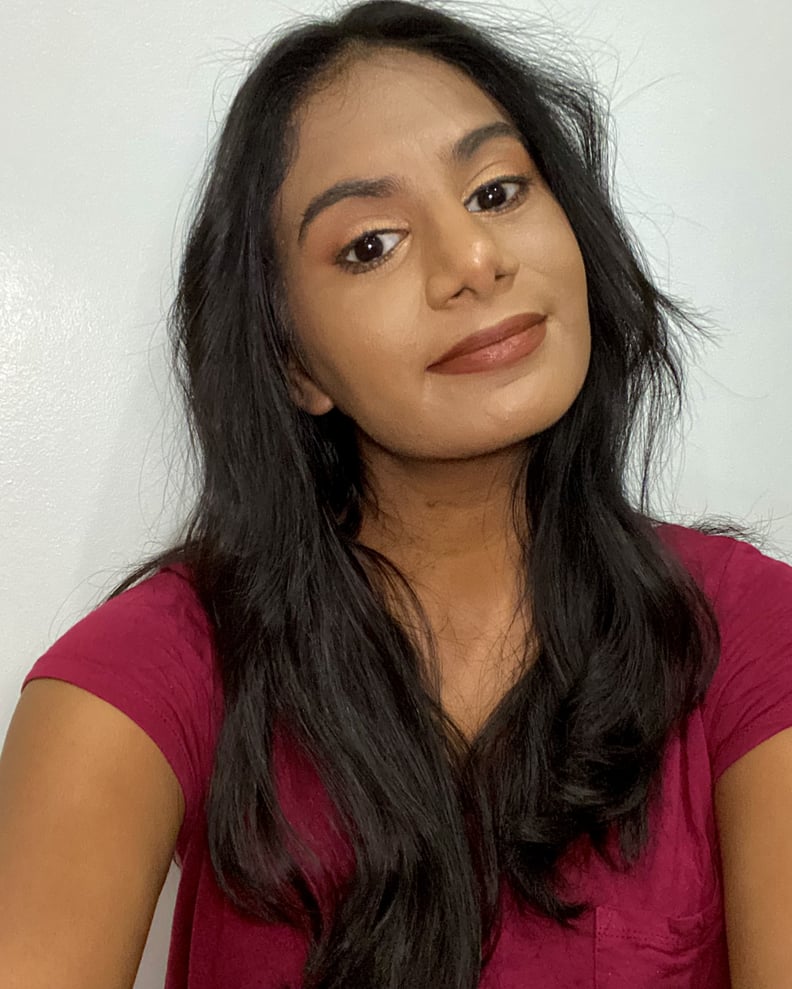 "I absolutely loved using this palette — the colors are so gorgeous, I couldn't decide what look to go for. The shades are universally flattering, and perfect for creating simple everyday looks, glamorous looks, and even incorporating pops of color. It has a great range of browns and neutrals, as well as a few pinks and purples that really complement the bronzes and gold-toned shades. The shimmers and glitters are very pigmented and sparkly, especially if you use your finger to dab it on your lids, and the mattes and satins are very blendable and layerable. It's a great palette to have on hand since it's so versatile. I could smell the cinnamon right as I was opening the box up, and it was heavenly. However, if you are sensitive to cinnamon scents, this might not be your cup of tea." — Anvita Reddy, editorial assistant, shop