The History of Tooth Gems, the Latest Beauty "Trend"
The Nuanced History Behind Tooth Gems, Beauty's Latest "Trend"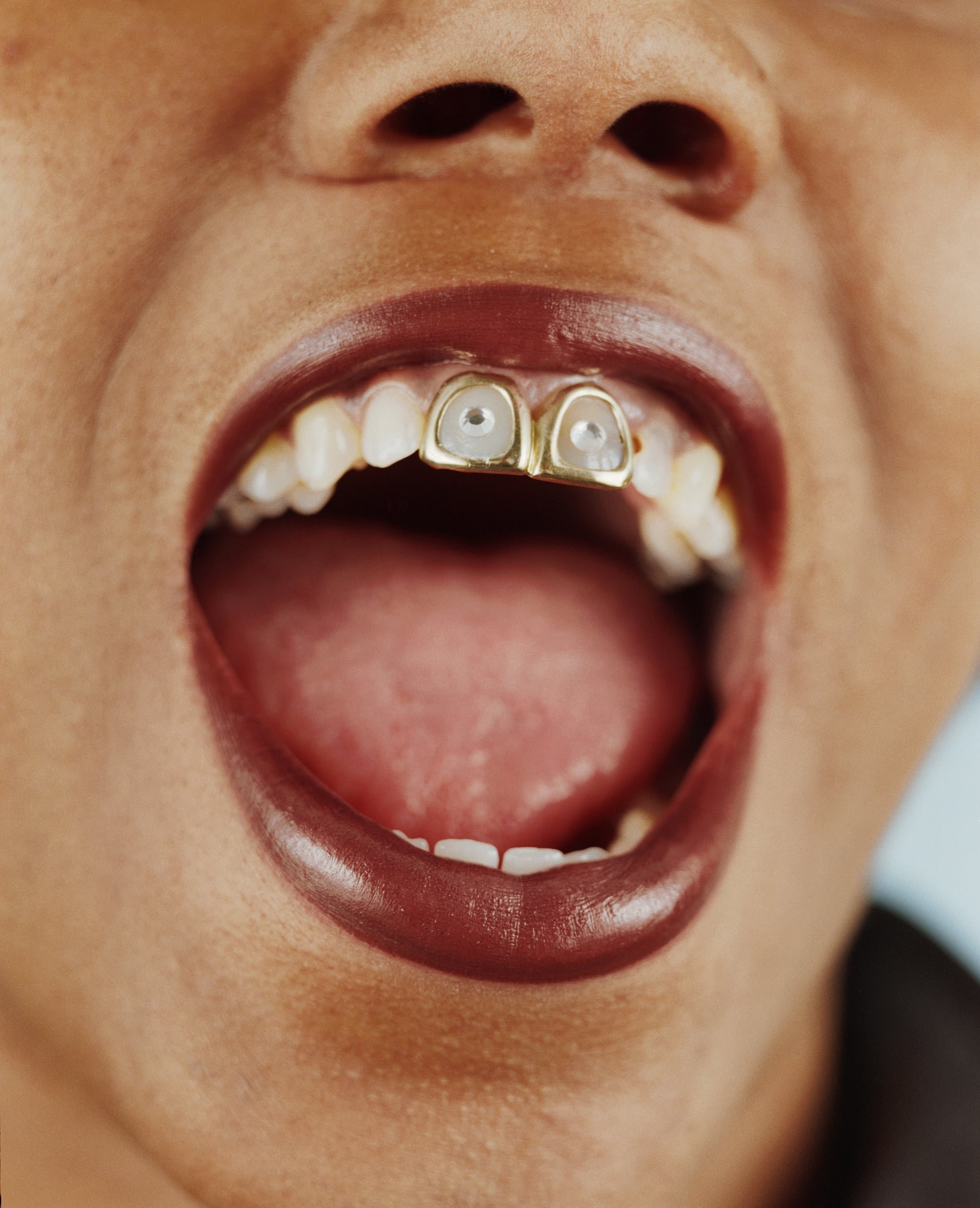 Image Source: Getty/Jilly Wendell
In the recently released Pinterest Predicts 2022 report, Pinterest states that searches for "tooth gems" have increased 85 percent year over year, but the act of embellishing teeth is not a new phenomenon. Popularized in the '90s, teeth were often decorated using "rhinestones, crystals, and, in some cases, diamonds," cosmetic dentist Sharon Huang, DDS, MICOI, told POPSUGAR. Now, the trend is making a comeback as Gen-Z puts their own spin on it.
Numerous teens have documented the process of getting gems applied across social media apps like TikTok, while others even shared how to achieve the look at home — prompting professionals to explain why DIY-ing the trend is dangerous. Yet, with the overwhelming media attention on trends that re-emerge back into popular culture, it can be easy to overlook where they originate from. This is exactly the case with tooth gems, because while they may be touted as a fun way to spice up a look, the act of embellishing teeth has deep historical roots.
Identified as a practice in ancient Mayan civilization, teeth embellishments were used as indicators of wealth and status in a society. Archaeological excavations in the ancient Mayan ruins of Tikal have found that elaborate dental work (like teeth gems) often indicated that the person held a high position in society. "Tooth embellishments most likely indicated wealth [in a community]," archaeologist Marshall Becker, professor emeritus of anthropology at West Chester University, told POPSUGAR.
Not only was the practice akin to a status symbol, but ancient Mayans also used particular stones to embellish their teeth. "Disks of jadeite or pyrite were most common," said Dr. Becker. The disks varied in size and number, but "one large disk per tooth was most common."
Tooth gems, as we know them today, also differed from another form of teeth embellishments also popular today — grillz. "I identify 'gems' as inlaid stones," said Dr. Becker. Grillz, on the other hand, "appear to be embellishments done in overlays." While often conflated, the difference between tooth gems and grillz lies in the application method of the embellishments. Tooth gems historically were embellishments placed inside the teeth. The first iteration of grillz as we know them today were embellishments on the teeth.
Some people believe that the latest iteration of the trend is just another way for white people to appropriate Black culture. Dr. Becker believes that most wearers of tooth gems today are not aware of the true history of teeth embellishments, but social media users have recalled a noticeable shift in the way that tooth gems were reintroduced by media outlets when worn by white celebrities today versus the negative perception that surrounded grillz in the '90s. More recently, white celebrities like Katy Perry and Hailey Bieber have been praised for wearing tooth gems (with the latter even wearing them to the Met Gala), but when Kanye West stepped out with his, the coverage was much more speculative. As such, the argument is only fair that white people don't take part in the resurgence of the tooth gems trend at all.
On the flip side, others say that tooth gems are merely for fun. "I got so inspired [to get tooth gems] from images I saw on Pinterest," said influencer Nya Williams. "I also went to a few parties where I saw a few people had them and thought they were so dope."
YouTuber Glorya Grah also found out about the gems on Pinterest. "I saved [a picture of] them to a board of things I wanted to try to change my appearance," she said. "I've always been interested in trying things that were out of the box and tooth gems were right up my alley." The gems also feel like an easy way to look put together without much effort — a big plus for jewelry lovers who don't like the fuss of putting it on. "The tooth gems have been my everyday accessory," said Grah. "I'm a big fan of jewelry, and they give me the look that I'm going for without having to put anything on."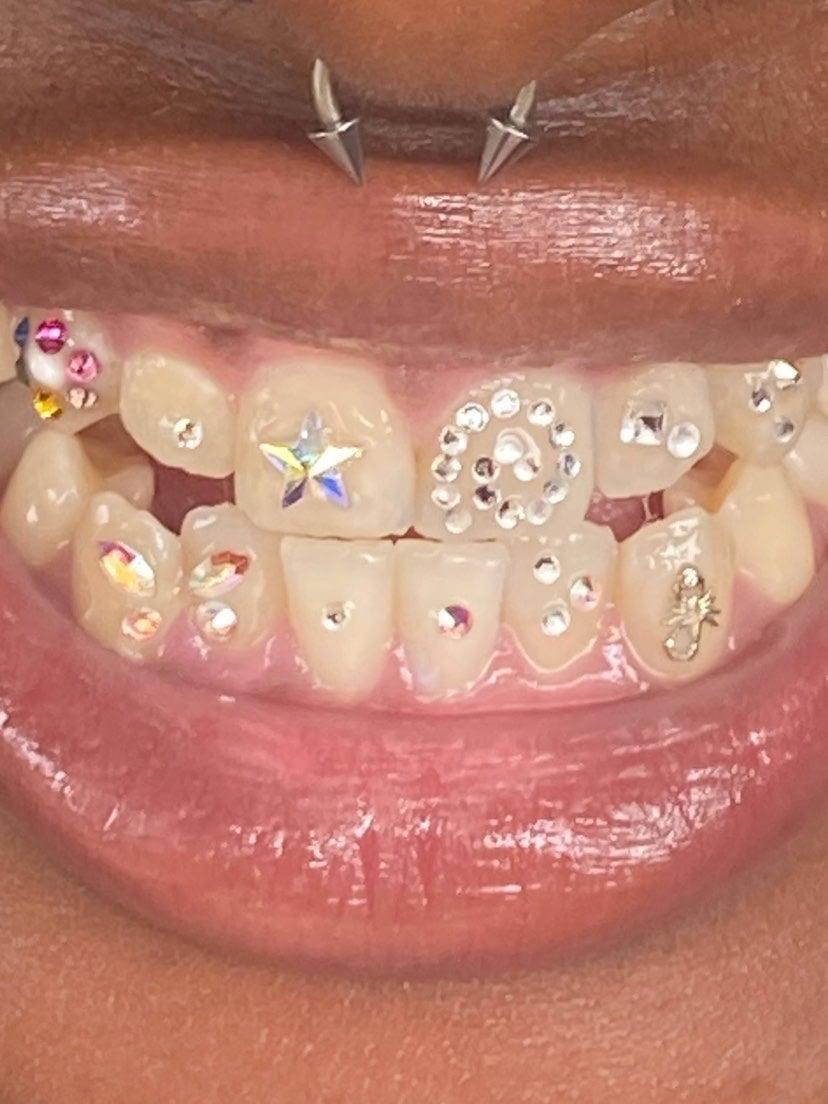 Image Source: Glorya Grah
As the trend continues to get the Gen-Z stamp of approval, there has been a rise in people claiming to be professionals within the space. While tooth gem technicians are an alternative to applying the gems at home, it is always recommended to do research beforehand to make sure they are legit.
"There is a certification process that needs to be passed in order to do this procedure," said Ro Bataille, founder of Cherry Bomb Studio in New York City. "It is important to make sure that your tooth gem tech is certified, or else you risk subpar materials being used, like bonds not intended for teeth or crystals with lead backing."
Some dentists also offer the service, so when researching, always ensure that they are "fully licensed and have experience applying and removing teeth gems," said Dr. Huang. "Ask to see before and after photos of patients at first application as well as removal so you can see the work firsthand."
The history of tooth gems is nuanced and complex, and should continue to be explored as its popularity increases. Like most trends, the first purveyors have long been forgotten, but as each generation rediscovers beauty rituals of the past, it's our responsibility to properly attribute its origins — only then can the public make an informed decision on whether they would like to take part in what is sure to be a pop culture moment for years to come.