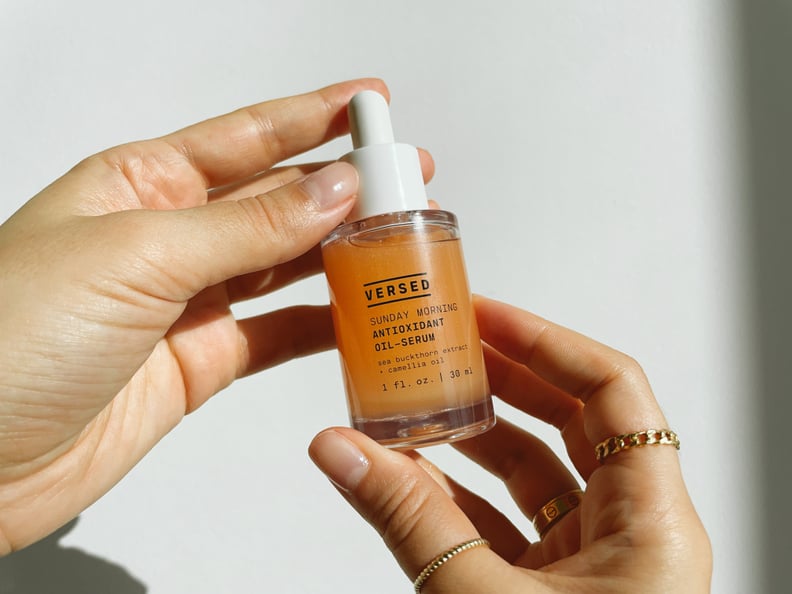 POPSUGAR Photography | Renee Rodriguez
POPSUGAR Photography | Renee Rodriguez
As POPSUGAR editors, we independently select and write about stuff we love and think you'll like too. If you buy a product we have recommended, we may receive affiliate commission, which in turn supports our work.
I feel like everyone I talk has a very strong opinion when it comes to face oil. They either love it (it changed their skin! They glow as bright as the North Star!), or they hate it (it ruined their skin! Their pores have never been more clogged!). Me? I have one foot on either side of the line. I want to love face oil. I have extremely dry skin, so I would love to add a product into my routine that helps pack in moisture. On the other hand, my skin is also acne-prone, and most face oils I've tried have made me break out. So, while I want my skin to look as bright as the star on top of Mariah Carey's Christmas tree, I'm apprehensive about the acne that could come along with it.
When I heard Versed was coming out with an oil-serum hybrid (a first for the brand), it immediately piqued my interest. I had never tried an oil-serum before, but after reading about how it worked to moisturize like an oil but without the downsides, I knew I had to get my hands on it. Versed's Sunday Morning Antioxidant Oil-Serum ($20) combines ingredients like camellia, jojoba oil, and vitamin E to pack a hydration punch that even your favorite moisturizer will be jealous of.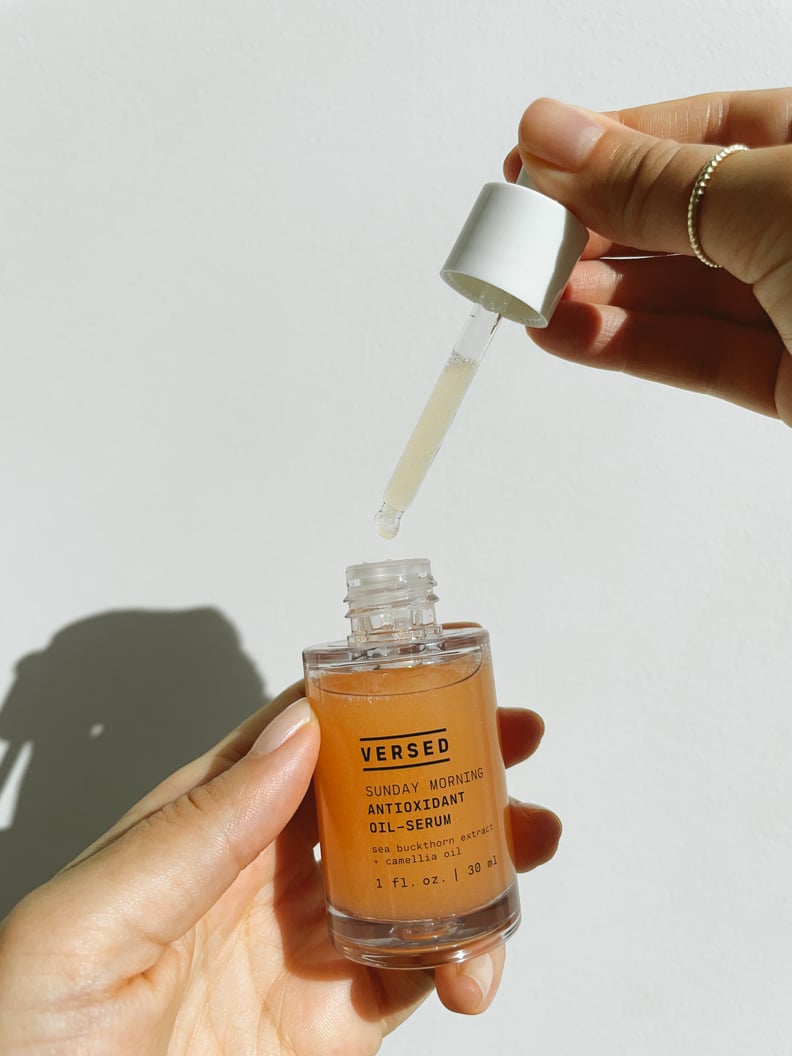 I've been using this product for a little over a week, and I've already noticed a difference in my skin. It feels uncharacteristically supple, and despite the fact that we are fully immersed in the winter dry months, it does not look dull at all. In fact, this product keeps my skin looking vibrant and dewy, without looking greasy or oily.
Before applying, I make sure to shake up the bottle, because the ingredients separate after sitting for a while. I massage three drops onto my face and neck in the AM, after my vitamin C serum and before my moisturizer. (Typically, face oils are meant to be applied as a last step, but since this is an oil-serum hybrid, I apply it before my moisturizer.) The texture of Sunday Morning is extremely light, which I love. It doesn't feel thick like an oil, but it definitely hydrates like one. The immediate results are radiant, luminous, with a hefty side of glow-up.
I like to forego makeup as often as I can, and this oil-serum gives my skin a natural sparkle that shines even brighter than my favorite highlighter. It melts into my skin easily, leaving behind a dewy brightness that truly lasts all day. Not only that, but the hydration withstands the test of time as well. On one occasion, I was called away from my a.m. skin-care routine by an urgent phone call, and I actually went the entire day without moisturizer. Personally, I wouldn't skip that step often (because I like any extra moisture I can get), but for those without super dry skin trying out this product, I wouldn't be surprised if you were able to skip moisturizer altogether on the reg.
While this is the first product I've tried from Versed, I can safely say it won't be the last. If you've been interested in dipping your toe in the face oil pool, Sunday Morning is just the segue you've been waiting for.