The novel coronavirus has changed a lot of the way we do things in everyday life. Shopping is done online, hair is cut at home, and dating has gone virtual — even more so than before. Not only are people meeting online through apps, but now due to social distancing and stay-at-home orders across the country, people are also attending dates digitally.
FaceTime and Zoom dating have become more popular since restaurants and bars shuttered months ago. Instead of meeting up in person, people are opting to meet over computer and phone screens, nestled in the comfort of their homes. Which begs the question: do you still go all out with your beauty prep for a date that's over the phone? There is the benefit that the screen provides you with an automatic blurring filter and you only really need to get "dressed up" from the waist up. (We — or at least I — have already decided that jeans are out of the question and yoga pants or leggings are the only way to roll for digital interactions.)
But considering video chats are close up, hair and makeup are a bit of a different story. Do you go with a quick and easy makeup routine or move forward with your normal glam prep? Do you go all out with your hair, embrace the messy bun, or just curl the front pieces and neglect the back (because, well, who will ever know)?
Ahead, we spoke with six women to find out what their beauty-routine prep for a virtual date looks like these days.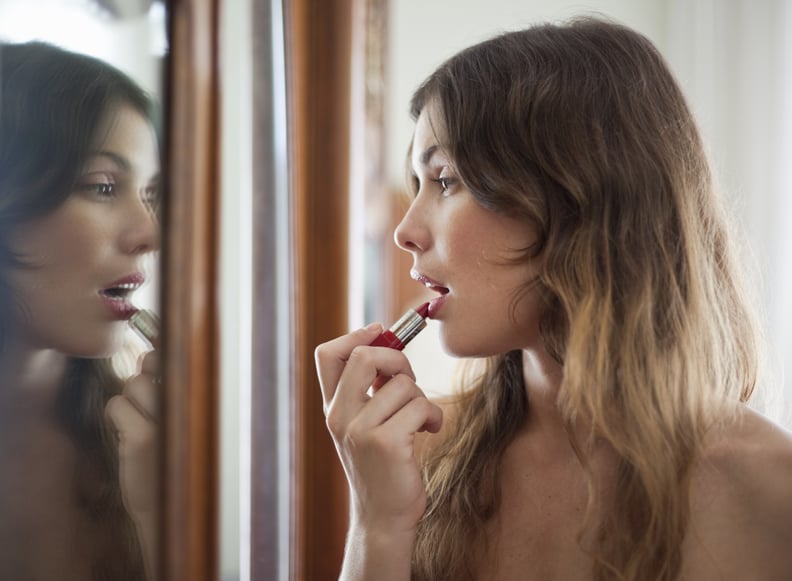 "Over the last month and a half, I've been having FaceTime dates with someone I was seeing before the pandemic struck and we've both since gone home to our parents' houses in different states. Considering he's seen me in full glam before this happened and I didn't bring all my makeup home with me, I've been doing a more natural hair and makeup look for our dates. I've stuck with some light highlighter and brow gel instead of full foundation, heavy eye makeup, and filled-in brows. Finding the good lighting at my mom's house has also been major." — Perri Konecky, New York City
"Never in a million years did I think I'd be putting in all the effort for a simple FaceTime — but you gotta do what you gotta do."
"For my first FaceTime date, it was definitely an 'I'm going to pretend I'm actually going out' situation — I'm talking hair washed and styled, a bold lip, styled brows, the whole nine yards. I made sure to pack on my MAC Extra Dimension SkinFinish in Show Gold so it would actually show up on camera and did a quick application of my L'Oréal Rouge Signature Matte Lip Stain in I Lead for a flirty finish. (Lipstick and highlighter are a must for me for any occasion, even virtual.) Between that and doing a full blow-dry and curl with my hair, I spent about two hours prepping. Never in a million years did I think I'd be putting in all the effort for a simple FaceTime — but you gotta do what you gotta do. Full disclosure: I've since resorted to messy buns and a swipe of my favorite INN Beauty Project Lip Oil, but it's the thought that counts." — Jillian Selzer, New York City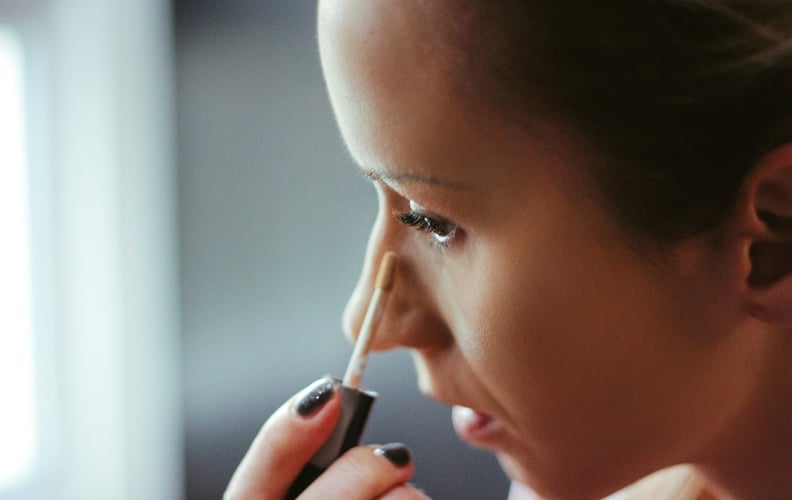 "I have loved trying out virtual dating since shelter-in-place began. While it is so different from face-to-face happy hours and dinners, I still get those predate butterflies and have had some success. I treat my virtual date glam just how I would in the real world: a full face of makeup, a cute top, and big hair. The only thing that has changed is I might wear yoga pants instead of jeans — they will never know the difference. I think the most important part of virtual dating is to do what makes you feel most confident and comfortable. For me, that includes highlighter all over my face." — Maddy Williams, San Francisco
"Usually, I'm the type to spend an hour getting ready for a date. I shower, ask my roommates for help on outfits, and make sure to do a dash of perfume. Social-distancing dating has been a completely different ball game. I've decided that I don't need to dress up to impress men who don't put in the same effort. I go on FaceTime dates in no makeup, sweats, and nuzzled in my bed. It's chill, and I'm actually comfortable. Sometimes it goes really well, and sometimes it's a hot mess. But most importantly, I've learned during this time dating that it's OK to be vulnerable and it's OK to not try so hard on the exterior." — Naledi Ushe, New York City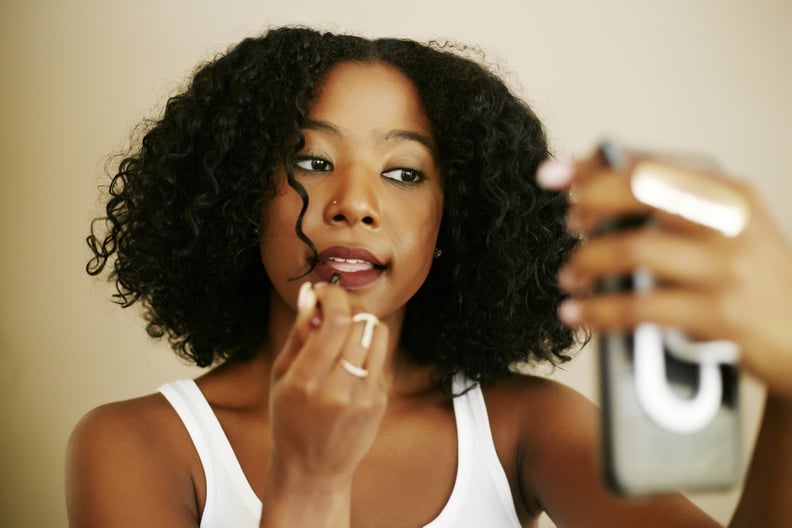 "I skip the lipstick, eyeliner, and eyeshadow because we're all home and that's more for a going-out look. I don't want to look like I'm trying too hard . . . even though I am."
"When I'm getting ready for a virtual date, I try to go for the 'no effort' look. I try to look more natural and comfortable than what I would had I been getting ready to go to a bar. I blow-dry my hair, then do concealer, foundation, and mascara. I do a contour and highlight because I feel like you need to since this is over video and it makes your features pop, instead of being drowned out by the light. Then, I put on a sweater and leggings, and I'm done! I skip the lipstick, eyeliner, and eyeshadow because we're all home and that's more for a going-out look. I don't want to look like I'm trying too hard . . . even though I am." — Samantha Reyes, New York City
"My signature makeup look is never too over the top, but there are a few key steps I focus on for virtual (social-distancing) dating vs. IRL dating prep. For virtual dating, I'm all about the no-makeup makeup look, keeping it super simple but glowy. I lather on all the moisturizing serums, focus on heavier mascara while skipping the eyeliner, and fluff and fill in my eyebrows. (Eyebrows are key.) I finish off the look with a dewy highlighter and the Sun Bum Tinted Lip Balm. It almost feels odd getting myself put together as if I was going out when the reality is I'm in sweatpants on the bottom and I swapped my hoodie for a light sweater." — Ali Appelbaum, New York City