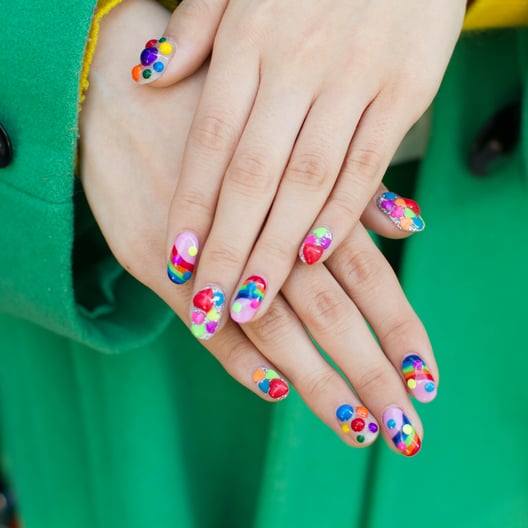 One of the summer's most popular nail-art trends is so hot, it will leave you dripping — quite literally. The "water droplet" nail-art trend, as seen on Doja Cat and Kylie Jenner, makes it look like you were caught in a rainstorm and tiny water droplets got frozen in time on your nails. The result is an unconventional manicure design that gives the illusion of wet and juicy fingertips.
Despite how real the "droplet" manicure looks, the shiny beads of water on the nails are actually made from hardened gel or globs of clear nail polish and applied in a way that gives 3D texture to your nails. So Jin Oh, the creator of the nail-art design and the mastermind behind Jenner's viral dripping manicures, tells POPSUGAR, "I'd been trying to imitate dew drops on nails when I saw this unknown image of nails done by a Japanese nail artist from the early '90s. I ended up practicing using clear building gel for days and finally I was able to get my own perfect dew drop."
Jenner has worn many iterations of the water-droplet nail-art trend, like the time she debuted a look on top of neon orange french tips. Doja Cat has also taken the trend for a spin, pairing it with nude tips.
Keep scrolling to get more water-droplet nail-art inspiration and prepare for everyone to be in awe at your incredibly cool mani.
Neon Green "Water-Droplet" Nails
Rainbow "Water-Droplet" Nails
Blue "Water-Droplet" Nails
Sage Green "Water-Droplet" Nails
Nude "Water-Droplet" Nails
White "Water-Droplet" Nails
Pink "Water-Droplet" Nails
Pastel "Water-Droplet" Nails
Neon Blue "Water-Droplet" Nails