To most of us, West Side Story isn't new. Some have seen it many a times before, but never like this. Sure, there are larger than life dance numbers and lots of singing, but Steven Spielberg's 2021 remake of the Broadway musical, which hits theaters on Dec. 10, is different in many ways, and we're not just talking about the brand-new cast members that includes faces like Rachel Zegler (as Maria), Ansel Elgort (Tony), and Ariana DeBose (Anita), to name a few.
Most notably, in this second adaptation, the Puerto Rican characters are played by Latinx actors (something the original was lacking) and is a better representation of the community that the entire story is about. The movie is also set in 1957, when the musical was written, not 1961, which is when the first movie was released. That may not seem like a huge deal, but the jump in decade mattered when it came to the styling.
Ahead, the movie's hair department head shared more about the inspiration for the film (and the role Rita Moreno played in that) and the styling techniques used to replicate some of the most popular '50s hairstyles.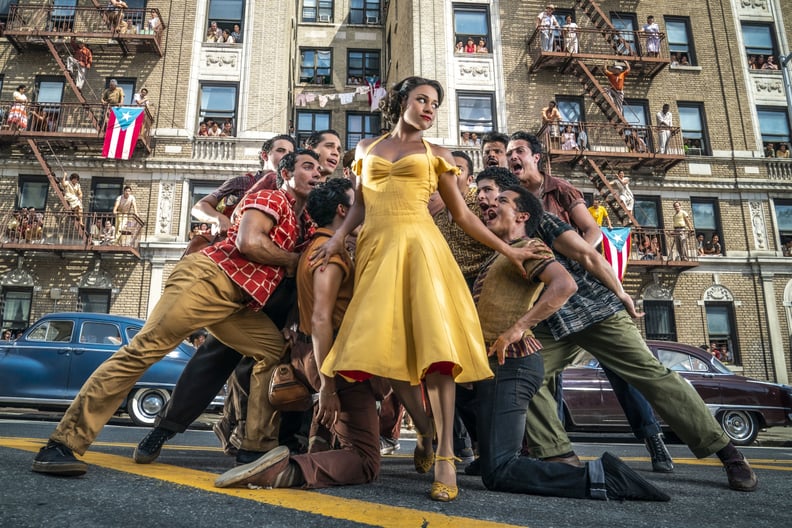 The Importance of Puerto Rican Representation In West Side Story's Beauty Looks
Kay Georgiou, the film's hair department head, did a lot of homework ahead of working on this production. She looked back at reference photos from the 1950s of popular movie stars, in addition to everyday people living in New York City, but most importantly, she looked back at what the Puerto Rican community that's represented in the film looked like at the time. She wanted to make sure the styles were "historically correct" and "authentic." And she had help from a major player: Rita Moreno.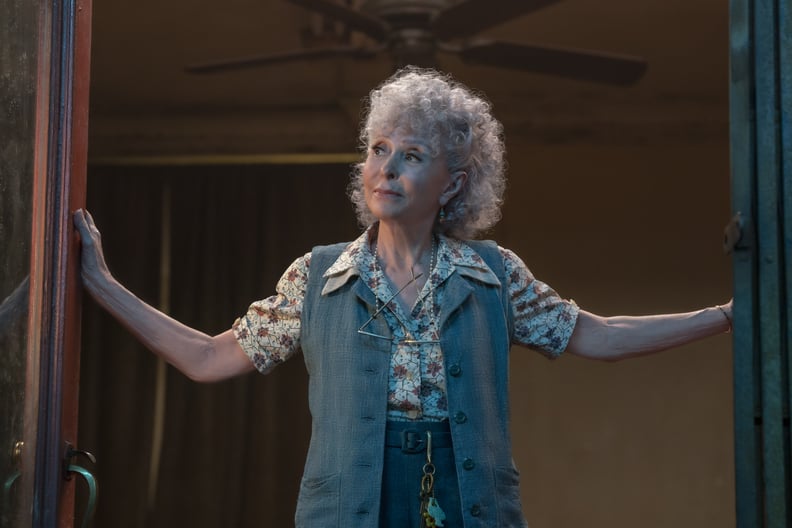 Rita Moreno Played a Major Role In West Side Story's Inspiration
When it came time to dream up the looks for the cast, Georgiou and her team of stylists didn't go at it alone — they also had help from Rita Moreno, one of the only returning cast members from the 1961 movie. In her new role, Moreno plays Valentina, the widow of drugstore owner Doc, but in the original, she was Anita. "She was one of our early points of reference," Kay Georgiou told POPSUGAR. "And she was very helpful in telling us what it was like then, in the '50s, and what the different looks were."
Moreno even took inspiration from her own family members when brainstorming what Valentina should look like. "When Moreno was talking about her look, she described a lot about how her mother would have looked," said Georgiou, though she pointed out the character isn't strictly based off Moreno's mom.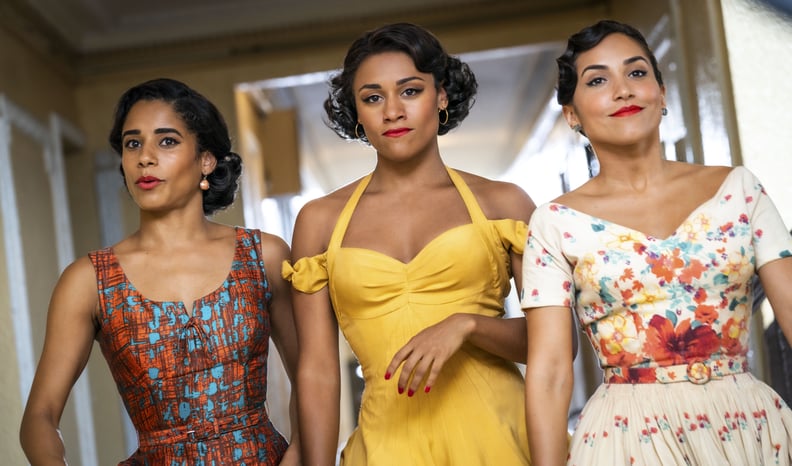 Hairstylists Mixed Old and New Techniques to Replicate the Styles
As previously mentioned, the original film came out in 1961, which may only be four years after this remake is set — but when it comes to beauty trends, it makes all the difference.
"Because it was in a different year, hairstyles [are] a little bit earlier than what is in the [original] film," said Georgiou. The 1960s is known for its large hairstyles with lots of volume on the top (think tall beehive hairdos), but the styles in the '50s were a bit "flatter."
"I wanted it to look real and natural [for the period]," Georgiou said. To get that effect, she used a mix of old and new styling techniques. For the women ensemble members, Georgiou explained about 90 percent of them were outfitted with wigs, "like the Broadway version," and styled using methods like wet setting and pin curls. "Occasionally, I did use old Marcel irons on them," which were traditionally manually heated, like on a stove. However, touchups while filming were managed with modern curling irons "because they're so much quicker to use."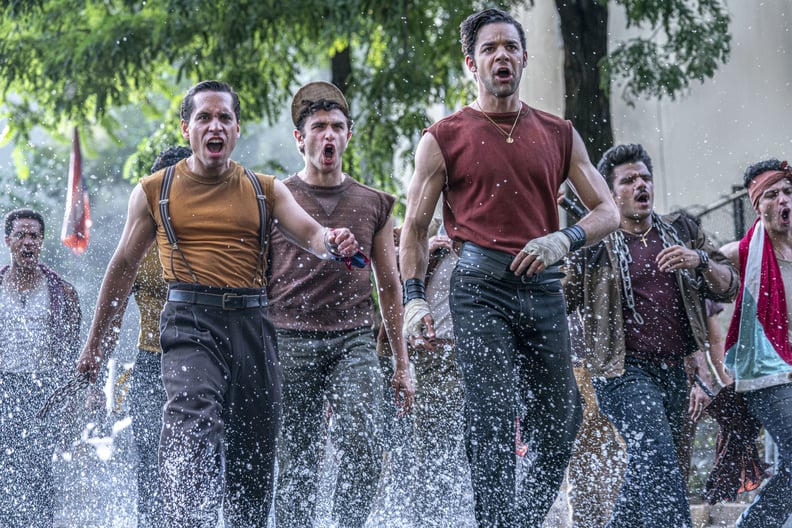 A Key Component to the Men's Hairstyles Was Shine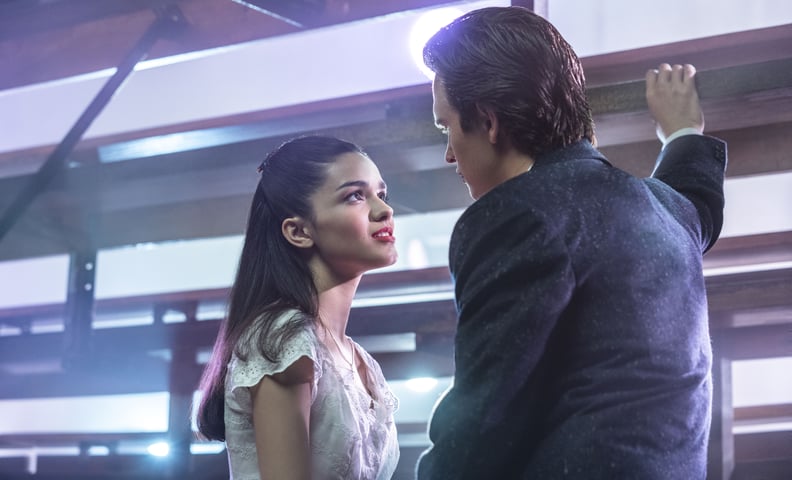 The Trick to Keeping Movement in the Hair During Dance Numbers
The hairstyles for the musical numbers in West Side Story were admittedly Georgiou's number-one priority. She wanted them to be just as energetic and lively as the songs, the characters, and the dance moves. "The main thing I really wanted for the ensemble and the dancers was for their hair to move when they dance — I didn't want it to be rigid," she said. The costumes that Paul Tazewell created also inspired her. "They move, they swing, they're these wonderful colors, and I wanted the hair to echo that."
To make sure the styles stuck without being stiff, she followed quite the process. "When I set the hair, it was really only just water and then a setting lotion." Once the hair was styled, she'd locked it in with her favorite hairspray: the Phyto Professional Phytolaque Soie ($22). "It's not a heavy hairspray, it's very, very light, so if there's something that you want to change in the style, it's very easy to brush it out and start again," she said.
30-Some Wigs Were Reset Every Night
Once filming wrapped for the day, Georgiou and her team's work had only just begun. "Each night, when the wigs would come off, they would all have to be blocked, dressed, and reset so that they would be workable for the next day," said Georgiou. That meant every night, 30-something wigs were brushed out and restyled. And the next day, they'd do it all again.