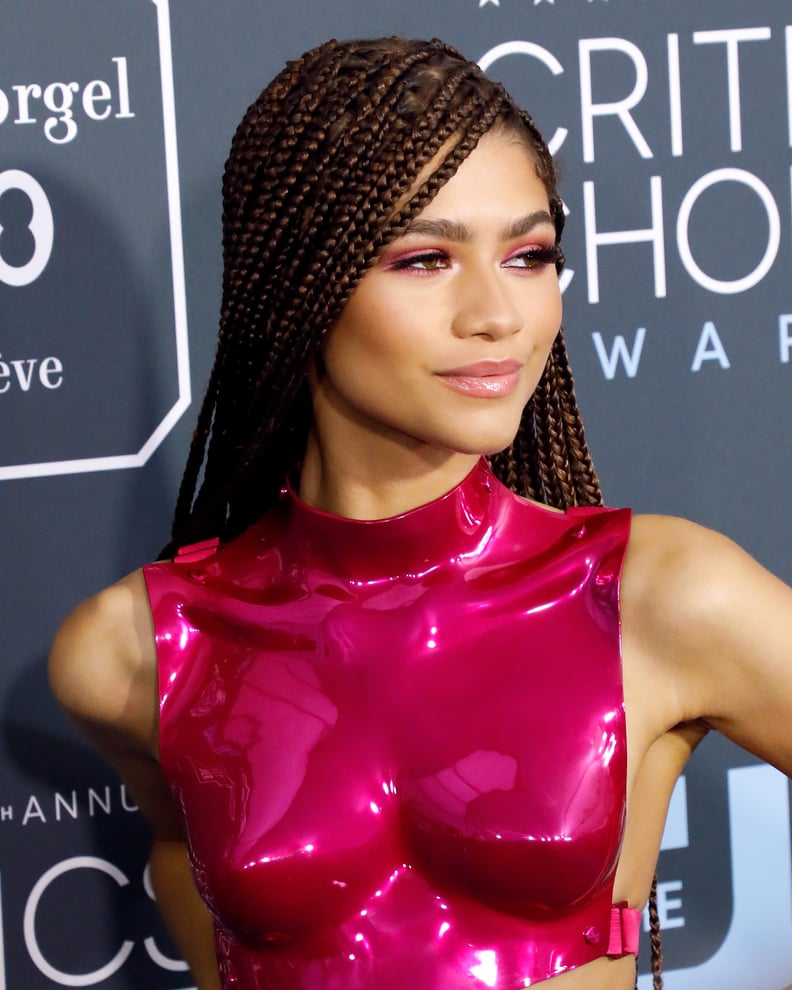 Every few months or so, I can always count on a new hair or beauty trend to take over my Instagram feed for an indefinite period of time. At one point it was faux locs, then crochet braids, and now I haven't been able to scroll without seeing at least a handful of knotless box braids. (We're looking at you, Zendaya.)
Still, while you might know that the look is a great protective style no matter the season, you might not know other things about the trend, like the difference between knotless braids and traditional box braids. That's why we're breaking it down for you. Keep reading to learn what knotless box braids are, how to do them, and some of our favorite variations.
What Are Knotless Box Braids?
As you might have guessed already, knotless box braids are another variation of box braids. Like the latter, they can also be customized by size and length and are just as versatile. Still, they are not exactly the same. The difference is that, unlike box braids, these don't include the small knot that sits at the root of the scalp because of the addition of synthetic braiding hair.
Instead, this hairstyle is created using a feed-in technique: braiding hair is added to a person's natural hair in small pieces, resulting in a plait that lies flat and isn't as heavy on the scalp. It's essentially a painless alternative for anyone looking to rock a head full of box braids without putting tension on their scalp and edges.
How Long Do Knotless Braids Last?
The truth is, there is no easy answer to how long your braids will last because it largely depends on how large they are, as well as how you care for them. Generally speaking, though, your knotless braids can last up to three months with proper care. (For context, most box braids will last you up to six weeks.)
Knotless Braids Inspiration
Read ahead to see more photos of knotless box braids of various sizes. Now, excuse me while I go ahead and book my appointment now.
Small Knotless Box Braids
Smaller knotless braids can look like many things, but typically feature parts that are about as wide as a pencil and often less than two inches in size.
Small Knotless Box Braids
This style can also range in length, with many choosing to braid in extra long hair into the look.
Small Knotless Box Braids
You can typically expect small knotless braids to last between eight to 12 weeks, depending on how you maintain them.
Medium Knotless Box Braids
While it varies depending on personal preference, medium knotless box braids typically range in width from penny- to nickel-sized.
Medium Knotless Box Braids
Medium knotless braids, like their small counterparts, also look extra sleek when styled with extra long lengths.
Medium Knotless Box Braids
Much like small knotless braids, medium-sized knotless braids can last up to 12 weeks with proper care.
Large Knotless Box Braids
As a medium-sized box braid is the size of a penny, large knotless box braids are normally the size of a quarter.
Large Knotless Box Braids
Large knotless braids typically have a shorter life span because the sections are much larger, so experts recommend only keeping them in for up to eight weeks.
Large Knotless Box Braids
This is because, due to the larger sections, you may not have access to cleaning your scalp in the way you might with smaller knotless braids.
Jumbo Knotless Box Braids
Jumbo-sized knotless braids are the most likely to need maintenance, especially if you wash your hair with your braids in. Because there are fewer braids installed, there's a higher chance of the style looking fuzzy simply due to the fact that there is more hair in one braid.