Whitney Eaddy Talks Hair Growth and Retaining Length
A Celebrity Hairstylist on Why Her Clients Have Nicknamed Her "The Growth Guru"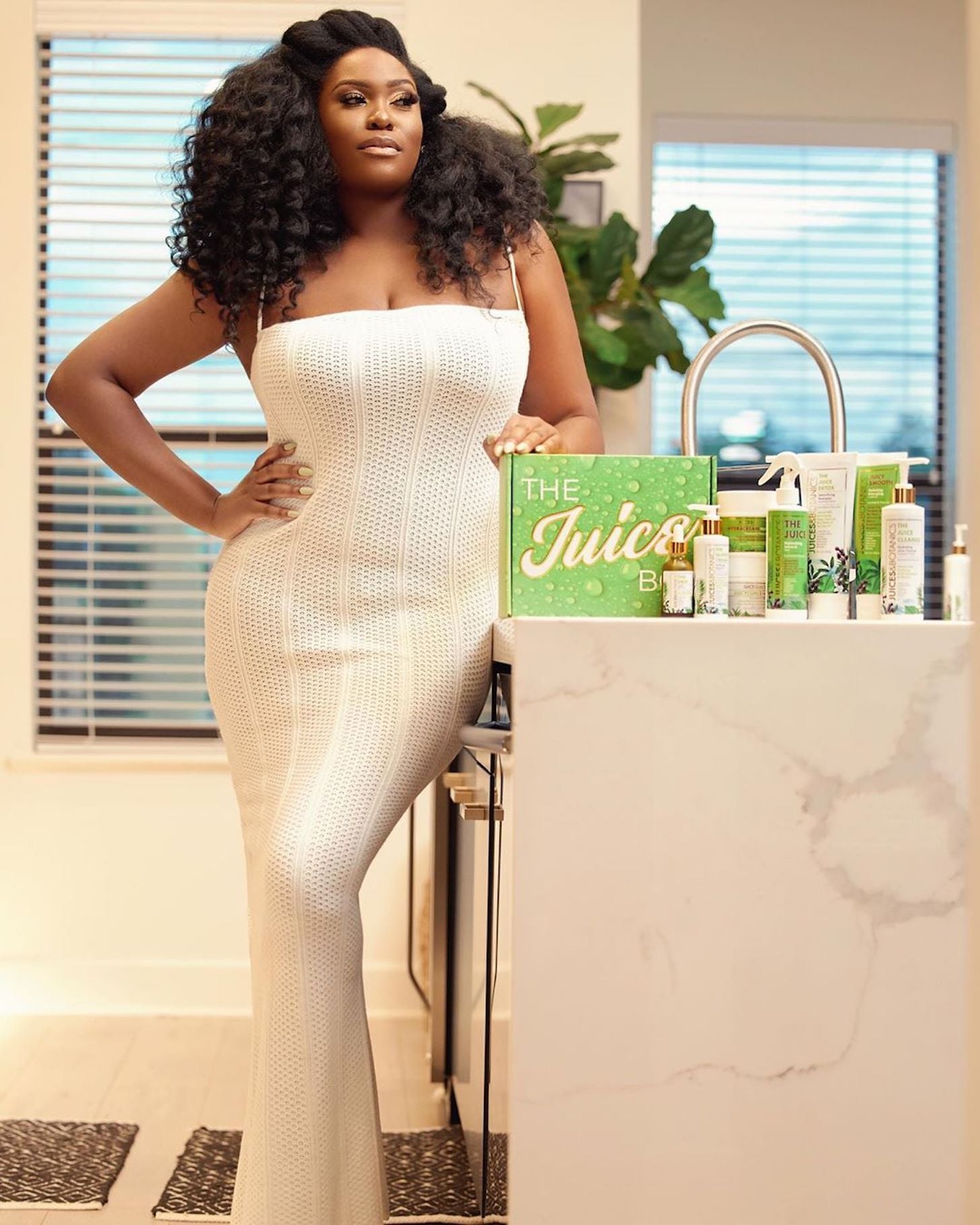 Whitney Eaddy is a Texas-based celebrity hairstylist and founder of Juices & Botanics, a natural hair-care brand. For our column UNTOLD, she is sharing how she earned the nickname "The Growth Guru" and why it's important for people to approach hair growth differently. This story was told to Danielle Jackson and edited for length and clarity.
"The Growth Guru" is actually a nickname that I was given by my clients. As a natural hair-care and growth expert, I was known for having "growing hands" and being booked a year in advance for four years straight. The name is a double entendre, since I'm also an inspirational motivator. My platform is hair, but my true ministry is self-love and acceptance. I have a strong desire to foster growth emotionally and spiritually for all who come in contact with me.
On Her "Grow Different" Approach
I came up with the concept for my product line over 10 years ago because I really wanted to change the way women with textured hair were caring for, thinking about, and ultimately growing their hair. Having been behind a chair for years strictly caring for natural hair and having seen thousands of women, I truly understand what textured hair needs in order to retain moisture, health, and length.
Beyond the salon, my proprietary "growing hands" methodology is centered on five parts: products, philosophy, process, technique, and tools. That first component is rooted in lightweight products that properly hydrate. Most products made for women with textured hair are super heavy, so your hair can't drink in the product. They also contain ingredients such as shea butter and coconut oil that aren't water-soluble. I do an exercise with all of my clients, and I make them get a dime-size amount of coconut oil, rub it all over their hands, wash their hands in soap and water, and tell me if they still feel the oil. Nine times out of 10, I get, "Yes, I still feel the coconut oil." So for me, if your skin can't easily absorb coconut oil, how can your hair?
Process means finding a routine that supports your lifestyle while wearing low-tension hairstyles that require little manipulation. Learn how your hair works, and cleanse and nourish it when it tells you it's time. For technique, I'm talking about how you care for your hair. Are you trying to detangle on dry, brittle hair, or are you co-washing and detangling section by section? There are techniques we recommend across the gradient, from detangling to stretching your hair down to styling your hair. In order to reach maximum growth, you have to drill into how you properly do each step.
The tools aspect is centered on using tools that are healthy for your hair and support growth. That means using a detangling brush instead of a wide-tooth comb, a hair steamer to help with hydration, microfiber towels that don't suck out moisture, silk scrunchies instead of damaging hair ties, bonnets, turbans, and scarves that help retain the moisture and hydration. If you're working with the wrong tools, you could unknowingly be doing damage to your hair.
On the Misconceptions of Length With Textured Hair
So many people with textured hair tend to think it's impossible for their hair to grow long and healthy because they haven't seen it happen yet. They don't believe that it can. I've seen what textured hair can do. Oftentimes it can be challenging for people to believe that their hair can grow longer, stronger, and healthier if they've never seen their hair do that.
My passion and mission is to restore your faith in your hair. Obviously, length doesn't equal health, but I've witnessed so many people retain the length that they once thought was impossible once they started following my Her Growing Hands methodologies. Not everyone wants length, but I want the world to know that it is possible for you to have longer, healthier hair if that's what you want.
I think the misconception that long hair equals healthy hair is changing as more people familiarize themselves with the process of trimming unhealthy hair in order for the hair to grow back. The flip side to that is that so many of us have had horrible experiences with having more hair trimmed off than we deemed necessary and being scared to relive the emotional trauma associated with that experience. At the end of the day, in order to retain the ultimate length or grow your hair to its maximum length, you have to properly trim off the dead ends. Just like in life, it can be hard for people to let go.
At the end of the day, it's hair — and if you care for it properly, it'll grow back healthier than ever.
Image Source: Kauwuane Burton