Amber Rose and Khloe Kardashian Twitter Feud
Kanye West on Amber Rose: "She's Just Soaking in the Moment"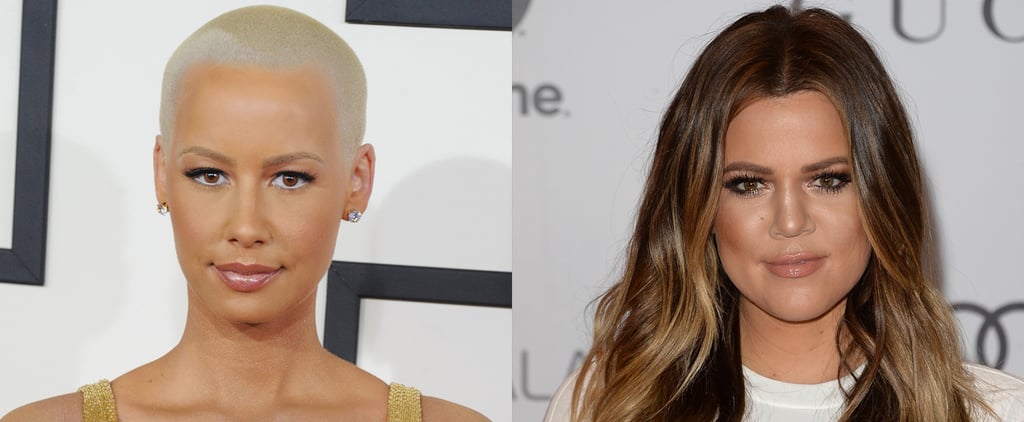 Source: Getty / Jon Kopaloff, Jason Merritt
Over the weekend, Amber Rose and Khloé Kardashian duked it out over social media. On Sunday, Khloé took to Twitter to defend younger sister Kylie Jenner after Amber's public remarks about Kylie and Tyga's rumored relationship. In a radio interview with Power 105.1, Amber said, "She's a baby. She needs to go to bed at 7 o'clock and relax. [Tyga] should be ashamed of himself. He has a beautiful woman and a baby and left that for a 16-year-old who just turned 17." Khloé then took to Twitter to mention Amber's stripper past, adding, "Please stop talking about us in interviews mama. None of us talk about you." The two women continued back and forth, and at one point, Amber responded with a nod to her past relationship with Kanye West, posting a Kanye meme that addressed Kim Kardashian's sex tape.
Meanwhile, Tyga chimed in with his side of the story during a Power 105 Breakfast Club interview, saying, "I'm not dating Kylie, I just want to get that out of the way. I want to be clear to everybody that I didn't leave my family to be with Kylie. That's ridiculous." He added, "Me and [Blac] Chyna, we broke up almost close to a year [ago] now, because of the decision we made, and things in our relationship that weren't going right, [so we] decided to split to raise an emotionally stable kid."
On Friday, Kanye also got vocal during a Power 105.1 Breakfast Club interview and insulted Amber, saying, "She's just soaking in the moment. If Kim had dated me when I first wanted to be with her, it wouldn't be an Amber Rose. . . . It's hard for a woman to want to be with someone that [was] with Amber Rose. She wasn't sending me no pictures. I had to take 30 showers before I got with Kim. But I just wanna be respectful, man."
Read the entire social media conversation below.
"I was a stripper since I was 15 years old," Amber Rose told Foxx. Please don't worry about my sister who has a career & her shit (1)

— Khloé (@khloekardashian) February 16, 2015
Please stop talking about us in interviews mama. None of us talk about you. (3)

— Khloé (@khloekardashian) February 16, 2015
We get asked questions about people all the time and my sisters and I always take the high road and don't answer. Truth is we don't know (1)

— Khloé (@khloekardashian) February 16, 2015
these people. I don't know Amber so why would I comment on her. I'm not going to comment on someone I don't know. (2)

— Khloé (@khloekardashian) February 16, 2015
That's unfair. We all hear things via social media or blogs but I would only want to comment on someone (3)

— Khloé (@khloekardashian) February 16, 2015
if I actually knew them and or had my own personal history with them. I would think others would want the same respect.

— Khloé (@khloekardashian) February 16, 2015
@khloekardashian I'm happy u brought up the fact that I was a stripper at 15....

— Amber Rose (@DaRealAmberRose) February 16, 2015
@khloekardashian I'll be that lil whore to support my family like ur older sister is a whore 2 support hers. We're even 💋 #MuvaGivesFacts

— Amber Rose (@DaRealAmberRose) February 16, 2015
3 sides to EVERY story. His, hers and the truth. I'm not passing judgment but I wish others would do the same until they have FACTS.

— Khloé (@khloekardashian) February 16, 2015
February 16, 2015
February 16, 2015
Source: Instagram user amberrose
Yo @khloekardashian I'm really happy for u and I'm gonna let u finish but I have the best leaked nude… http://t.co/mwVQhssMN7

— Amber Rose (@DaRealAmberRose) February 17, 2015
I'm done dragging this bitch. Lesson of the day children please don't try Muva cuz I will humble u. 💋

— Amber Rose (@DaRealAmberRose) February 17, 2015