Angelina Jolie With Amy Pascal After Sony Email Leak
Awkward: Angelina Runs Into Sony Exec After Being Called a "Spoiled Brat"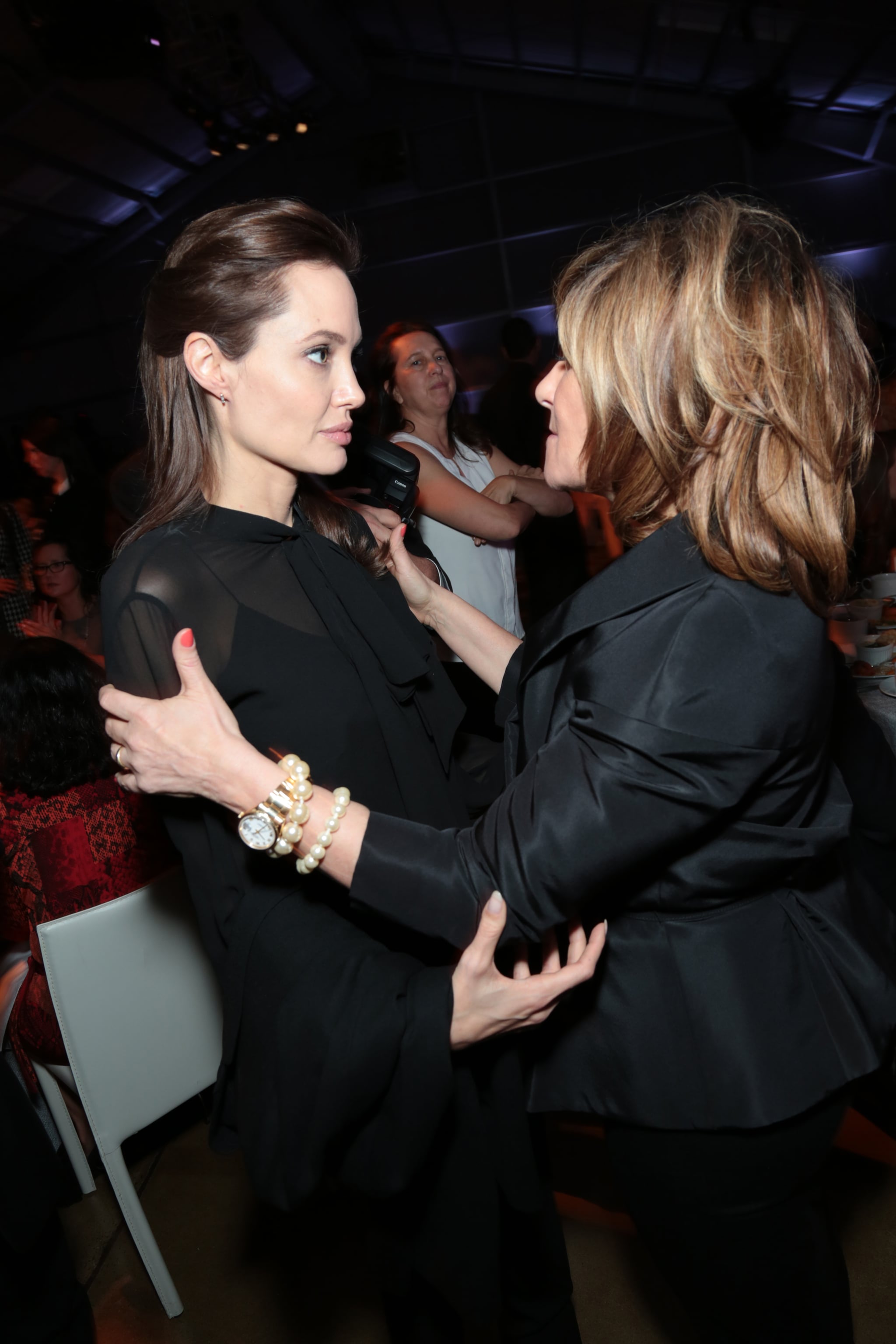 If looks could kill . . . Amy Pascal would be in serious trouble. The Sony Pictures Entertainment cochair was snapped greeting Angelina Jolie at The Hollywood Reporter's Women in Entertainment Power 100 breakfast in LA on Wednesday, just a few hours after hacked emails of Amy discussing Angelina with producer Scott Rudin were released online.
The emails featured a long conversation between Amy and Scott about the forthcoming Steve Jobs biopic, and at one point, Amy told Scott that Angelina was not happy that they picked up David Fincher to direct it, as she had her eye set on him to direct her own passion project, a new Cleopatra film. Scott said, "She'll survive it. I don't want to waste my time on this." However, Angelina apparently persisted in trying to nab David for the Cleopatra flick, which angered Scott, who feared that she might delay production of the already-troubled Jobs film. Scott wrote, "I'm not destroying my career over a minimally talented spoiled brat who thought nothing of shoving this off her plate for eighteen months so she could go direct a movie. I have no desire to be making a movie with her, or anybody, that she runs and that we don't. She's a camp event and a celebrity and that's all and the last thing anybody needs is to make a giant bomb with her that any fool could see coming. There is NO relationship with any movie star — ANY one — that requires our willingness to prostrate ourselves this way in the face of childish, irresponsible, willful and un-partnerly behavior."
While Amy, who has been friends with Angelina for years (here's the two sharing a much less awkward moment at the SAG Awards in 2012), didn't say anything negative about the actress-turned-director, the leaked emails still featured plenty of embarrassing conversations on her part, including an exchange she had with Scott where they joked about President Barack Obama only liking films featuring black actors. Both Amy and Scott have apologized for their remarks.