Charlie Puth Tweets About Kissing Meghan Trainor at AMAs
Charlie Puth Reveals His AMAs Makeout With "Best Friend" Meghan Trainor Was Her Idea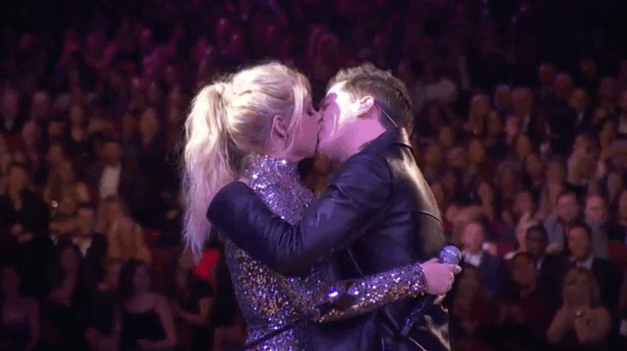 When Charlie Puth and Meghan Trainor passionately made out on stage at the American Music Awards on Sunday night, viewers quickly googled whether or not the "Marvin Gaye" singers were dating in real life. Their kiss was a direct callback to the music video for the pair's duet and exuded dangerous levels of chemistry, but was it for real? Unfortunately, Charlie ended dating rumors before they could even start with a cute tweet below.
before it begins...we are just friends. so happy to preform with meghan tonight!! thank you for all the love everybody! :)
— Charlie Puth (@charlieputh) November 23, 2015
Meghan also quickly shot down any rumblings that her and Charlie would be Marvin Gaye-ing in real life with an Instagram, captioning the photo, "All about dat ass grab doe @charlieputh proud of you Charlie #imsingle."
In an interview with Us Weekly, the "See You Again" singer spilled a few more details about the now-iconic kiss, saying, "I mean, the reaction has been insane. I'm getting followed everywhere." In addition to revealing that the kiss was actually Meghan's idea, Charlie couldn't stop gushing about "M. Train." "We're best friends!" he said. "That's another person I can relate to and I ask for advice with everything. We're really great friends and that's never going to change." Regardless of their relationship status, both of them totally rocked their performance. Check out all of the AMA winners right here!