Female War Reporters
Women in War Zones: Four Female Reporters Risking Their Lives For the Truth
Terrorist group ISIS's brutal execution of freelance journalist James Foley last month, followed by today's reported beheading of his colleague Steven Sotloff, has turned new attention to the real risks reporters face in conflict zones around the world. In light of recent news, we're profiling four female journalists — who also happen to be the most recent International Women's Media Foundation honorees — whose efforts to bring the news to their fellow citizens and the international community at large have threatened their livelihoods, their reputations, and, in many cases, their lives. Read on for the true, harrowing stories of their exceedingly brave efforts.
Nour Kelze: 25, Syrian photojournalist
Nour Kelze has been documenting the strife in her native Syria for several years and for Reuters since 2012. She initially began taking pictures of the violence and disruption in her own neighborhood on her cellphone, which caught the eye of noted war photographer Goran Tomasevic; he gave her a professional camera and encouraged her to continue capturing the atrocities on film. Kelze estimates she's been shot at hundreds of times in the line of duty. She has seen a close friend killed by sniper fire, and she has been hospitalized twice for injuries sustained during her work. Most recently, she was seriously injured when a wall fell on her as she was shooting a sniper attack; Kelze returned to work just four days after undergoing surgery to repair her broken ankle. Kelze says she is determined to continue documenting the human toll Bashar al-Assad's regime is taking on her fellow citizens, even if the eventual cost is her life. "So many girls died in the kitchen, doing a dish wash or something, and a mortar shell or shrapnel falls through a window, and they drop dead," she said. "So why should I die cheap? I have to do this."
Najiba Ayubi: 45, news director in Afghanistan
Najiba Ayubi's decades-long work to expose corruption and scandal in her native Afghanistan has made her — along with her family — the target of numerous death threats and near-constant intimidation. Last year, after Ayubi uncovered the fact that bodyguards for parliament members had opened fire in a local Afghani hospital, armed gunmen showed up at her home. In what she calls "the first lie of my life," she pretended she was not the woman they were looking for and eventually convinced them to leave. In 2007, while Ayubi was being publicly criticized for making controversial statements on her radio program, someone threw a stone at her family home with a note attached. It warned that if she didn't stop her work, "you can imagine what we'll do to you." Undeterred, Ayubi has continued her journalistic work with The Killid Group, an independent, nonprofit media organization based in Kabul. While she says conditions and safety for journalists have improved since the Taliban left power, reporters are still the targets of derision and threats when they criticize the current government — especially women. If anything, Ayubi says the danger she faces is a constant reminder of the gravity of her work. "Every time I confront a threat in journalism, I feel some sort of satisfaction in my heart," she says, "and I recognize I am doing something very important that I am being threatened for."
Bopha Phorn: 29, newspaper reporter in Cambodia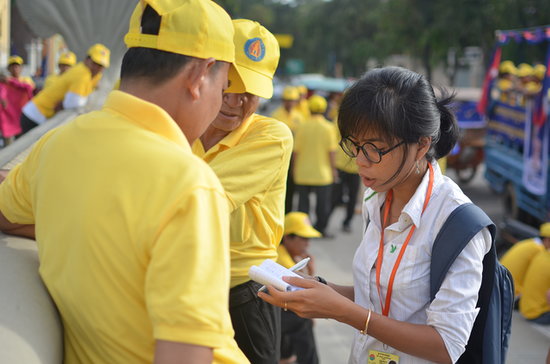 Bopha Phorn is a journalist and a survivor. The reporter for The Cambodia Daily is used to encountering opposition in the course of her daily work, but last year, she faced the gravest danger of her career to date. While investigating a tip that illegal logging was taking place in protected lands with a fellow reporter and environmental activist, gunmen opened fire on the trio's vehicle. The hail of AK-47 fire claimed the life of Chun Wutty, the environmental activist, and Phorn thought she would also be killed by the bullets. She wrote her cellphone number on her torso, hoping it would help identify her if she lost her life that day, but she and her fellow reporter narrowly survived by escaping into the jungle. The experience was one of several terrifying moments in Phorn's journalism career. She had been threatened by lawsuits and with physical violence before. Even though Phorn says she avoids telling her friends and family much of the detail about the dangers she faces at work, they still repeatedly ask her to quit her job. But she refuses. "If I stop being a journalist," she explains, "I stop breathing."
Edna Machirori: 69, first female newspaper editor in Zimbabwe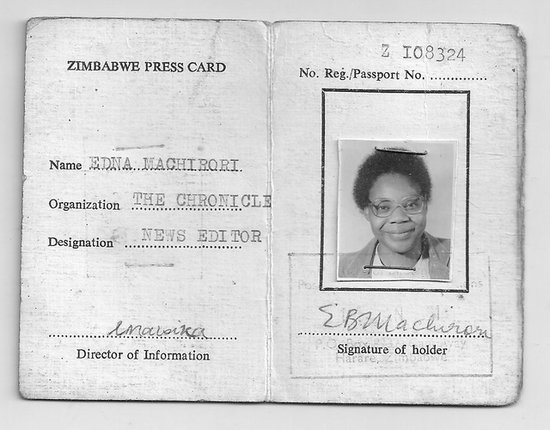 Edna Machirori started reporting at age 19 and worked her first newspaper jobs during a time when women in Zimbabwe were subject to harassment and questioning by police just for walking the streets alone. Despite a culture that discouraged women from pursuing careers and holding positions of power, she made her way up through the ranks to become the first female news editor of a newspaper ever in her country. Throughout her five decades as a reporter, Machirori has faced consistent and frequent threats and challenges for her boldness in speaking truth to power. "In a patriarchal society and a profession in which national issues must be debated objectively, the willingness to do so is not necessarily seen as a plus for a woman," Machirori says. "Such a woman is seen as an aberration from the norm of what a woman should be: docile and silent."