Football Player Michael Sam Publicly Announces He Is Gay
College Football Star Michael Sam: "I Am an Openly, Proud Gay Man"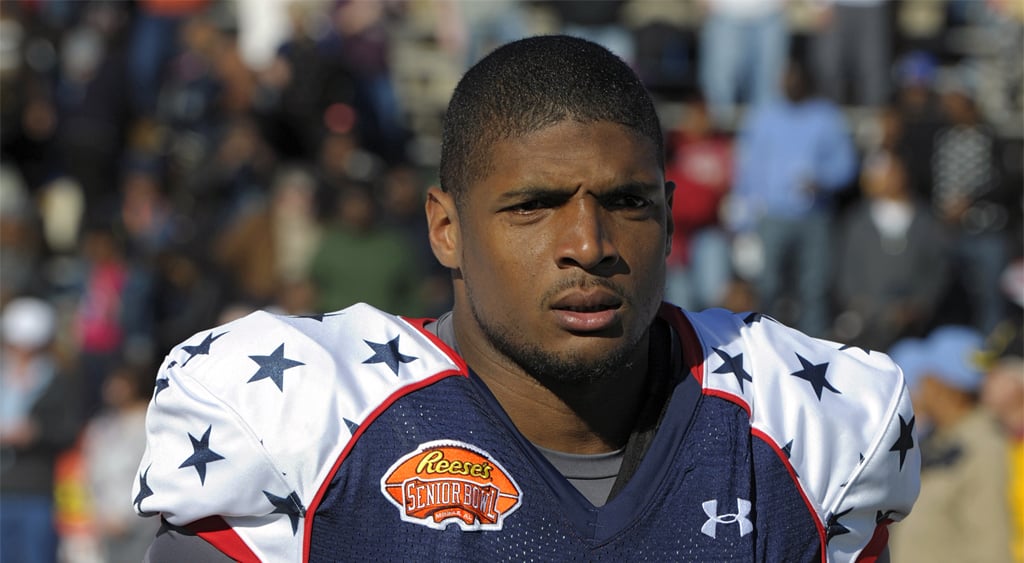 At 6-foot-2 and 260 pounds, all-American Michael Sam is hard to hold back during a football game. But off the field, the Missouri Tigers star has been struggling with a secret: he is gay. As he awaits the NFL draft in May, Michael publicly announced his sexuality on Sunday in candid interviews with The New York Times and ESPN. "I knew from a young age that I was attracted to guys," he said. "I didn't know if it was a phase . . . I didn't want to say, 'Hey, I might be gay. I might be bi.' I just didn't know. I wanted to find who I was and make sure I knew what was comfortable. So I didn't tell anyone growing up."
Michael is widely considered a likely pick for the NFL, and being drafted would make him the first publicly gay player in the league's history. "I understand how big this is. It's a big deal. No one has done this before. And it's kind of a nervous process, but I know what I want to be . . . I want to be a football player in the NFL," he said. Aware of the attention his sexuality would receive, Michael decided to come out to the world on his own terms. "I just want to make sure I could tell my story the way I want to tell it," he said. "I just want to own my truth."
It's not a decision the athlete arrived at overnight. Michael first told select friends and later dated a fellow athlete, who does not play football, but he didn't reach the point of no return until he came out to his team at the University of Missouri last August. "Coaches just wanted to know a little about ourselves, our majors, where we're from, and something that no one knows about you," Michael said. "And I used that opportunity just to tell them that I was gay. And their reaction was like, 'Michael Sam finally told us.'"
Late Sunday, the NFL released the following statement in response to Michael's interviews: "We admire Michael Sam's honesty and courage. Michael is a football player. Any player with ability and determination can succeed in the NFL. We look forward to welcoming and supporting Michael Sam in 2014."
You can watch Michael's interview with ESPN below.