Iggy Azalea's Feud With Azealia Banks
Here's Your Guide to Understanding Iggy Azalea's Messy Feud With Azealia Banks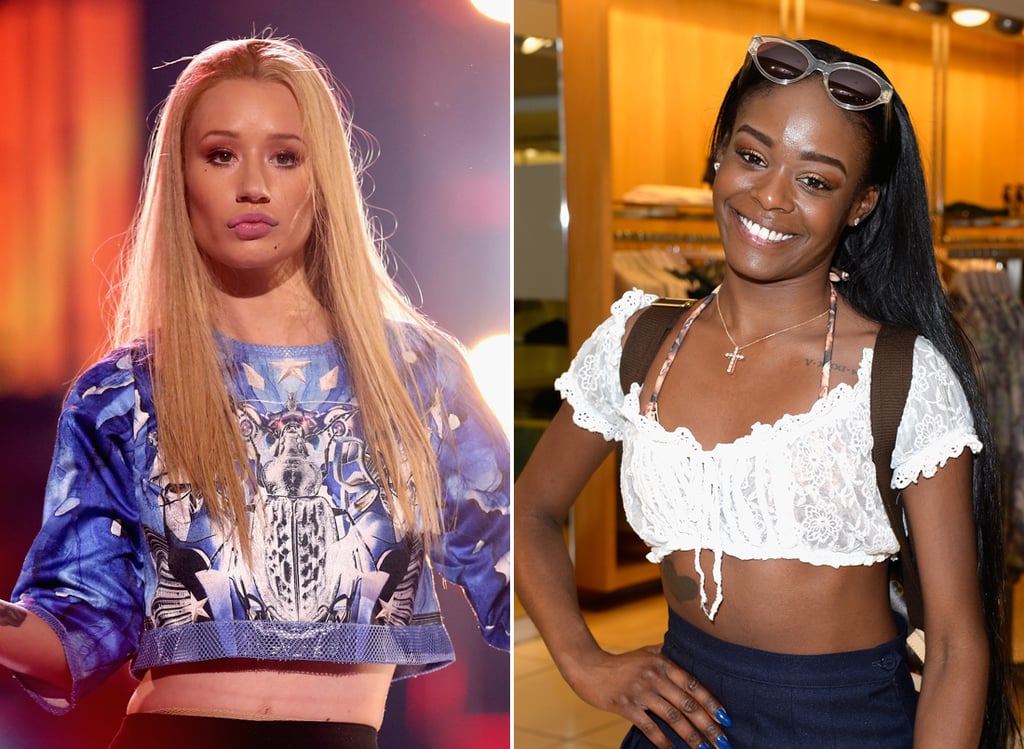 Iggy Azalea's ongoing feud with fellow rapper Azealia Banks was reignited this week after Azealia gave a 47-minute interview on Hot 97, where she discussed her beef with white rappers like Iggy and Macklemore, amongst other things. Azealia took issue with Iggy getting nominated for a Grammy, linking it to Macklemore's controversial Grammy win for best rap album at the award show earlier this year. She explained:
"That Iggy Azalea shi*t isn't better than any f*cking black girl that's rapping today, you know? When they give those awards out — because the Grammys are supposed to be accolades of artistic excellence, you know what I mean? Iggy Azalea is not excellent. [...] When they give these Grammys out, all it says to white kids is: 'Oh yeah, you're great, you're amazing, you can do whatever you put your mind to.' And it says to black kids: 'You don't have sh*t. You don't own shit, not even the sh*t you created for yourself,' and it makes me upset."
Azealia also broke down into tears when talking about the appropriation of black hip-hop culture, saying, "At the very f*cking least, you owe me the right to my f*cking identity. And to not exploit that sh*t. That's all we're holding on to with hip-hop and rap." Iggy responded in turn with a rant of her own on Twitter, blaming Azealia's notorious penchant for feuding with just about everyone as the reason she hasn't succeeded as an artist.
Special msg for banks: There are many black artists succeeding in all genres. The reason you haven't is because of your piss poor attitude.

— IGGY AZALEA (@IGGYAZALEA) December 19, 2014
Your inability to be responsible for your own mistakes, bullying others, the inability to be humble or have self control. It's YOU!

— IGGY AZALEA (@IGGYAZALEA) December 19, 2014
you created your own unfortunate situation by being a bigot and don't have the mental capacity to realize yet. Probably never will.

— IGGY AZALEA (@IGGYAZALEA) December 19, 2014
Now! rant, Make it racial! make it political! Make it whatever but I guarantee it won't make you likable & THATS why ur crying on the radio.

— IGGY AZALEA (@IGGYAZALEA) December 19, 2014
(Azealia, who is bisexual, has earned public ire for her past use of gay slurs and has had very public beefs with everyone from Lady Gaga to Pharrell.)
Iggy's reaction on Twitter didn't exactly go over well. A Tribe Called Quest rapper and hip-hop legend Q-Tip took to social media to school the Australian rapper on the history of hip-hop and its connections to race and sociopolitical movements. Solange Knowles also joined in on the discussion on Twitter, thanking Azealia for her emotional interview. On Friday, a group of hackers claiming to be a part of Anonymous threatened Iggy, saying that if she didn't apologize to Azealia and the protesters of the #blacklivesmatter movement that they would release an alleged sex tape featuring the rapper and possibly other information.
Of course, Azealia and Iggy's beef goes deeper than just last week. Earlier this month, Azealia put Iggy (or as she called her, "Igloo Australia") on blast for remaining silent in the wake of both the Michael Brown and Eric Garner verdicts. Azealia wrote, "Black culture is cool, but black issues sure aren't, huh?" Iggy, for her part, is no stranger to causing feuds, having previously gotten into them with Snoop Dogg, Rah Digga, and Eminem.