Jeff Perry Scandal Interview 2014
Jeff Perry: Expect "Unprecedented" Territory Ahead on Scandal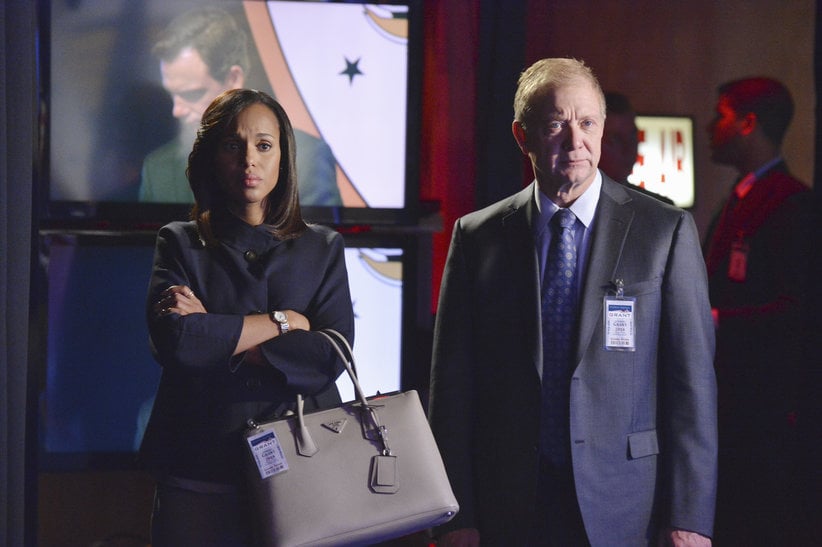 Scandal fans know Jeff Perry as the manipulative Cyrus Beene, a man who will stop at nothing to protect President Fitzgerald "Fitz" Grant. Halfway through the show's third season, the storylines are getting more outrageous than ever before. POPSUGAR sat down with Perry to discuss his infamous character's shifting psyche, plot rumors, and the actor's real-life adoration for Kerry Washington. Keep reading to learn more about Perry's perspective, and scroll to the end of the story to watch highlights from our in-studio interview.
POPSUGAR: I think is going to be a very exciting season for Cyrus.
Jeff Perry: Cyrus is a man who is hardwired and adores his job, as strange as it is, as a chief of staff. Very much like Olivia Pope's job, played brilliantly by Kerry Washington. Trying to fix everybody else's problems is their DNA. That is their comfort zone. That's what Cyrus loves. In order to try and do that, Cyrus has gravely miscalculated. That's the last thing we saw in the 10th episode of the third season. He is trying to keep the deluded, homophobic, hypocritical Bible-thumping insanity that is our vice president — played amazingly by Kate Burton — on the reservation, you know? On the ticket. He concocts a plan where he basically serves up his husband to try and entrap the vice president's husband into a gay liaison that could be used as leverage. Instead, I end up with evidence — pictures — that as far as we can tell are just consensual adult sex. Infidelity. And not only are they useless as leverage, which really screws up Cyrus's one big card play of keeping the reelection hopes on track, but they fundamentally rock his marriage because his husband discovers what he did. So, Shonda [Rhimes] and the writers are taking Cyrus into territory that's absolutely unprecedented for him. I'm used to everybody else screwing up and then having almost heart attacks about it. But still kind of loving it and here I'm looking in the mirror and going there's no way around this — this was me, this was me. I screwed up. How can I fix this?
PS: It's a rare time that we're seeing Cyrus not in control of a situation. Is this cheating going to affect him in a way that's going to play out over the season?
JP: Yeah, there are ramifications that feel really authentic and really messy, and it takes Cyrus into a really vulnerable, disorienting territory for him personally and politically. It's all personal to him. The politics and the marriage couldn't be more personal, you know? It is his oxygen and this is a man he loves. I get the feeling it's the first authentic and really deep love of his life. And you even wonder: if he has to prioritize these two areas of his life, what is going to win? The republic, the presidency, service, or my love and my husband? So it takes us into those possibilities.
PS: Let's talk a little bit about Cyrus and Olivia's hot-cold relationship. How does that compare with your offscreen relationship with Kerry?
JP: Off screen, I call her mischief. There's a glint in this girl's eye and she's up to no good half the time. I adore her. I just adore her. Anything you might have heard about the this-is-too-good-to-be-true personality is not too good to be true. It's just true. She is generous, she works her tail off, she's really fun, and she's a hell of an artist. My wife, Linda Lowy, who cast the show — and yes, I sleep my way into all good employment — she and Shonda have both kind of marveled because they're great at putting a meritocracy of wonderful chops together in their acting ensembles: Grey's Anatomy, Private Practice, and Scandal. I call it like an 11-year-old Girl Scout troop. Giddy, hangout overnight camping trip is the chemistry of this group. People adore each other. They get a big kick out of each other. It's just a lot of trust, respect, and challenge in the equation. I've been grinning like any idiot. I love this work so much.
PS: I know that Kerry was really instrumental in getting everybody on board with Twitter. Did you have some hesitance at first and has that changed?
JP: Yes, I did because, listen, you can tell how old I am. I went from a rotary phone straight to Twitter, so it's disorienting. I thought, this is so strange. How do you watch the show? You've just tweeted 74 times during it. But as time went on it reminded me — I grew up and still do a lot of theater and there's a very live conversation going on about the story both during you know the event and after the event in theater. Talking to the audience in the lobby or having a really formal kind of talk back there. What did you think of the story? What was interesting to you? Well, this is happening in kind of real time with this live tweeting and I've grown to love it. It's like a great conversation and I'm reminded that anyone younger than me is very used to engaging with story that way.
PS: At this point, because you do live tweet the shows and you watch the episodes — which not every actor on a TV show does — do you feel a little bit like a fan yourself? Do you have strong opinions on some of the storylines?
JP: Oh my god, yeah. The cast will get together often at my house and we'll watch an episode a little bit before so that we can kind of get our tweet-life oriented, and so we can be together, because we like to be a Girl Scout troop. We are just hooting and hollering and making fun of each other's scenes, but mostly it's adoration and gratitude and love for the process. We first saw the show at Shonda's house. The writers and the actors saw about three episodes before the public saw anything. We hadn't seen any footage and here they're all cut together. Showbiz folk, you know, it's like circus folk or whatever, are very superstitious. We assume we're going to be unemployed tomorrow. We're kind of whispering to each other, "You guys are you digging this?" The others are going, "It feels kind of like crack. I think I'm addicted." That remains here 30-some episodes in.
PS: How has being on Scandal impacted your view of politics? Do you consider yourself a much more cynical person now?
JP: Yeah. Well, maybe a more educated person. God bless Shonda, because there is authentic dichotomy there. There is real idealism and even romanticism driving Cyrus and I think driving everybody in fact in their jobs in the show. A really fearless, no-punches-pulled recognition that this territory is deeply f*cked up.
PS: Fans, of course, have tons of theories about some of the big questions that are being mulled over on the show. One that I've heard a lot about is this Bro-livia theory. People are wondering what the exact relationship between Olivia and Columbus Short's character might be. Is that going to come out this season?
JP: I love all this conjecturing! I honestly don't know. There's a level at which I honestly can't tell you things because you'd have to hire me, please. I'd get fired. But on a show that's absolutely dependent on oh-my-god plot twists, we [only] know three weeks-ish sometimes before you guys what's going on and we react exactly the way the audience does. We're aghast. We're delighted. We're appalled at these table reads that we do.
PS: You talked about doing theater and I know you're directing a play, so that's exciting to kind of step back to your roots. So tell me about that.
JP: It's called A Steady Rain and it's by a wonderful writer named Keith Huff. He's taken a story of two Chicago policeman who have a very long and beautiful friendship and because of the DNA and sort of fabric of their lives together and the duration of their lives together. Some very cataclysmic events happen in this one particular Summer – some of them precipitated and that you could feel are almost inevitable in a Greek drama way. I think it's an absolutely gorgeous and heartbreaking kind of piece. It's playing at The Odyssey. Two actors — Sal Viscuso and Tom Kelly — are just doing absolutely gutted work in it. I urge people who like good stories to come by.