Joan Rivers Hospitalized
Joan Rivers Remains on Life Support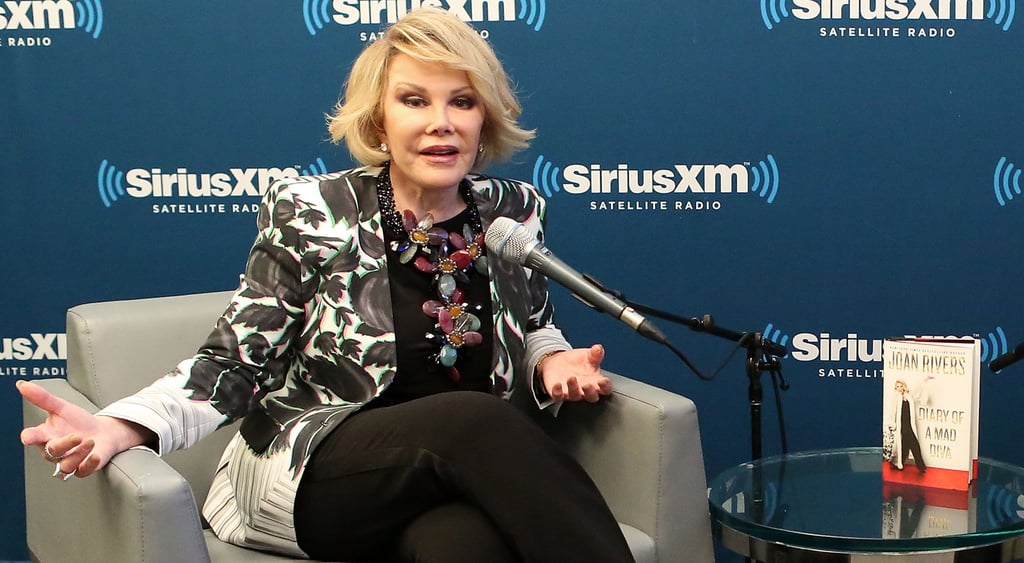 Joan Rivers remains hospitalized in NYC following a major health scare. "We are keeping our fingers crossed," said Melissa Rivers, Joan's daughter, in a statement released to the press on Sunday. On Tuesday, Melissa added, "At this time, she does remain on life support."
The comedian reportedly stopped breathing during a throat procedure at a local clinic on Thursday. Joan was rushed to Mount Sinai Hospital, where she was put in a medically induced coma, which doctors reportedly began taking her out of on Sunday. In the meantime, Joan and her family have received an outpouring of support from celebrities on Twitter, including Kelly Osbourne and Giuliana Rancic, her costars on E!'s Fashion Police.
4 the first time in years I got down on my knees & prayed tonight! I encourage U 2 do the same 4 @Joan_Rivers my grandma! #inconsolable

— Kelly! (@KellyOsbourne) August 30, 2014
Praying for @Joan_Rivers and @MelRivers. Even though Joan's the strongest woman I know, every single prayer counts. I love you, Joan

— Giuliana Rancic (@GiulianaRancic) August 30, 2014
Please, please, let #JoanRivers pull through...

— bettemidler (@BetteMidler) August 31, 2014
We have a gig in 2 weeks and I'm not doing it without you
YOU'RE BEING RIDICULOUS@Joan_Rivers

— Sarah Silverman (@SarahKSilverman) August 31, 2014
@joan_rivers thinking of you and your family today. You are in my prayers.

— Mike Tyson (@MikeTyson) August 31, 2014
Melissa released her first statement on Thursday, thanking the public for their support:
"I want to thank everyone for the overwhelming love and support for my mother. She is resting comfortably and is with our family. We ask that you continue to keep her in your thoughts and prayers."
On Friday, Melissa assured the public that her mother was in good hands at Mount Sinai:
"My mother would be so touched by the tributes and prayers that we have received from around the world. Her condition remains serious but she is receiving the best treatment and care possible. We ask that you continue to keep her in your thoughts as we pray for her recovery."