Joan Rivers Talks About Her Life and Death
Joan Rivers Shared Her Wisdom on Life and Death Years Ago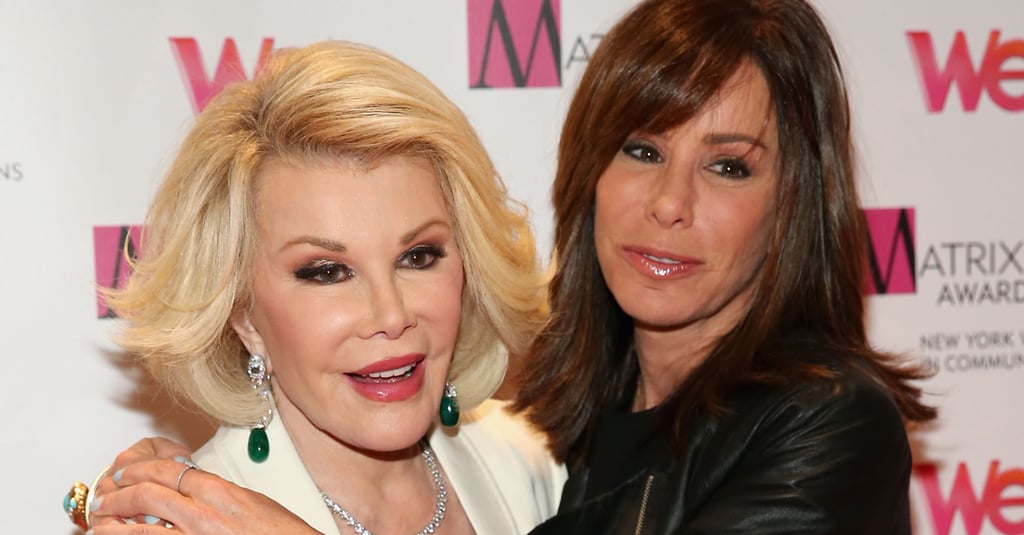 The world lost a legendary force in the comedic world this week when Joan Rivers passed away at age 81. We've already begun celebrating the razor-sharp comedy star by taking a look at her most hilarious one-liners, but there's another side to Joan we seldom saw — a more serious, wise, and thoughtful side. Watch the incredibly candid clip of a heartfelt moment she had with Melissa Rivers on the WE reality show Joan & Melissa: Joan Knows Best? in 2012. In it, she talks about the life she's lived and how she's come to terms with how it might come to an end.
Another poignant moment came much more recently. In an interview with The Daily Beast, which occurred just two months ago, Joan talked about a dark day in 1987 when she almost committed suicide, and it gives incredible insight on how she lived her life.
"Melissa wasn't talking to me, my career was in the toilet, I'd lost my Vegas contracts, I'd been fired from Fox. Carson and NBC had put out such bad publicity about me. I was a pariah. I wasn't invited anywhere. I was a nonperson. At one point I thought, 'What's the point? This is stupid.' What saved me was my dog jumped into my lap. I thought, 'No one will take care of him.' It wasn't a friendly dog — only to me. I adored this dog. He was theoretically a Yorkie; his mother cheated. His name was Spike. He was the way you want your dog to be, devoted only to you. I was sitting in this big empty house in Bel Air, with a phone with five extensions which we no longer needed. I had the gun in my lap, and the dog sat on the gun. I lecture on suicide because things turn around. I tell people this is a horrible, awful dark moment, but it will change, and you must know it's going to change, and you push forward. I look back and think, 'Life is great. Life goes on. It changes.'"