The Kardashians During Ferguson Tribute at the VMAs
The Kardashians Are Under Fire For Their Behavior During a Ferguson Tribute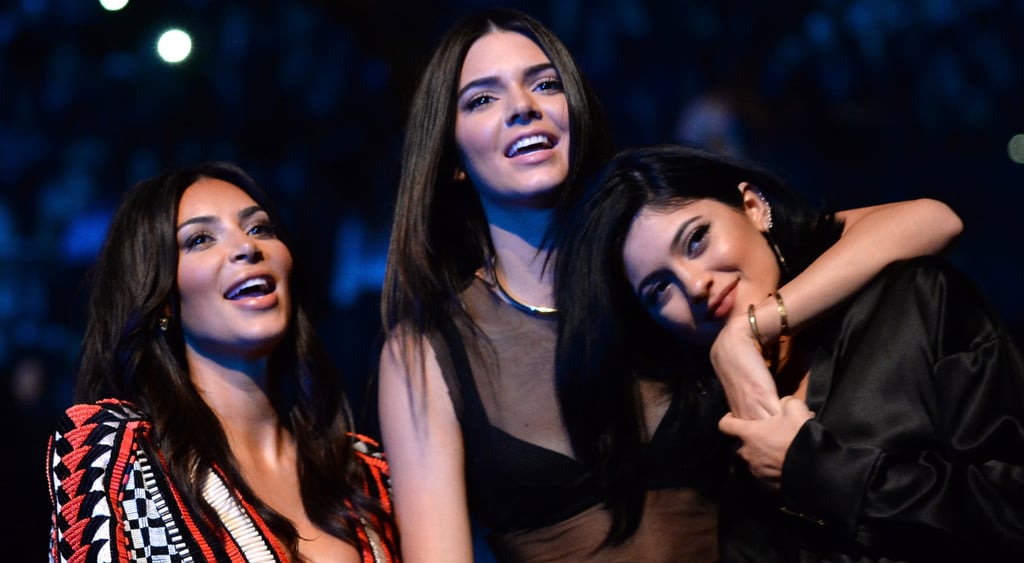 Kim Kardashian and her younger sisters Kendall and Kylie Jenner became the subjects of intense online criticism on Sunday night when they displayed what some felt was disrespectful behavior during a Ferguson tribute at the MTV VMAs. Rapper Common took to the stage to speak about the tragedy in Ferguson, MO, which involved the shooting of unarmed teenager Michael Brown. At one point, Common asked for a moment of silence, and one of MTV's audience cameras caught the Kardashian-Jenner ladies chatting and idly checking their phones. Needless to say, people who were watching the audience camera live stream online were not happy.
Kendall Jenner could literally care less about social change pic.twitter.com/sTwbptgsIt

— Rachel Zarrell (@rachelzarrell) August 25, 2014
listening to words about #Ferguson #VMAs pic.twitter.com/kYkTTnLroL

— Doree Shafrir (@doreeshafrir) August 25, 2014
None of the young women have commented on the criticism on their various social media accounts. However, Kim did infamously pen an essay against racism back in May, saying that being the mother of North had opened her eyes to discrimination. She wrote, "[Racism] is obviously a topic that Kanye [West] is passionate about, but I guess it was easier for me to believe that it was someone else's battle. But recently, I've read and personally experienced some incidents that have sickened me and made me take notice. I realize that racism and discrimination are still alive, and just as hateful and deadly as they ever have been." While Kim, Kendall, and Kylie have yet to comment on Ferguson in general, Kanye did make a rare appearance on social media last week to retweet a message from Russell Simmons about the issue. Russell wrote, "Police sensitivity training, diversity initiatives, body cameras for police and a f*cking arrest. Would be a good start #ferguson."