Kim Kardashian Looks Like Serbian Singer Jelena Karleusha
Is Kim Kardashian Copying This Serbian Pop Star?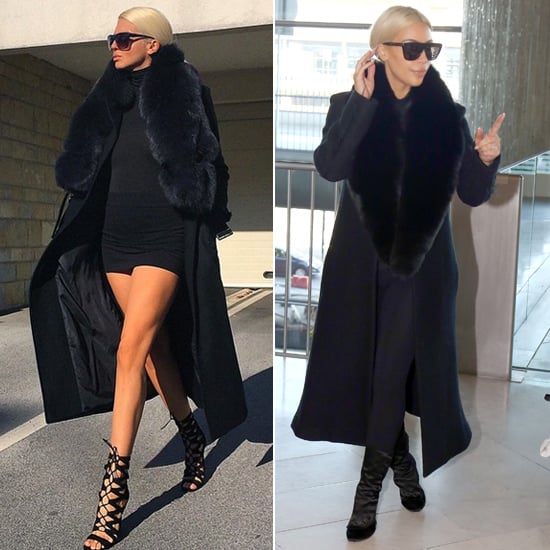 Kim Kardashian made headlines recently when she dyed her hair platinum blond, but her new look isn't sitting too well with a star across the pond. Serbian pop singer Jelena Karleusha, whose hair, makeup, and skintight outfits bear an uncanny resemblance to Kim's, caught wind of the reality star's outings during Paris Fashion Week and has spoken out to share her thoughts on the similarities. On Thursday, Jelena shared a collage on Instagram featuring photos of both herself and Kim with the caption, "Let's play a game — FIND ME!" as well as a side-by-side of the two wearing all-black ensembles, writing, "Will the real Slim Shady please stand up?" If that wasn't bold enough, she took it one step further by posting a photo from one of her concerts and writing, "I don't have a sex tape! But I have 20 years of work in the music industry, 10 albums, 2 kids and NO — I DONT NEED A STYLIST."
The next day, Jelena clarified her social media messages to Us Weekly; the pop star, who has been dubbed the "Gaga of Serbia," said, "I think that her stylists are inspired by my IG page, not her," adding, "I don't have a stylist, I do it all by myself." She also remarked, "She is beautiful, so it doesn't matter if she put anything on her head. She doesn't need hair at all."
While Kim has yet to respond in any way about her look being so similar to Jelena's, she did credit her longtime makeup artist Joyce Bonelli with inspiring her new look on Instagram last week, saying, "Thank you to @joycebonelli for being my inspiration and introducing me to @GregoryRussellHair who cut my hair!" Check out the photo and let us know what you think: did Kim Kardashian copy Jelena Karleusha's look?
Source: Instagram user karleusastar, FameFlynet