Lady Gaga Versace Ad Campaign Picture
Shocking! Lady Gaga Goes Topless in New Versace Ad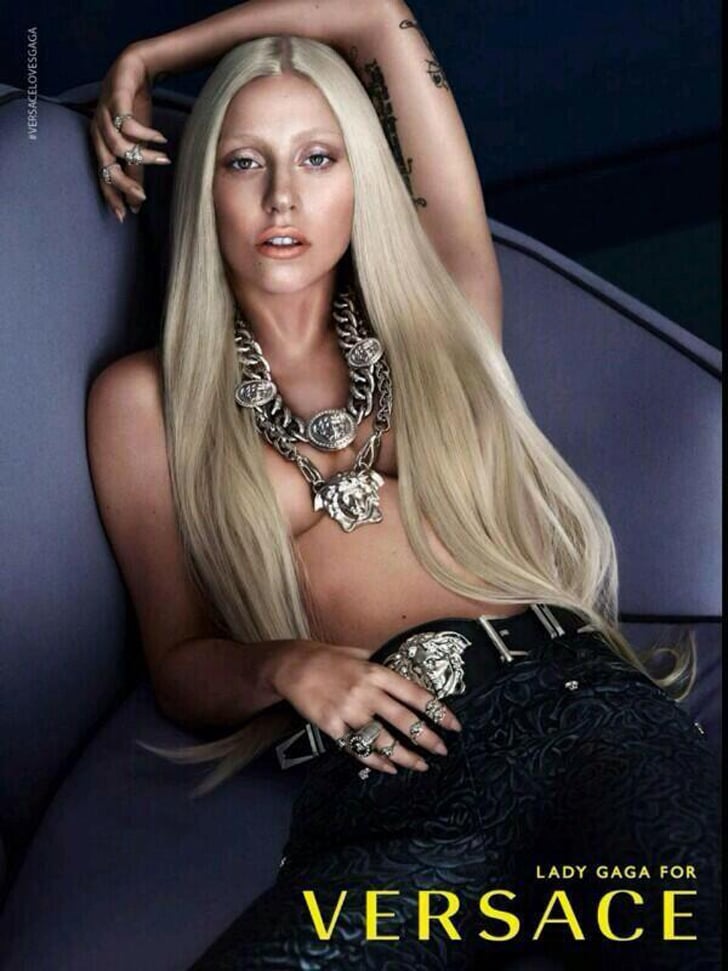 What a way to start the new year! Lady Gaga is pictured topless for the latest image in her Spring 2014 campaign for Versace. But fret not — thanks to the long, blonde hair she wears in the image, it's safe for you to click on.
The singer tweeted the picture late Wednesday night as a way to wish her followers a Happy New Year, and the house retweeted it shortly afterward.
Photo courtesy of Versace
All of the ads in this campaign have debuted on social media: the first image, released in November, was posted to Instagram by photographer Mert Alas. A mere 24 hours later, a second image from the campaign was released while Lady Gaga appeared as the embodiment of the campaign on the American Music Awards red carpet.
Photo courtesy of Versace
She wore the same dress she wears in the campaign (above) on the red carpet at the American Music Awards (below).
Photo courtesy of Getty
On Facebook, Versace said, "the campaign shows how Lady Gaga completely captures the Versace essence: creative, experimental, fearless." It also shows how much Gaga can look like the house's creative director, Donatella. While the singer appears as herself in the campaign, she embodies everything from the legendary designer's stick-straight blond hair to her steely gaze. We can only imagine they listened to the singer's new track "Donatella" while the cameras clicked.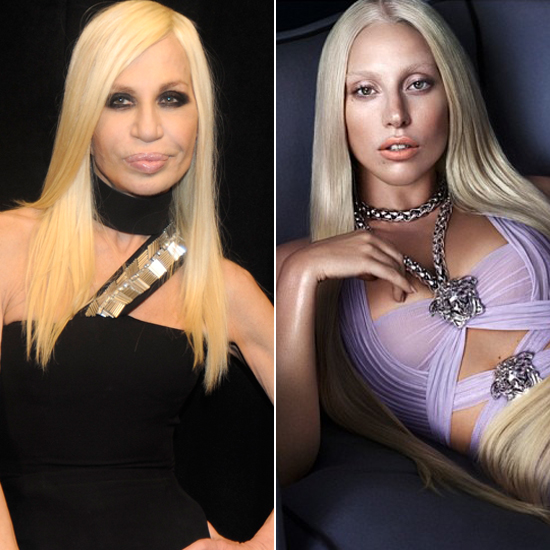 The artist herself referenced the song's lyrics when she tweeted about it Saturday night. "What do you wanna wear this Spring?" she asked her followers.
I'm so happy to be working w/ @Versace for the new Campaign! What do you wanna wear this Spring? #Donatella #famiglia pic.twitter.com/pOczenbp3e

— Lady Gaga (@ladygaga) November 24, 2013
Gaga certainly isn't the only star who's appeared in a campaign for the Italian fashion house. January Jones, Madonna, and Jennifer Lopez, among others, have also starred in the brand's ads. Tell us what you think of Gaga's first shot in the comments, and stay tuned for more images from her Versace campaign.