Macklemore's Text to Kendrick Lamar After the Grammys
Macklemore Texts Kendrick Lamar, and We Have a Few Questions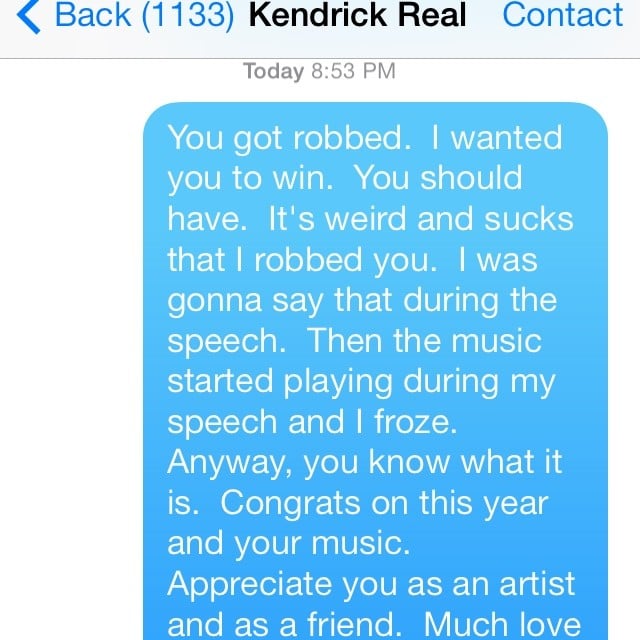 Macklemore & Ryan Lewis beat out Kendrick Lamar for the best rap album award at the Grammys on Sunday night. While we can't say that we're surprised at the duo's big win, we were a bit bummed that Lamar didn't take home any of the awards he was up for (his debut album, Good Kid, M.A.A.D. City, was nominated seven times). It seemed like Macklemore may have felt the same way, as he texted Lamar after the ceremony to apologize, saying, "You got robbed. I wanted you to win. You should have. It's weird and it sucks that I robbed you." He shared a screenshot of the text on Instagram.
It's nice that Macklemore would reach out to console a fellow nominee and all, but we can't help but be a little confused about the intent of his text, plus a few other things. Here are five questions we have about the Seattle MC's message:
Did he really just say, "I robbed you"?
This whole thing must have been awkward to send out, but there's something especially weird about the phrase "It sucks that I robbed you." We can't help but picture Macklemore rifling through Kendrick Lamar's house and stealing his expensive jewelry.
Does Macklemore know how award shows work?
Five go in, one comes out — tale as old as time. You've got to know this is a possibility.
Why is this on Instagram?
Along with a screenshot of his text message, Macklemore wrote, "My text to Kendrick after the show. He deserved best rap album." OK, so you don't think you deserved to win, and you extended an apology to a guy you felt deserved the award more — totally get that. But why share the text on Instagram? Do you just want everyone to know that you feel bad for winning?
Who's the fake Kendrick?
Macklemore has Lamar's number saved in his phone as Kendrick Real, which obviously means that at one time, he must have been chatting with Kendrick Fake, which obviously means that celebrities have a hard time tracking each other down.
How do you live with such a full inbox?
We couldn't help but notice that Macklemore has 1,133 unread text messages. We're sure Macklemore is a popular guy — especially on Grammys night — but seeing that many missed notifications gives us instant anxiety.
Front Page