Michael B. Jordan on Vanity Fair Cover November 2018
Beware — Michael B. Jordan's Vanity Fair Cover Will Hypnotize You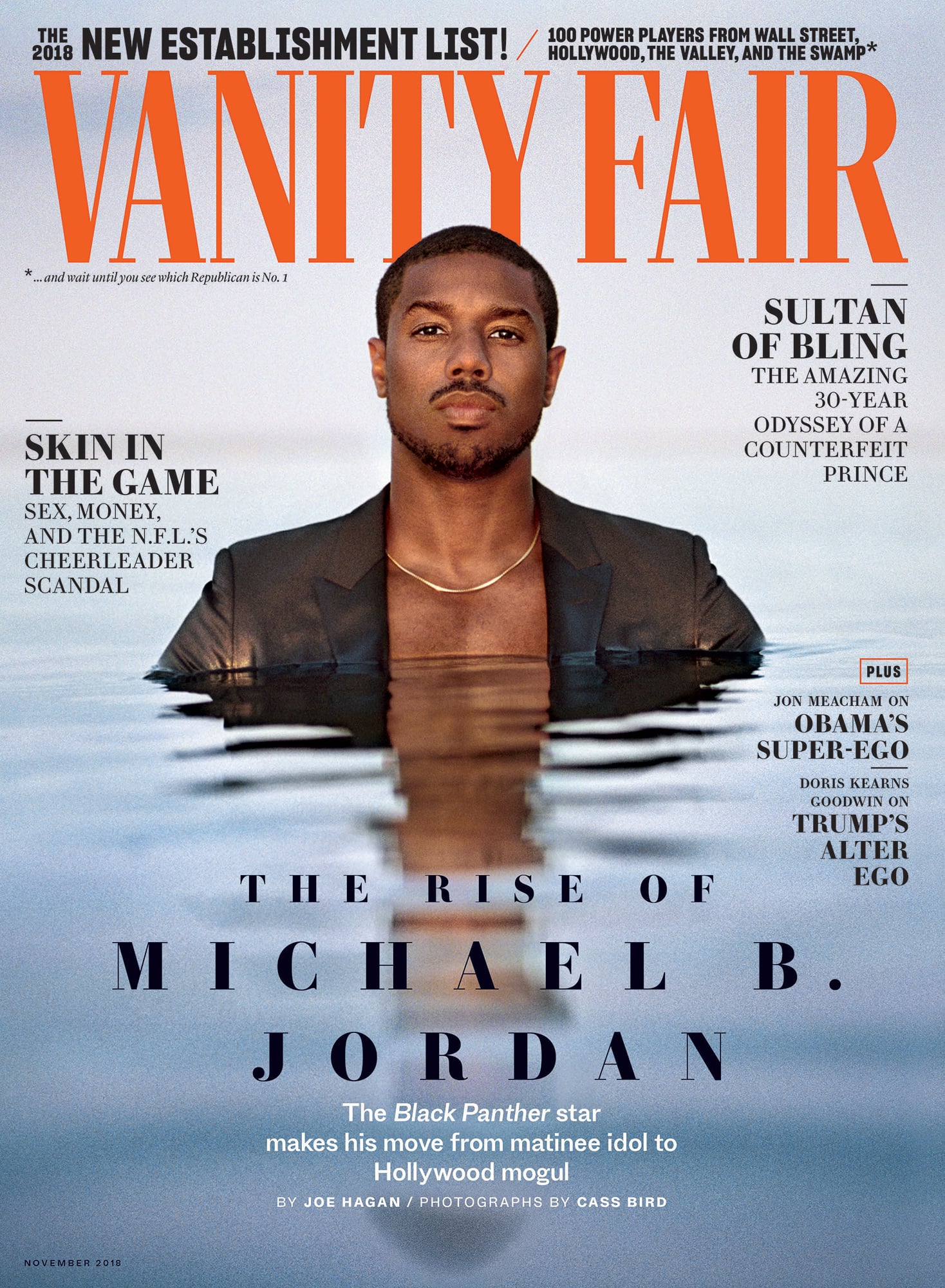 Michael B. Jordan has graced the cover of Vanity Fair's November issue, and the photo is completely mesmerizing. In the image, Michael poses chest-deep in a pool of water while sporting a black blazer — with no shirt on underneath, of course — and a gold chain. If we didn't know any better, we'd think the image is subtly addressing how thirsty we are for him, but we'll just say it's simply visual artistic genius at work.

The actor has had a whirlwind of a year between his powerful performance as Black Panther's Killmonger and being Coach's first global face of its menswear business line. His upcoming movie, Creed 2, is yet another accomplishment to add to the list — and another reason to make our phone's background the poster of him in those red, white, and blue boxing shorts. Michael spoke with Vanity Fair about the upcoming film as well as his thoughts on race and what he hopes to accomplish in Hollywood. See some of his most compelling quotes ahead.
On his effort to promote diversity in Hollywood: "We live in the times where everything is based around race. And for me, it's like, I get it, I understand. It just makes everything so loaded. When the way to do it is to Trojan-horse it, so then people look up, and say, 'Oh wow, what happened? I didn't even realize that.'"
On the importance of sharing black stories: "We don't have any mythology, black mythology, or folklore. Creating our own mythology is very important because it helps dream. You help people dream."
On growing his production company: "I want to create projects for Brad Pitt, but at the same time I want to be able to create a movie for Will Smith, or Denzel, or Lupita, or Tessa. It's gonna be eclectic. It's gonna be animation. It's gonna be non-scripted. It's gonna be digital. It's gonna be film, television. It's gonna be video games."
On his progress since filming Black Panther: "Moving forward it's a totally different story. This is the defining moment in a lot of different areas for me that's gonna set up my next 5 to 10. That's why I'm so locked in right now, because if it was ever a time to get distracted or, like, drop the ball, this is not it."
On one of his inspirations, LeBron James: "Whenever I see [James], it's love, always trying to represent our generation, represent our culture, like, 'Why not us?' Things don't have to be the way they've always been done. I just happen to do more than just act."
On working with people in the industry: "Unity is so important. You can just pick up the phone and get in contact with somebody and have an idea, no ego: 'What's up? You guys wanna work together? Let's do something together.'"