Michelle Obama and Amy Poehler at Let's Move Event 2014
Watch Out, Tina! Michelle Obama Might Be Amy's New BFF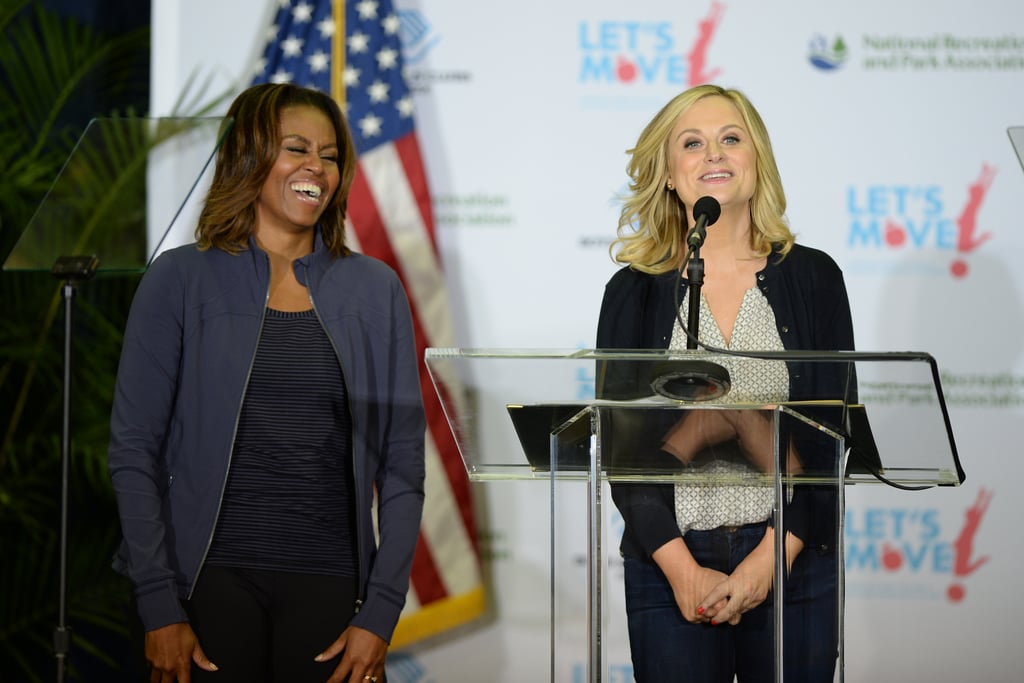 0
Watch Out, Tina! Michelle Obama Might Be Amy's New BFF
Parks and Recreation's Amy Poehler channeled Leslie Knope on Tuesday while teaming up with Michelle Obama to celebrate the fourth anniversary of the first lady's "Let's Move!" initiative in Miami. During the pair's visit to the Gwen Cherry Park NFL/YET Center — yep, a parks and recreation center — Amy joked about blurring the lines between her TV show and reality. "It's a real honor to be here this afternoon," she said, "and it's especially exciting for me to learn that if you play a character with a certain career long enough, people will treat you as if you actually have that job. So this might be a shocker, but I am actually not a deputy director of parks and recreation."
As usual, Amy had the crowd, including Michelle, cracking up while she told a few jokes. "Just ask yourself this question: without parks, where would we put all the swings? It would be in the middle of the road," she said. As Michelle laughed, Amy added, "This is so fun — Mrs. Obama is standing next to me like she's my audience and I'm just telling her jokes. This is like a dream."
For her part, the first lady also took the opportunity to announce that the Boys & Girls Clubs of America and the National Recreation and Park Association are joining the "Let's Move!" program, planning to serve more fruits and vegetables at after-school programs and encourage more physical activity. Later, Michelle got pretty active herself when she and Mario Lopez joined some children for a mini workout. Take a look at the day's events below.