Miley Cyrus Quotes on Donald Trump
Miley Cyrus: Robin Thicke "Wanted Me as Naked as Possible" For Our VMAs Collaboration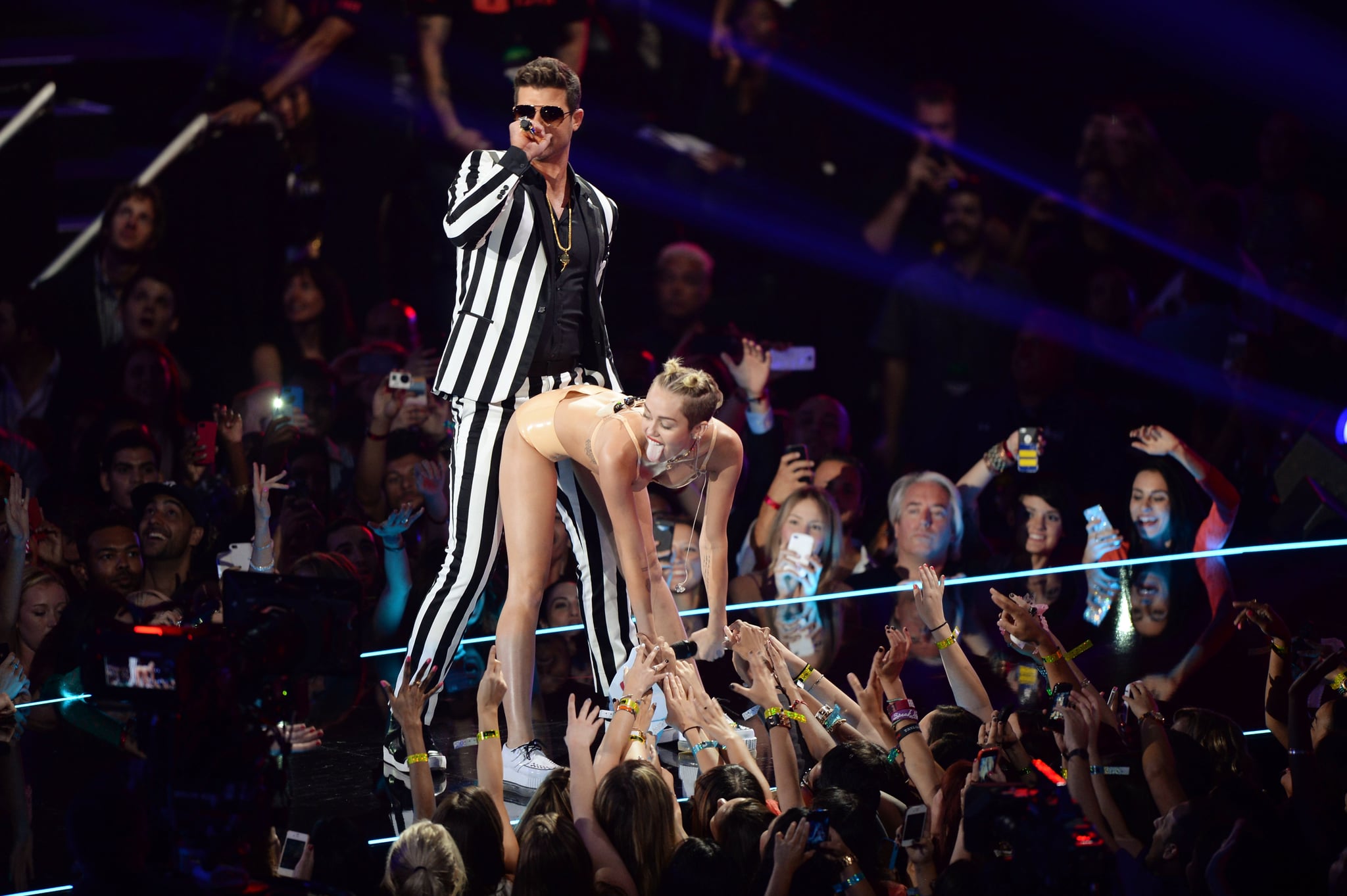 It's been two years since Miley Cyrus's now infamous "Blurred Lines" performance with Robin Thicke at the MTV VMAs — so how does the pop star feel about it in hindsight? It turns out she has some mixed feelings. In a New York Times interview Miley gave this week ahead of her gig hosting this year's award show, she reflected on the wildly controversial moment, revealing that Robin had final approval over what she wore and wanted her "as naked as possible" and that she was on the receiving end of a complimentary phone call from Donald Trump the morning after the televised twerkathon. Read on for more of her reflections on and memories of "Blurred Lines." Then see what Miley said about Taylor Swift and Nicki Minaj's recent Twitter feud over this year's VMAs nominations.
On getting a post-VMAs phone call from Donald Trump: "I was in the studio with Kanye [later] that night, and we watched it back and we didn't say anything. He was like, 'That was sick,' whatever. We woke up the next day, and he was like, 'Whoa.' He called and said, 'Turn on your TV.' I was staying at the Trump Hotel and Donald Trump literally called and said, basically, 'I know everyone's talking about it, but I loved it.' I had no idea anyone was talking about it yet."
On Robin Thicke OKing her outfit: "I didn't really know him too much before, and I don't really know him now. It was funny, because I got so much of the heat for it, but that's just being a woman. He acted like he didn't know that was going to happen. You were in rehearsals! You knew exactly what was going to happen. And he was actually the one that approved my outfit, so I thought that was very funny. He wanted me as naked as possible, because that's how his video was. It was very much a collaboration. My part — 'We Can't Stop' — was all me. But when it went into 'Blurred Lines,' that was his performance."
On the criticism she faced after the fact: "Even people around me really judged me. People that I really loved and thought were my friends judged me for it. They were like, 'You were on drugs when you did that performance.' I did nothing! I still don't get it."
On why she might not do the same thing now: "I knew who I was, and I knew the power that I held, but I don't think I realized my full power until that show. I didn't realize I could make such a big reaction. I didn't think that many people would care. I knew I was famous, but I didn't know what that meant . . . But I didn't expect it to be what it became. When it was, something clicked in my mind: This many people notice me? If I'm going to be noticed by this many people, what am I really going to say? What I want to say isn't 'shake your ass.'"