Nicki Minaj and Ariana Grande Whispering at 2018 VMAs
Um . . . What Were Nicki Minaj and Ariana Grande Whispering About at the VMAs?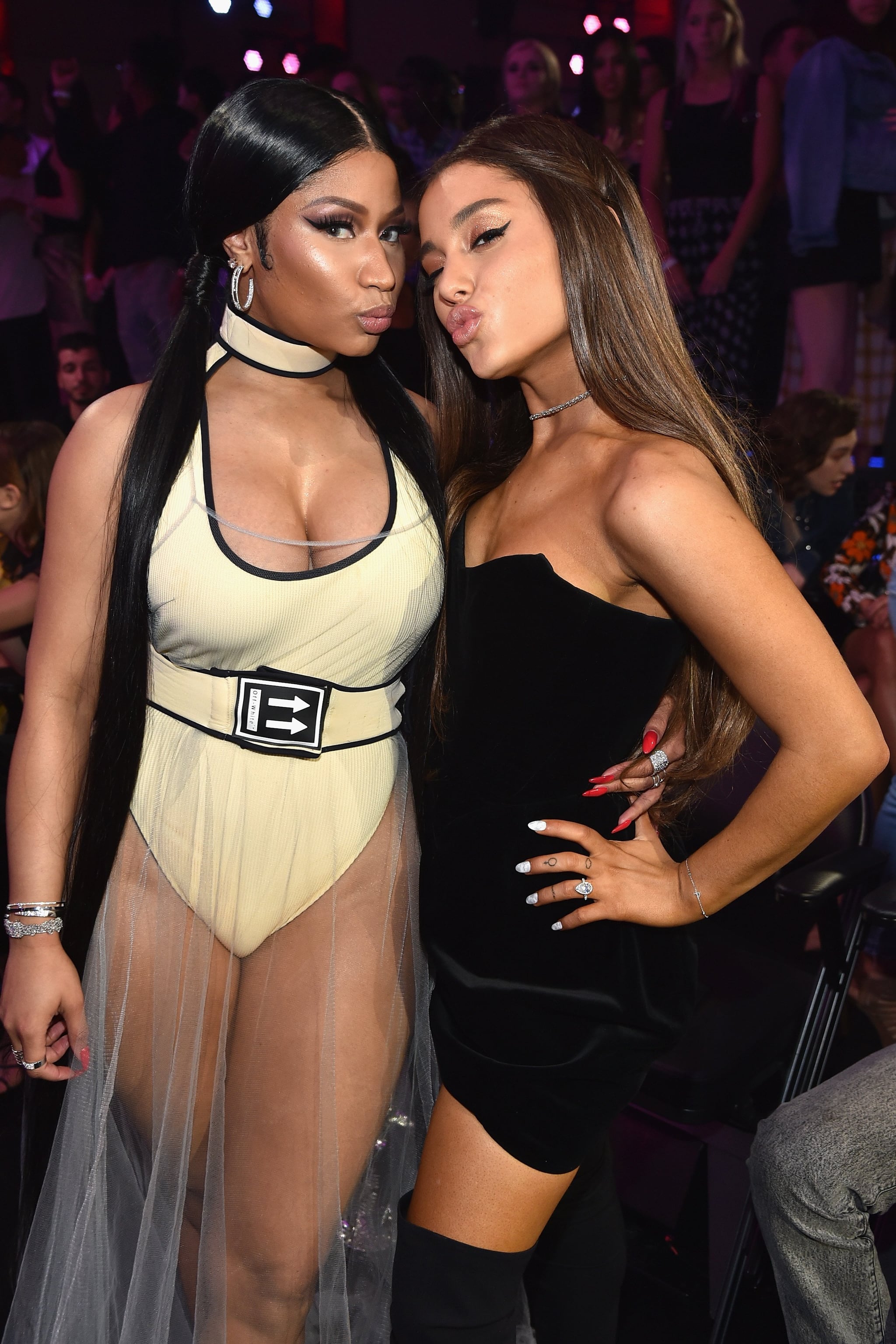 Image Source: John Shearer/Getty Images for MTV
Nicki Minaj and Ariana Grande had a pretty busy run during Monday night's MTV Video Music Awards. They both spent some time slaying the red carpet before separately hitting the stage to perform singles from their recently released albums — but none of that stopped the besties and frequent collaborators from catching up on small talk in the middle of the show. During the commercial break that followed Nicki's best hip-hop award acceptance speech, the two were seen having a pretty animated conversation with each other, one that included a little bit of giggling from Ariana and a whole lot of side-eye from Nicki. Naturally, the inquiring minds of the internet are now dying to know what this conversation was about.
Tag the Nicki to your Ariana 💕💕💕 #VMAs pic.twitter.com/p4svYZxPYg

— MTV (@MTV) August 21, 2018
Could they possibly have been talking about Tiffany Haddish's Fifth Harmony joke? Or maybe Nicki was telling Ariana who she ruthlessly shaded during her acceptance speech. Some fans assume the artists were gossiping about Travis Scott, who was seated relatively close to them. Nicki's most recent album, Queen, debuted at the No. 2 spot on the Billboard 200, behind Scott's Astroworld, and both artists made headlines after Nicki took to Twitter to allege that Scott's girlfriend, Kylie Jenner, was partly behind the success of his album after she promoted his tour via Instagram last week.
Nicki later cleared things up on her end and claimed that the comments she made about her album sales were mostly sarcastic, but by then, the internet had already taken this and ran with it. Once the rapper was seen via MTV's live stream having a seemingly intense discussion with Ariana, many assumed that the topic was Travis and Kylie.
footage of Ariana and Nicki planning on jumping Travis, Cardi, Stormi and Kylie #VMAs pic.twitter.com/yaZ1oZe3rd

— alex (@alextheslothh) August 21, 2018
Ariana: you see Kylie in that raincoat?
Nicki: ..where's stormi so i can sit on her #vmas pic.twitter.com/a2TIODZrN6

— キング⚡️ (@ayeosah) August 21, 2018
Although — and hear me out on this one — it's likely that the friends were just having a conversation about being literal queens.
ARIANA: GIRL WE GOT THESE OTHER GIRLIES SHAKING WITH QUEEN & SWEETENER

NICKI: UGH THEY DON'T KNOW WHAT REAL TALENT IS#VMAs⁠ ⁠👀☕️ pic.twitter.com/OGVS3ge2ZJ

— joseph 🦋 (@stussyjoseph) August 21, 2018
We'll likely never know exactly what the friends were talking about during Monday night's show, but we can all probably agree that we'd hate to be the person on the other end of that side-eye.