Nicki Minaj Disses Iggy Azalea at the BET Awards 2014
Did Nicki Minaj Throw Shade at Iggy Azalea at the BET Awards?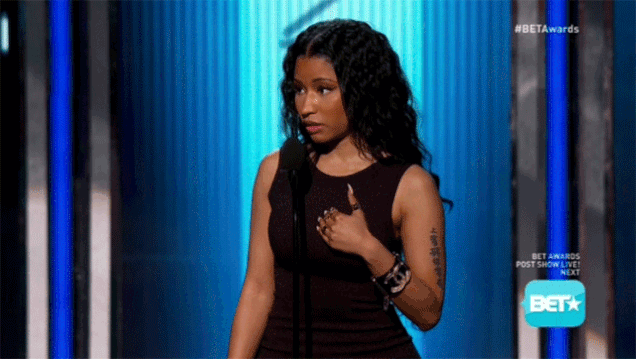 Nicki Minaj threw what some felt was a not-too-subtle jab at Iggy Azalea when she took to the stage on Sunday night to accept the BET Award for best female hip-hop artist. While giving her acceptance speech, Nicki said, "What I want the world to know about Nicki Minaj is when you hear Nicki Minaj spit, Nicki Minaj wrote it." Many people felt that this was a dig on Nicki's fellow nominee Iggy, who has been accused of using ghostwriters in the past. After mugging for the camera for a bit (see the GIFs above and below), Nicki then went on to clarify that she didn't mean any shade with her comments.
Despite her clarification, Nicki is no stranger to beefing with other women in the music industry. She famously had a chilly relationship with Mariah Carey during their time as judges on American Idol. Iggy famously accused Nicki of lip-syncing at the 2010 BET Awards, but she later said that she was a fan. Nicki also said that she supported Iggy and sent her congratulations when "Fancy" blew up on the Billboard Hot 100 charts. "I think that congratulations is in order. Her single is doing really, really well and I think that's a good thing," Nicki said, adding, "I just want female rappers to understand that I've kicked in a lot of doors for them and I just would appreciate if they would acknowledge that."
Source: BET; Front Page