Pirouette New Year's Cookies
Pirouette New Year's Cookies
Pirouette New Year's Cookies
From Alyssa Noui, POPSUGAR Food
Notes
The cookies begin to cool and harden right away so begin with 4 until you get fast enough to add one more. Then you can alternate sheet pans every 2-3 minutes. Start with the brownest ones first they will harden the fastest. You will not be moving away from your oven so have all utensils at hand.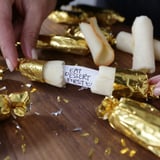 Ingredients
1 cup (16 tablespoons) butter, at room temperature
1 cup sugar
4 egg whites
1 teaspoon vanilla
1 cup flour
40-50 1-by-2 1/2-inch paper strips
40-50 6-inch-square foil wrappesr or wax paper
Ribbon
Directions
Preheat oven to 400°F.
Cream the butter, sugar, egg whites, and vanilla until light and fluffy. Slowly add the flour and mix until just blended. Half cup at a time, place the dough into a tempered glass measuring cup and microwave for 15 seconds until pourable.
Trace 4-5 3-inch diameter circles on one side of parchment paper. Place paper ink-side down on a half sheet pan. Spoon 1-1 1/2 teaspoons of the batter over a circle template and use the back of the spoon to smooth it into a thin, round layer within in the circle, similar to a crepe. (Thinner is better than too thick; you can tell it's too thin if you can see the baking sheet through the batter.)
Have a cooling rack, offset spatula, and wooden spoon available. Bake for 4-6 minutes. At the first sign of browning around the edges remove the pan. Working quickly, use the offset to lift the soft cookie on to the wooden spoon. Carefully using your fingers — it will be hot — roll the cookie around the spoon handle, pressing the edge into the seam. Place seam side down on rack.
Once the cookies are cool, roll paper strips with New Year's resolution messages into a tight roll and insert into the cookie. Roll the cookie in foil, twist sides, and tie with ribbon.
Information
Category

Desserts, Cookies

Cuisine

North American

Yield

40-50 cookies

Total Time

59 minutes, 59 seconds