Rob Kardashian and Blac Chyna's Relationship Timeline
The Long, Questionable History of Blac Chyna and Rob Kardashian's Many Makeups and Breakups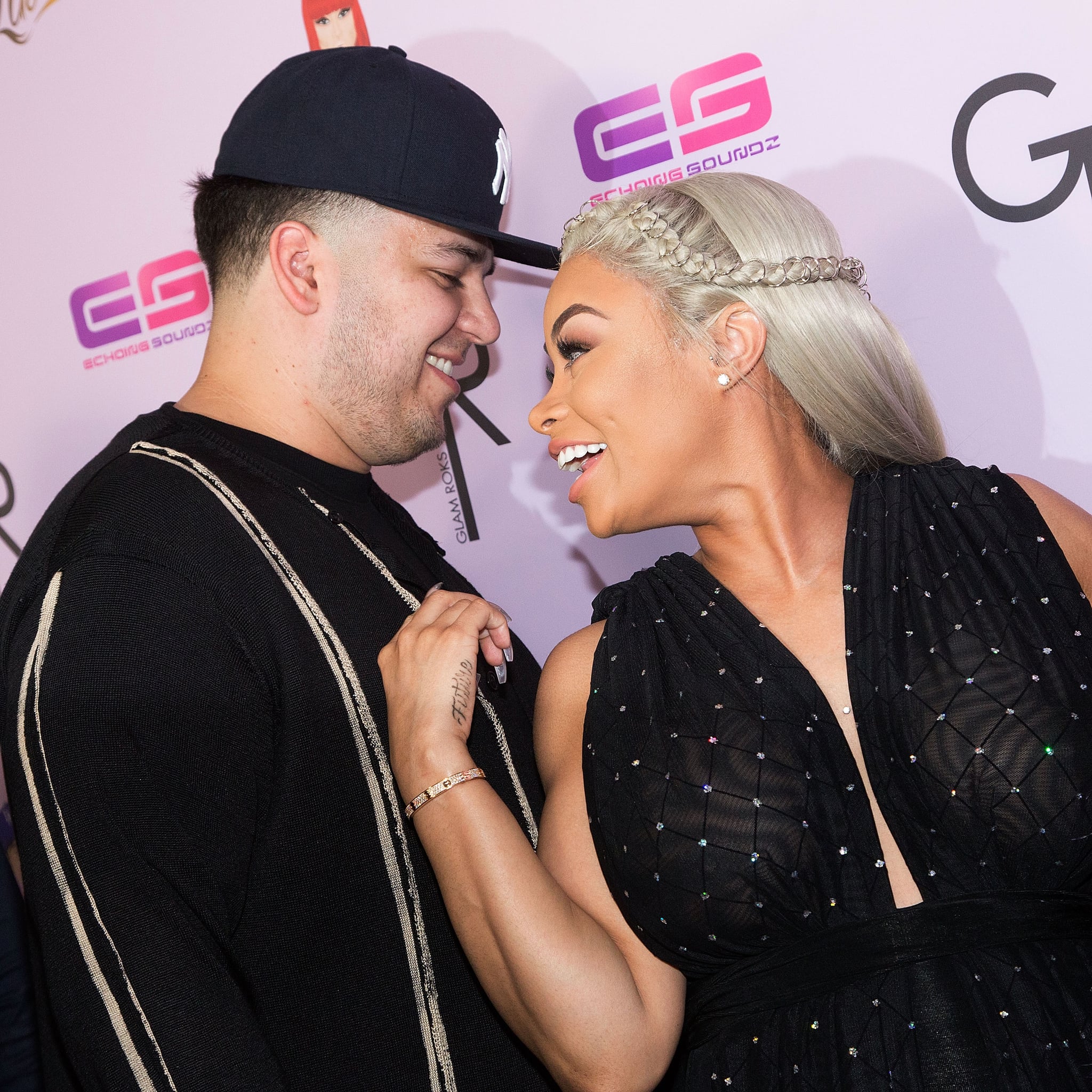 After Rob Kardashian and Blac Chyna welcomed a beautiful baby girl, Dream, in November, it seemed like the soon-to-be-newlyweds' relationship was stronger than ever. Unfortunately Rob and Chyna have hit more than a few speed bumps over the last few months because of issues with Rob's sisters and the fact Chyna's ex is currently dating Rob's sister Kylie, all of which finally culminated in an explosive pre-Christmas spat that reportedly got physical. In light of their latest reconciliation, let's take a look at every major milestone in the couple's rocky road to romance.
Dec. 10, 2016: Kim, Khloé, and Kourtney reportedly tried to block Chyna (real name Angela Renée White) from trademarking the name she'll have after marrying Rob (Angela Renée Kardashian). The 28-year-old was hoping to trademark the name so she could use it for promoting her business ventures, working in the entertainment industry, and on social media.
Dec. 11, 2016: Despite the legal troubles, the family came together to celebrate the milestone of Dream's first month.
Dec. 17, 2016: A few days after E! renewed Rob and Chyna, the couple's relationship crashed and burned for all to see. Chyna's Instagram was "hacked" (she claims), resulting in several now-deleted screenshots of texts between her and attorney Walter Mosley, actor Jaden Smith, and rapper Young Thug being posted to the photo sharing app, all of which contained negative messages about Rob. She called him "lazy," "fat," and "insecure," and one text supposedly read: "Imma give Rob 1 year to get it together. Or I'm gone." Chyna then cleaned out Dream and King Cairo's rooms, which Rob recorded on Snapchat while crying. He also posted and deleted a photo on Instagram about how he has "never been this heartbroken." The two then fought within the comments of the photo among their fans.
Dec. 19, 2016: Although that certainly seemed like the end of Rob and Chyna, she regrammed his subsequent apology and captioned it with, "❤️ @robkardashian."
Dec. 20, 2016: Details emerged that the fight over the Instagram hack reportedly got physical. According to E! News, Chyna punched Rob in the back and his arms in "a drunken rage." Thankfully Kris's boyfriend, Corey Gamble, walked in "and ripped Chyna off of Rob." On the same day, they were said to have reconciled after their "heat of the moment" separation when Rob called her to say sorry.
Feb. 16, 2017: Apparently Rob and Chyna didn't have a very good Valentine's Day, because they split up again two days after the romantic holiday. "Rob thinks it's the right decision," a source told Us Weekly. "Chyna has disappeared for days at a time without communicating or providing any updates. This won't end well." A second source added that their relationship never quite recovered from their fight around Christmas, saying, "[It's the same] with her yelling and screaming about how his family doesn't like or support her, and his insecurities."
April 1, 2017: After a month apart, Chyna and Rob appeared to have gotten back together. Chyna uploaded a series of Snapchat videos of her and Rob hanging out, including one showing Rob giving her a kiss.
Whether these are real relationship woes or a ploy to hype up drama for the new season of their TV show, we're hoping these two crazy kids can figure it out.