Shonda Rhimes Responds to New York Times Critic 2014
NYT Editor Responds to Backlash Over Shonda Rhimes Piece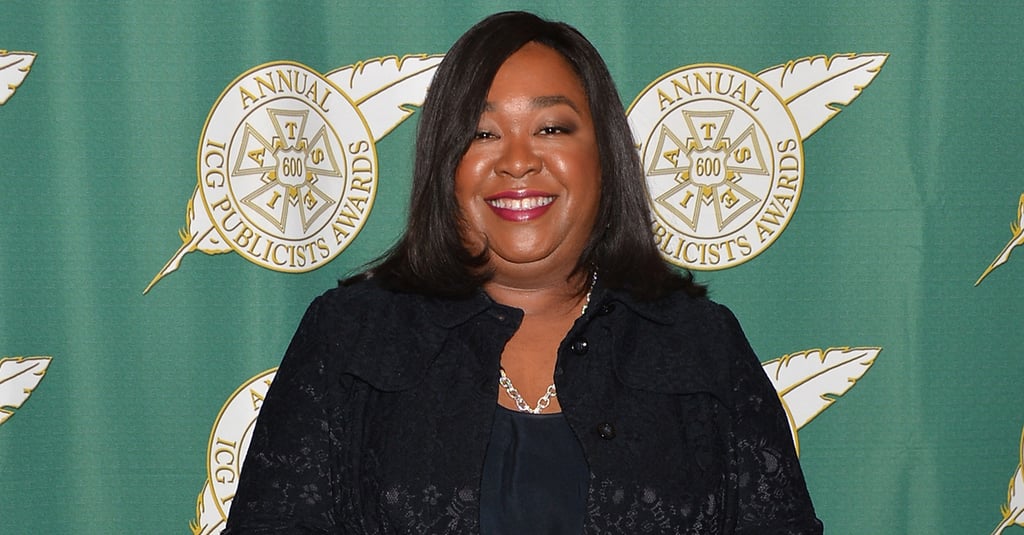 New York Times TV Critic Alessandra Stanley responded to backlash after she wrote that Shonda Rhimes's autobiography "should be called 'How to Get Away With Being an Angry Black Woman.'" She stated that her piece was stylistically similar to other articles she's written, adding, "I didn't think Times readers would take the opening sentence literally because I so often write arch, provocative ledes that are then undercut or mitigated by the paragraphs that follow." Her statement comes along with that of The New York Times's Public Editor Margaret Sullivan, who wrote in a post of her own that readers "rightly" took issue with the piece, saying, "Intended to be in praise of Ms. Rhimes, it delivered that message in a condescending way that was — at best — astonishingly tone-deaf and out of touch."
In Stanley's review of Shonda's latest show, How to Get Away With Murder, which premieres on ABC on Sept. 25, she described the show as "another network series from [Shonda]'s production company to showcase a powerful, intimidating black woman." On Friday, the woman who gave us Scandal and Grey's Anatomy called out The New York Times on Twitter. In a series of tweets, Shonda pointedly addressed a few of Stanley's statements, including her claim that Shonda created the show, which is actually the brainchild of writer Pete Nowalk.
Confused why @nytimes critic doesn't know identity of CREATOR of show she's reviewing. @petenowa did u know u were "an angry black woman"?

— shonda rhimes (@shondarhimes) September 19, 2014
Apparently we can be "angry black women" together, because I didn't know I was one either! @petenowa #LearnSomethingNewEveryday

— shonda rhimes (@shondarhimes) September 19, 2014
Next, Shonda pointed out that Meredith Grey, the lead on Grey's Anatomy, has also been portrayed as an opinionated protagonist.
Final thing: (then I am gonna do some yoga): how come I am not "an angry black woman" the many times Meredith (or Addison!) rants? @nytimes

— shonda rhimes (@shondarhimes) September 19, 2014
Wait. I'm" angry" AND a ROMANCE WRITER?!! I'm going to need to put down the internet and go dance this one out. Because ish is getting real.

— shonda rhimes (@shondarhimes) September 19, 2014
Shonda later tweeted out a story from Slate, which came to her defense: "[Rhimes] has not just re-framed the stereotype of the 'angry black woman,' she has blown open what black female characters are allowed to do on television, including, most importantly, fronting a TV show."
And boom boom. I continue to love people. http://t.co/s2c4YsouKm

— shonda rhimes (@shondarhimes) September 19, 2014
Alessandra also received criticism for comparing Viola Davis (How to Get Away With Murder) and Kerry Washington (Scandal), describing Viola as "older, darker-skinned and less classically beautiful than Ms. Washington." Kerry came out in support of Shonda and took aim at the Times with this tweet:
Dear @nytimeshttp://t.co/20dzCSLKsx

ANDhttp://t.co/VJQ7n0Ujdn

You're welcome.

Love,
K-Dub

— kerry washington (@kerrywashington) September 19, 2014
Nearly two hours later, Kerry retweeted a message from her Scandal costar Joshua Malina.
Wow. Did I just read a @nytimes piece that reduced my brilliant, creative, compassionate, thoughtful, badass boss to an "angry black woman?"

— (((Jew))) (@JoshMalina) September 19, 2014
Meanwhile, Alessandra responded to the backlash by suggesting her words have been taken out of context. "The whole point of the piece — once you read past the first 140 characters — is to praise Shonda Rhimes for pushing back so successfully on a tiresome but insidious stereotype," she said in a statement. Tell us: what do you think about the debate?