Skylar Astin and Anna Camp Interview June 2016
Anna Camp Reveals the Supersweet Reason Skylar Astin Is the Perfect Match For Her
Skylar Astin and Anna Camp really are aca-adorable together. After the Pitch Perfect costars and real-life couple judged an A cappella competition with Courtyard Hotels during the NXNE festival on June 16, POPSUGAR sat down with them to discuss their wedding planning, the upcoming Pitch Perfect 3 movie, and why they know they'll be together forever. Try not to melt into a puddle as this supercute couple restores your faith in love.
Image Source: Getty / George Pimentel
POPSUGAR: Has judging this competition made you nostalgic for Pitch Perfect at all?
Anna Camp: I think tonight definitely, I'm going to get a little misty-eyed. There's a girl group up there singing some really good songs. It was such a great experience shooting both of the movies, and we're just such good friends with everyone there. I'm excited to see how the groups bond and sing, but we're going to be very supportive, because we know how hard it is to get up there and do it.
PS: Pitch Perfect 3 is currently in the works. Are either of you planning on returning?
AC: Yeah, you know, who knows? We kind of have no idea what's happening with the movie right now. It's still being written and they're looking for a new director, so there are a lot of things that are up in the air, but we'll see what happens.
PS: Looking back on the first two movies, do either of you have a cherished memory from being on set?
Skylar Astin: I think a moment that was a little scary and intimidating was in the first movie we have to do the auditions where we all sing "Since You've Been Gone," and not a lot of people know this, but everyone sang that live. And they ended up putting it together in post and when it was your turn to do your coverage, as an actor, you had to get up there, as your character, introduce yourself and the song and just start. And it was kind of freaky because everyone would look and be excited and you would be like, 'Oh my god, I'm literally this character, and I'm as scared as this character is.' And of course my character is supposed to nail it, so I couldn't even be funny about it.
AC: Lucky for me, I didn't have to do it. I was judging actually.

PS: How do you think he did?
AC: Ten stars! Ten out of 10, for sure.
PS: What would you say your favorite moment from set was, Anna?
AC: I definitely loved shooting the finale. We really were up there doing the performance full out over and over and over and the cameras were coming by catching all of these little moments that they all pieced together, but when we got up there for the first time after working on this dance for so long, and it's such a pivotal moment in the movie when we all come together again, it was something really powerful and moving that I'll never forget.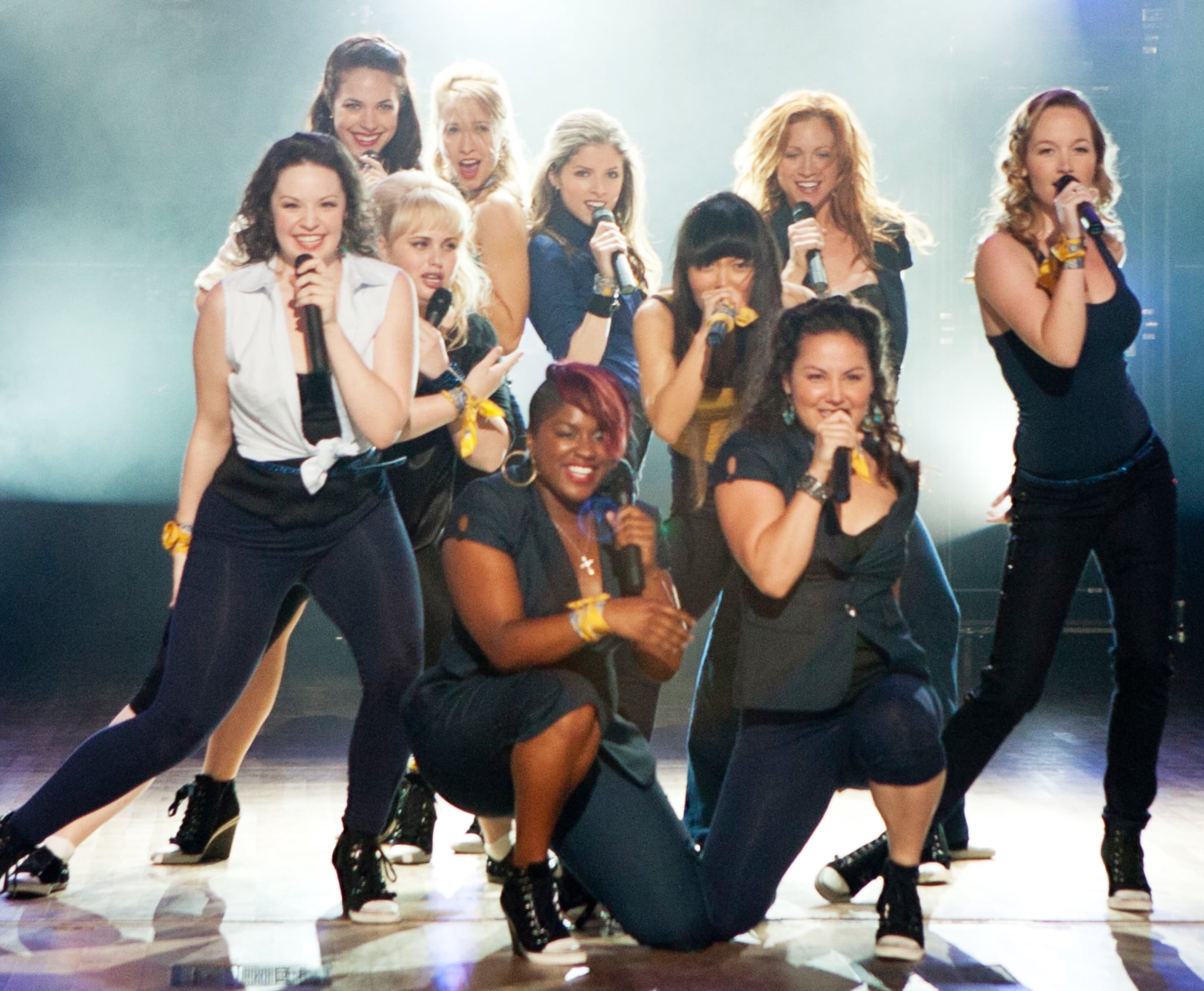 Image Source: Everett Collection
PS: Aside from your career adventures, this has obviously been a very big year for you two. Congrats on the engagement! How is the wedding planning coming along?
SA: Killing it.
AC: It's going so well. I am so, so very excited. We are working with a great team of people, and together we are a great team. Skylar was just saying that you feel like you are marrying the right person when decisions happen so easily and we really see eye to eye on virtually everything. So, it's been a really smooth and lovely process, and I kind of don't want it to end because that means that it's over. I want to stretch it out as long as we can.
SA: We're going to get married every year. We're going to change the mold.
PS: What about the guest list for the wedding? Are you planning on inviting some of your Pitch Perfect costars?
AC: Yeah, we'll see what happens. We're definitely close with some of the people there, and they were there from the beginning of us knowing each other. It would be nice to have them there.

PS: As far as the actual wedding goes, what are you most looking forward to about the big day?
SA: Vows, I think. Right?
AC: Yeah, I'm also looking forward to just coming down the aisle and seeing a very certain someone waiting at the very end as I walk towards him. I'm coming your way, baby! It's going to be super magical.
PS: Do you think you will cry, Skylar?
SA: Oh, I know I'm going to cry. I'm not like that guy that's like, "I'm never going to cry." I'm such a crier, it depends on how much though. I'm going to try to do the tear swipe, but I have a feeling it's going to be full-on ugly face.
Image Source: Getty / Astrid Stawiarz
PS: Skylar, you recently told POPSUGAR about the exact moment you knew you wanted to marry Anna. Is there also one memory that sticks out in your mind too, Anna?

AC: Yeah, there was actually. It was the beginning of when we started dating, just something happened where he came out to the car to help me, which is so sweet, because a lot of the time you know, you drive up to someone's house and you get out, and you walk up to door without them coming out, but instead I was super surprised to see him opening my car door for me and it's a moment where I just thought, "Man, I need to be with this guy for a very, very, very, very long time."
PS: What do you both admire the most about each other?
SA: Gosh, everything. I really do fall in love with her more every day. I always have these moments where I look at her and I feel like I was when I was a child. Is that weird?
AC: No, that's beautiful. That's not weird at all.
SA: What about you, babe?
AC: I admire so much about you, but I really admire his thoughtfulness and his attention to detail. I feel like he is one of the first people I've ever met, and been with, that has really heard me and seen me and listened. And that's incredibly important.