Sochi Olympic Problems
Should We Be Worried About the Olympics? Probably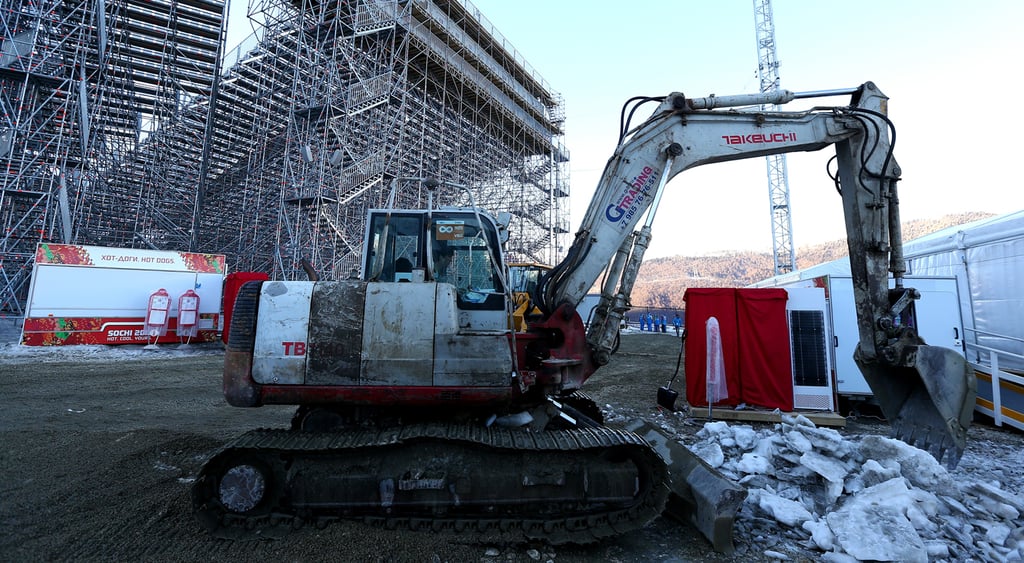 Sochi seems like a hot mess — or should we say a moderately cold mess? The Russian Olympic host city is still preparing for the Winter games, and we're starting to get worried about Friday's opening ceremony. After all, it's a huge logistical production, and some hotels in the city don't even have lobbies! Journalists and athletes are arriving in the Black Sea resort town and sharing snaps on social media. It doesn't bode well that #SochiToilets are popular hashtags. Putting aside very serious concerns like terrorist threats and human rights violations, here are reasons we're worried Sochi just might not get its act together.
The Toilets
People have asked me what surprised me the most here in Sochi. It's this. Without question ... it's ... THIS. pic.twitter.com/1jj05FNdCP

— Greg Wyshynski (@wyshynski) February 4, 2014
Could a weak sewage system explain Russia's ban on providing American athletes with Greek yogurt, a known digestive aid?! (The ban is real.)
Прибывающие на олимпийские игры иностранные спортсмены с удовольствием позируют в диковинных туалетах города Сочи pic.twitter.com/NFzUmybHar

— Илья Яшин (@IlyaYashin) February 3, 2014
Team bonding?
Wondered why my #sochi2014 hotel room had a fire hose. Safest #Olympics yet? http://t.co/B16J5MiF4l pic.twitter.com/Pi3pXZ0Xjw

— Kathy Lally (@LallyKathy) February 2, 2014
The Water
My hotel has no water. If restored, the front desk says, "do not use on your face because it contains something very dangerous." #Sochi2014

— Stacy St. Clair (@StacyStClair) February 4, 2014
Water restored, sorta. On the bright side, I now know what very dangerous face water looks like. #Sochi #unfiltered pic.twitter.com/sQWM0vYtyz

— Stacy St. Clair (@StacyStClair) February 4, 2014
The Hotels
Spa and fitness center at Gorki Grand hotel...you get in shape by putting it together? pic.twitter.com/jqqOCP9Wt5

— Chris Dufresne (@DufRankman) February 5, 2014
The reception of our hotel in #Sochi has no floor. But it does have this welcoming picture. pic.twitter.com/8isdoBuytl

— Kevin Bishop 〓〓 (@bishopk) February 4, 2014
Ok, so my hotel doesn't have a lobby yet.

— Mark MacKinnon (@markmackinnon) February 4, 2014
For those of you asking, when there's no lobby in your hotel, you go to the owner's bedroom to check in. #Sochi2014

— Mark MacKinnon (@markmackinnon) February 4, 2014
The Pillow Shortage
This apparently reads: "ATTENTION, DEAR COLLEAGUES! Due to an extreme shortage of pillows for athletes who unexpectedly arrived to Olympic Village in the mountains, there will be a transfer of pillows from all apartments to the storehouse on 2 February 2014. Please be understanding. We have to help the athletes out of this bind."
The Perplexing Signs
Well that's interesting... Sochi rules in the bathrooms!! #haha #olympics pic.twitter.com/xacSVimwXY

— Sebastien Toutant (@SebToots) February 1, 2014
ААА!! RT @SochiProblems: In Russia, always absence of gun in tank. #SochiProblems #Sochi2014 http://t.co/Dg6O7EORdd

— Руслан Левиев (@RuslanLeviev) February 5, 2014
Top signage #Sochi2014 pic.twitter.com/SHU2j3JyIh

— Jonathan Edwards (@JDE66) February 4, 2014
OK, this last one is pretty awesome.